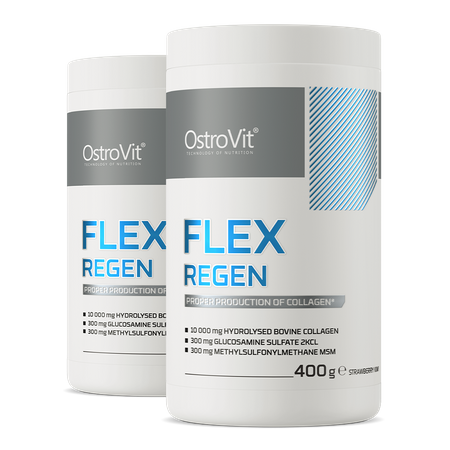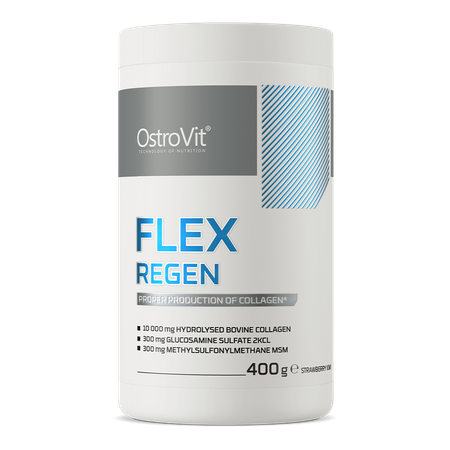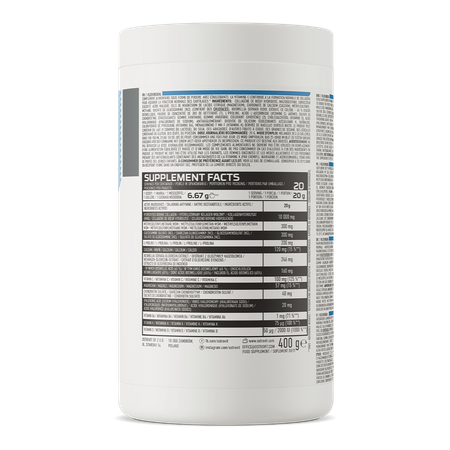 2 x OstroVit Flex Regen 400 g strawberry-kiwi
2 x OstroVit FLEX REGEN 400 g
OstroVit FLEX REGEN is a dietary supplement developed using the highest quality raw materials. The individual components together create a product with the perfect composition. It will find a special application for athletes and people who have an active lifestyle.
It contains 20 portions in the package
Unique and excellent taste options
1 serving = 20 g of the product
Excellent solubility
Properties of the ingredients contained in OstroVit Flex Regen
It's a complex of effective ingredients
Help to strengthen joints, tendons, cartilage and ligaments
Contribute to regeneration after injuries
Daily protection of joints
Suitable for older people and athletes
Support the construction of tendons, ligaments and muscles
Contribute to the synthesis of collagen and connective tissue
Evidently improve the functioning of our skeletal system (increase joint flexibility)
Laboratory-confirmed quality
For the sake of our customers' health, the products we manufacture are regularly tested in an independent accredited laboratory to ensure and maintain the highest quality.






Suggested usage
A recommended portion of 20 g (3 scoops) is mixed in 100-150 ml of water or juice. Consume once a day.  
Do not exceed the recommended daily dose for consumption. Dietary supplement can not be used as a substitute for a varied diet. A balanced diet and a healthy lifestyle are recommended. Do not eat if you are allergic to any of the ingredients in the product. The product should not be used by children, pregnant women and nursing mothers. Keep out of the reach of small children.
Nutritional information
Ingredients
Hydrolysed bovine collagen, maltodextrin, acidity regulator: malic acid; magnesium salts of citric acid (magnesium), calcium carbonate (calcium), methylsulfonylmethane, glucosamine sulfate 2KCL (contains crustaceans), boswellia serrata oleoresin extract Boswellia serrata Roxb. ex Colebr. – 65% of boswellic acid, L-proline, L-ascorbic acid (vitamin C), beetroot concentrate in powder, aromas, sweetener: sucralose; chondroitin sulfate, thickening agent: xanthan gum; colour: carotenes; cholecalciferol (vitamin D), hyaluronic acid (sodium hyaluronate), anti-caking agent: silicon dioxide; thickening agent: arabic gum; sweetener: acesulfame K; pyridoxine hydrochloride (vitamin B6), menaquinone-7 MK-7 (vitamin K) from Bacillus subtilis natto.
Product may contain milk (including lactose), soy, peanuts, other nuts, sesame seeds, cereals containing gluten, eggs, fish.
Nutrition Facts
Net weight of product: 400 g
Servings per container: 20
| Active ingredients | Per portion | % RI* |
| --- | --- | --- |
| Hydrolysed bovine collagen |  10 000 mg  | - |
| Methylsulfonylmethane MSM |  300 mg  | - |
| Glucosamine sulphate 2KCL |  300 mg  | - |
| L-proline |  200 mg  | - |
| Calcium |  120 mg   | 15% |
| Boswellia serrata oleoresin extract |  246 mg   | - |
| - of which boswellic acid (65%) |  65 mg  | - |
| Vitamin C |  100 mg | 125% |
| Magnesium |  57 mg | 15% |
| Chondroitin sulphate |  40 mg  | - |
| Hyaluronic acid |  20 mg  | - |
| Vitamin B6 |  1 mg  | 71% |
| Vitamin K |  75 μg  | 100% |
| Vitamin D |  50 μg  | 1000% |
*RI - Reference intake
Product reviews
0
opinion
Questions and Answers
Add a question about this product