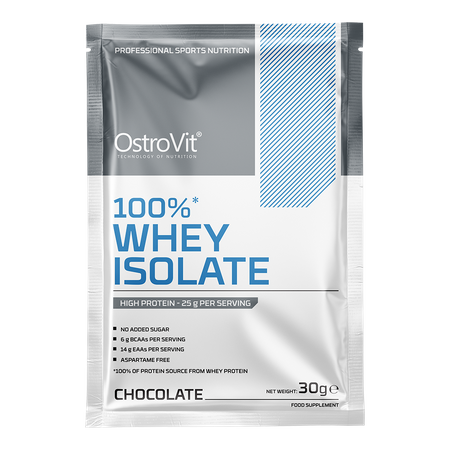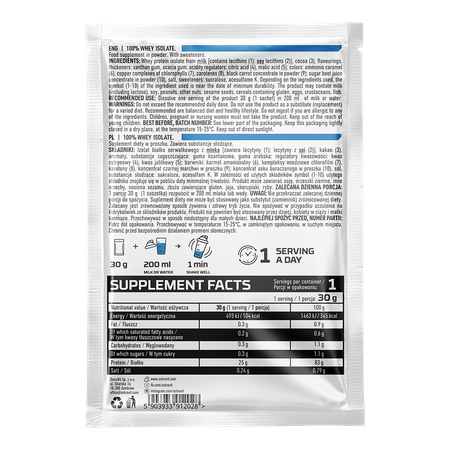 OstroVit 100% Whey Isolate 30 g chocolate
1,23 €
OstroVit 100% Whey Isolate 30 g
OstroVit 100% Whey Isolate is a high quality whey protein isolate, considered the most valuable protein source among athletes, which contains as much as 83% protein. This dietary supplement is a valuable source of branched-chain amino acids BCAA and essential amino acids EAA. OstroVit 100% Whey Isolate does not contain aspartame and added sugar, and among the ingredients of the preparation you can find low-energy sweeteners. It is a protein supplement in powder form, which is distinguished by great bioavailability and absorption in the human body.
Excellent source of protein - the dietary supplement contains as much as 83% high-quality protein, and one serving of the product provides the body with 25 g of easily digestible protein.
100% of the protein - present in the product comes from whey protein.
Source of branched-chain amino acids BCAAs - one serving of protein nutrition contains 6 g of BCAAs.
Source of essential amino acids EAA - in a serving of the product you can find 14 g of EAA.
No added sugar or aspartame - the product contains low-energy sweeteners such as sucralose and acesulfame K, which contribute to lowering the energy content of the diet.
Many flavor variants - protein nutrient is available in many flavors - strawberry, vanilla, chocolate, or maybe coconut cream? Everyone will find a version that satisfies their taste buds.
1 package = 1 serving. No meticulous measuring of the preparation.
Convenient form - a dietary supplement is a handy preparation that you can always take with you, and only water or milk is needed to prepare it.
Whey protein - a component of protein supplements for athletes
Whey protein is a substance that is made from whey, a byproduct of cheese production. It is an animal source of high-quality proteins that are commonly used by physically active people, regardless of the level of training or training goal.
Among whey proteins, three types of compounds can be distinguished - whey protein concentrate (WPC), whey protein isolate (WPI), and whey protein hydrolysate (WPH).
Dietary supplement OstroVit 100% Whey Isolate is a high-quality whey protein isolate, which is considered the most valuable and desirable protein source among physically active people. It is a compound that stands out for its excellent bioavailability in the human body.
Nutrients of OstroVit Whey Isolate:
OstroVit 100% Whey Isolate is a protein supplement whose foundation is whey protein isolate. It is a source of protein that is appreciated especially by athletes, as it contributes to the growth of muscle mass, and also helps maintain muscle mass. In addition, proteins help maintain healthy bones, making them a valuable macronutrient in the daily diet.
Suggested usage
Dissolve one serving of the product 30 g (1 sachet) in 200 ml of milk or water.
Do not exceed the recommended daily dose. Do not use the product as a substitute (replacement) for a varied diet. Recommended are balanced diet and healthy lifestyle. Do not ingest if you are allergic to any of the ingredients. Children, pregnant or nursing women must not take the product. Keep out of the reach of young children.
Keep this packaging tightly closed in a dry place, at the temperature 15-25°C. Keep out of direct sunlight.
Nutritional information
Ingredients
Whey protein isolate from milk [contains lecithin (1); lecithinsoy (2)], cocoa, thickeners: xanthan gum, gum arabic; aromas, salt, sweeteners: sucralose, acesulfame K.
Dietary supplement powder. Contains sweeteners. Depending on the type of lecithin used, symbol 1-2.
The product may contain soy, peanuts, other nuts, sesame seeds, cereals containing gluten, eggs, crustaceans, fish.
Nutrition Facts
| Nutritional values | Per serving (30 g) | Per 100 g |
| --- | --- | --- |
| Energy value | 493 kJ/104 kcal | 1463 kJ/345 kcal |
| Fat | 0.3 g | 0.9 g |
| - of which saturated fatty acids | 0.2 g | 0.6 g |
| Carbohydrates | 0.3 g | 1.1 g  |
| - of which sugars | 0.3 g | 1.1 g |
| Protein | 25 g | 83 g |
| Salt | 0.24 g | 0.79 g  |
Product reviews
0
opinion
Questions and Answers
Add a question about this product