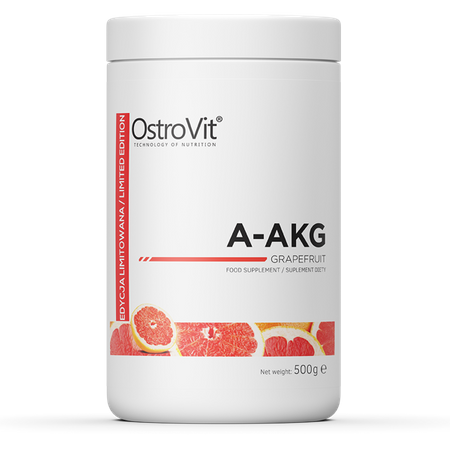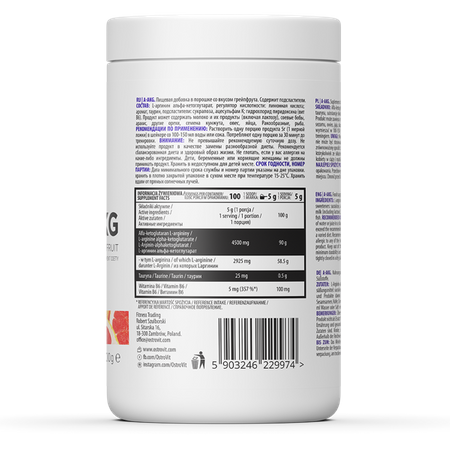 OstroVit A-AKG 500 g grapefruit
OstroVit A-AKG 500 g
OstroVit A-AKG is a dietary supplement created for the most demanding athletes. Highly advanced micronization of the preparation allowed to obtain the most absorbable form of arginine alpha-ketoglutarate.
LIMITED EDITION 500 g!
100 servings of the product
5 g of product = 1 serving
2925 mg of L-arginine in 1 serving
A-AKG - L-arginine alpha ketoglutarate
Arginine alpha-ketoglutarate is a chemical compound of glutaric acid and arginine. Glutaric acid is a product of the citric acid cycle, the final stage in the metabolism of all oxygen-breathing organisms, often referred to as the Krebs cycle. Arginine is one of the amino acids that occurs in our body, taking an active part in the most important life processes. The combination of these two molecules creates a compound with a synergistic effect (the two compounds work together more effectively than alone).
Properties:
A-AKG belongs to the group of no-boosters. They increase the production of nitric oxide, which causes the blood vessels to widen during training sessions. Arginine alpha-ketoglutarate, thanks to its properties increasing strength and efficiency, allows breaking down barriers previously unattainable.
By widening the blood vessels it increases blood flow to the muscles which results in increased strength
It is an ideal oxygen transporter to cells. They become perfectly oxygenated, increasing our efficiency
By increasing the production of nitric oxide, we obtain an extraordinary "muscle pump" effect
Accelerates the regeneration of the body after hard and exhausting workouts
Improves sexual performance
NOTE! The product is characterised by a bitter, unpleasant taste. These are natural sensory characteristics of the product. A good solution is to mix the product in juice or to consume the powder directly with water or juice.
Suggested usage
Dissolve a single serving of the product 5 g (1 scoop) in 100 - 150 ml of water or juice in a shaker. Take one serving 30 min before the training.
Do not exceed the recommended daily dose. Do not use the product as a substitute (replacement) for a varied diet. Recommended are balanced diet and healthy lifestyle. Do not ingest if you are allergic to any of the ingredients. Children, pregnant or nursing woman must not take the product. Keep out of the reach of children.
Nutritional information
Ingredients
L-arginine alpha-ketoglutarate, acidity regulator: citric acid; aroma, taurine, sweeteners: sucralose, acesulfame K; pyridoxine hydrochloride (vit. B6).
Powdered dietary supplement. Contains sweeteners.
Product may contain milk (including lactose), soybeans, peanuts, other nuts, sesame seeds, oat, eggs, crustaceans, fish.
Nutrition Facts
| Active ingredients | Per 100 g | Per portion | % RI* |
| --- | --- | --- | --- |
| L-arginine alpha-ketoglutarate | 90 g | 4500 mg | - |
| - of which L-arginine | 58.5 g | 2925 mg | - |
| Taurine | 0.5 g | 25 mg | - |
| Vitamin B6 | 100 mg | 5 mg | 357 |
*RI- Reference intake
Product reviews
0
opinion
Questions and Answers
Add a question about this product