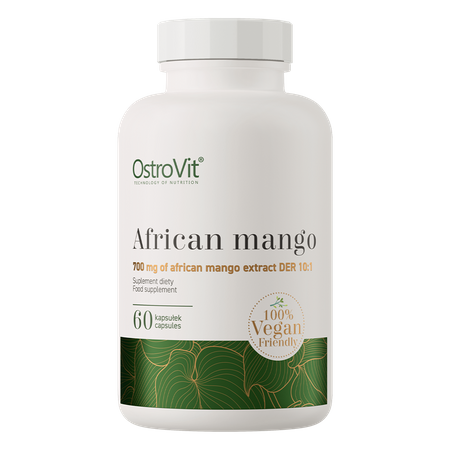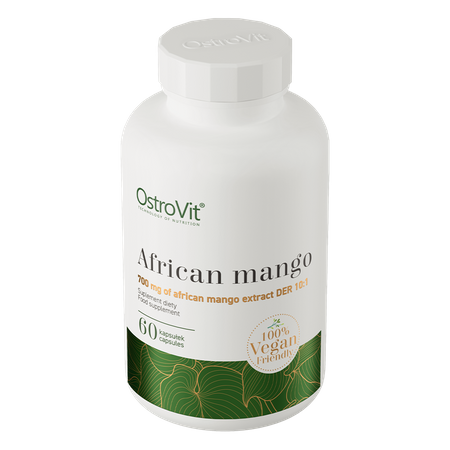 OstroVit African Mango VEGE 60 caps
4,25 €
OstroVit African Mango VEGE 60 caps
OstroVit African Mango VEGE is a dietary supplement in vegan capsules containing African mango seed extract (Irvingia gabonensis L.) DER 10:1. The ingredients contained in OstroVit African Mango support the lipolysis process, i.e. fat burning in our body and have pro-health effects, such as lowering blood pressure and total cholesterol. It also promotes the breakdown of triglycerides and biochemical processes associated with reducing the share of low-density lipoproteins or the popular "bad cholesterol" LDL.

60 vegan capsules in a package
Product from the 100% VEGE CAPSULES line
Supplement dedicated to vegetarians and vegans
60 servings = 2 months of supplementation
Practical support in weight reduction
OstroVit African Mango VEGE
Irvingia Gabonensis or colloquially named African mango plant is a wild tree reaching 15 to 40 m in height! The fruits of this tree after the ripening process have seeds that are used primarily in the food, cosmetic or pharmaceutical industries. The very name "mango" does not have much in common with the known mango fruit, which we can often find among the fruit sold in stores or at markets. In Africa, both species can be found, which is why it is so important to distinguish between these two plants. African mango, however, has many properties that are in vain to look for in the latter fruit. First of all, it is known for its oxidative potential for fats, which can ideally be used among people who want to lose excess kilograms and get rid of the proverbial "ballast". Thanks to its composition in polyphenols and a wealth of valuable vitamins and minerals, it can favourably support the endocrine economy and the overall functioning of our body. It is an effective support for lowering our LDL lipoproteins and increasing HDL high-density lipoproteins, this "good cholesterol".African mango will help break down triglycerides in the blood and reduce the amount of total cholesterol in the body.
Properties of the ingredients contained in OstroVit African Mango:
Has a slimming effect
May help lower cholesterol levels
Supports the breakdown of triglycerides in the blood
Can help stop "wolf hunger"
Product in vegan HPMC capsules (hydroxypropyl methylcellulose)
Products from the VEGE CAPSULES line have been developed using only vegan ingredients. In connection with the company's high-security policy and the fact that allergenic ingredients are used in the production plant, hence the information on the possibility of cross-allergens occurring on the label. For more information, please contact us by email.
Suggested usage
Take 1 serving (1 capsule) daily.
Do not exceed the recommended daily dose. Do not use the product as a substitute (replacement) for a varied diet. Recommended are a balanced diet and healthy lifestyle. Do not ingest if you are allergic to any of the ingredients. Do not consume the product by children, pregnant or nursing women. Keep out of the reach of children.
Nutritional information
Ingredients
African mango seed extract (Irvingia gabonensis L.) DER 10:1, anti-caking substance anti-caking agent: silicon dioxide; capsule shell (filling substance: hydroxypropyl methyl cellulose.
Product may contain milk (including lactose), soybeans, peanuts, other nuts, sesame seeds, oats, eggs, crustaceans, fish.
Nutrition Facts
| Active ingredients |  Per portion |
| --- | --- |
| African mango seed extract DER 10:1 | 700 mg |
Product reviews
0
opinion
Questions and Answers
Add a question about this product