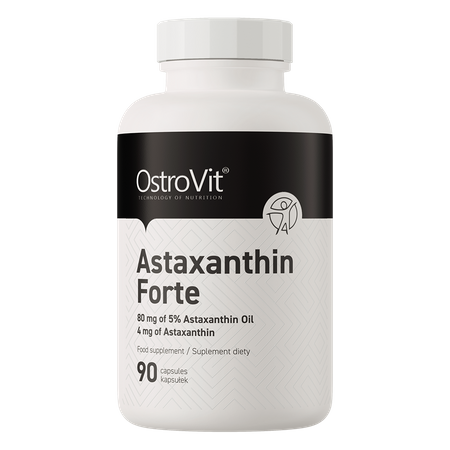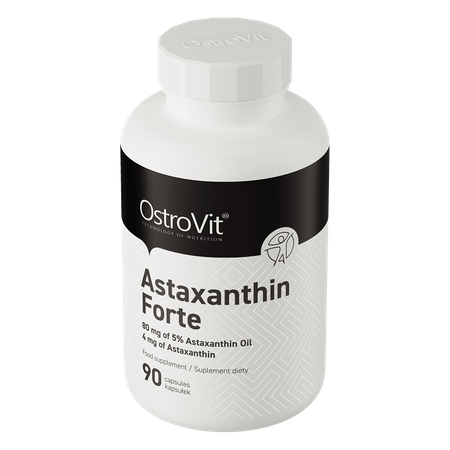 OstroVit Astaxanthin FORTE 90 caps
Customers recommend!
Rating 4,50/ 5
13,24 €
OstroVit Astaxanthin FORTE 90 caps
OstroVit Astaxanthin Forte is a top-quality dietary supplement containing natural astaxanthin extract. It was created for people for whom health, youthful appearance and well-being are a special priority.

Contains 90 portions in the package
In the form of easy-to-swallow capsules
1 serving = 1 capsule
Natural pigment!
OstroVit Astaxanthin FORTE
Astaxanthin is a natural compound in the family of carotenoids from the xanthophyll class, obtained mainly from marine algae ( Haematococcus Pluvialis). As a pigment, its special feature is that it occurs in most aquatic organisms, giving them a natural red color (salmon, krill, seafood etc.). Astaxanthin, like other carotenoids, can not be synthesized by humans, so it must be supplied with food or by supplementation.
Astaxanthin is undoubtedly an effective anti-inflammatory. Currently considered to be the most powerful antioxidant. Sources say that its action is much more effective than vitamin C or vitamin E.
As one of the strongest antioxidants, it removes the excess of dangerous free radicals from the human body.
Stimulates the immune system, supporting natural processes in the fight against various infections.
As a carotenoid, it is a "natural shield" for our body against harmful UV rays.
Properties of the ingredients contained in OstroVit Astaxanthin FORTE:
Supports the reconstruction and regeneration of muscles after hard training sessions.
Has a positive effect on the skin - it acts as a natural sunscreen against the harmful effects of UV rays.
Strengthens our immune system and slows down the aging process.
Compared with lutein, it protects our eyes, prevents them from fatigue and even supports their regeneration and recovery.
Supports cellular breathing processes that support the work of red blood cells.
Laboratory-provem quality
For the sake of our customers' health, the products we manufacture are regularly tested in an independent accredited laboratory to ensure and maintain the highest quality.






Suggested usage
Consume 1 serving (1 capsule) daily, preferably with a meal.
Do not exceed the recommended daily dose for consumption. Dietary supplement can not be used as a substitute (replacement) of a varied diet. A balanced diet and a healthy lifestyle are recommended. Do not eat if you are allergic to any of the ingredients in the product. The product should not be used by children, pregnant women and nursing mothers. Keep out of reach of small children.
Nutritional information
Ingredients
Sunflower oil, gelatin, natural astaxanthin oil 5% obtained from Haematococcus Pluvialis algae, humectant: glycerol; purified water, colour: caramel.
Product may contain milk (including lactose), soy, peanuts, other nuts, sesame seeds, oats, eggs, crustaceans, fish.
Nutrition Facts
| Active ingredients | Per portion |
| --- | --- |
| Natural astaxanthin oil 5% |  80 mg |
| - of which astaxanthin |  4 mg |
Product reviews
2
opinions
What customers say about this product
Questions and Answers
Add a question about this product