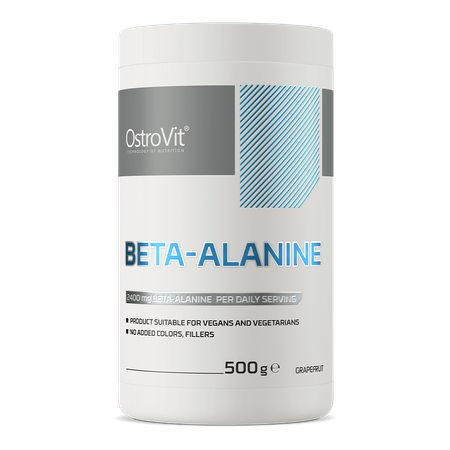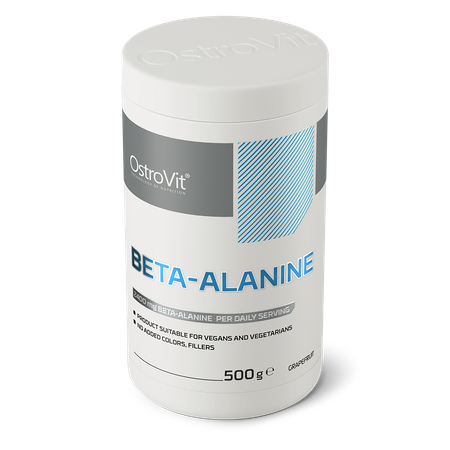 OstroVit Beta-Alanine 500 g grapefruit
8,46 €
OstroVit Beta-Alanine 500 g
OstroVit Beta-Alanine is an excellent supplement that can be used during hard training sessions.A micronized preparation designed for athletes who want to best enhance the natural potential of their abilities.

LIMITED EDITION 500 g
384 servings of the product
One 800 mg serving
OstroVit Beta-Alanine 500 g
It is an organic chemical compound classified as ergogenic substances. It is a laboratory-modified isomer of a natural amino acid, that occurs in nature, which is alanine. When ingested, it is used in the production of carnosine, which acts as an acid buffer in the body. Carnosine stored in muscle cells is released in response to lowering the pH level (hydrogen ions), i.e. it regulates their acidity. Greater amount of carnosine in the muscles, allows you to perform longer training sessions.
Properties:
The supplement being a precursor to the synthesis of carnosine increases muscle endurance and allows for additional repetitions during strength training. It is also perfect for people practicing sprints or rowing. Beta-Alanine has several beneficial properties:
Consumption of Beta-Alanine causes muscle hypertrophy, which is an advantage when working on dry muscle tissue
Some studies show increased lipolysis or fat burning in people taking beta-alanine
The effect of increasing muscle endurance and reducing the feeling of fatigue during training
By allowing additional repetitions in the series, it increases the training volume, which affects the more effective growth of muscle tissue
Allows longer and more effective workouts
Product has strong hygroscopic properties (strongly absorbs moisture). The formation of clumping or uniform (compact) consistency is not a sign of loss of product properties. In this case, the product should be shredded again.
Suggested usage
Serving 1300 mg (2 scoops) dissolve in 100 ml of water or juice. Please use the measuring cup included in the package (1 ml). Take 1300 mg 3 times a day with a meal.
Disposable intake of beta-alanine in excess of 800 mg may cause side effects (tingling, numbness). It is advisable to consume a single serving of 800 mg with a break of at least 3 hours between individual unit servings of the product. The product is intended for people with increased physical activity.
Do not exceed the recommended daily dose. Do not use the product as a substitute (replacement) for a varied diet. Recommended are balanced diet and healthy lifestyle. Do not ingest if you are allergic to any of the ingredients. Children, pregnant or nursing woman must not take the product. Keep out of the reach of children.
Due to its high hygroscopicity, the product may become caked, which does not affect the quality and durability of the product. This is not a quality defect in the product.
Nutritional information
Ingredients
Beta-alanine, acidity regulator: citric acid; aroma, taurine, sweeteners: sucralose, acesulfame K; pyridoxine hydrochloride (vit. B6).
Food supplement in powder. Contains sweeteners.
Product may contain milk (including lactose), soy, peanuts, other nuts, sesame seeds, oats, eggs, crustaceans, fish.
Nutrition Facts
| Active ingredients | 1 portion | 3 portions | % RI* |
| --- | --- | --- | --- |
| Beta-alanine | 800 mg | 2400 mg | - |
| Taurine | 13 mg | 39 mg | - |
| Vitamin B6 | 1.3 mg | 3.9 mg | 279 |
*RI- Reference intake
Product reviews
0
opinion
Questions and Answers
Add a question about this product