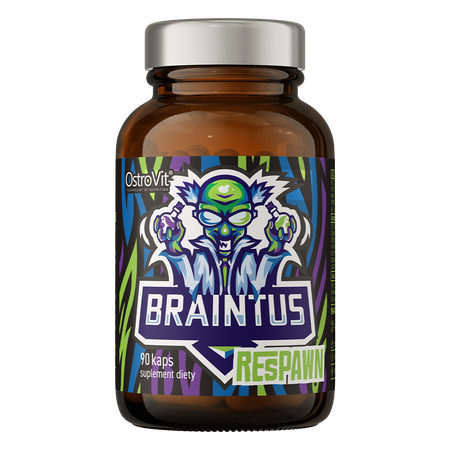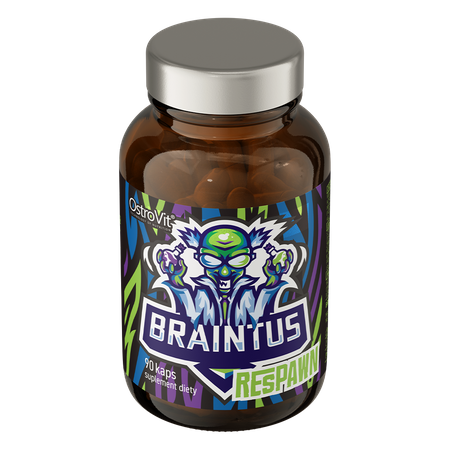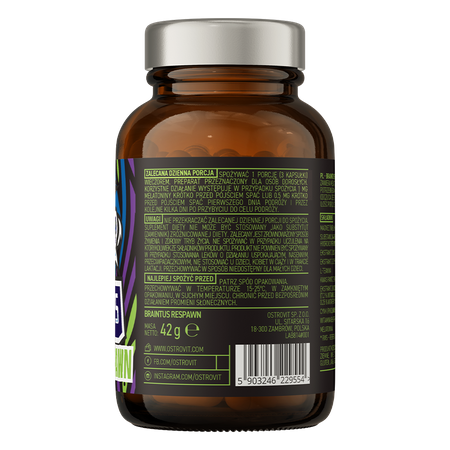 OstroVit Braintus Respawn 90 caps
8,77 €
OstroVit Braintus Respawn 90 caps
OstroVit Braintus Respawn is a dietary supplement designed for all those who look for an easy way of improving their cognitive functions and regulating a circadian rhythm – and this is thanks combination of as many as nine neuroactive, soothing and anti-oxidant ingredients.

Why to choose OstroVit Braintus Respawn?
OstroVit Braintus Respawn dietary supplement is a unique combination of plant-origin extracts with vitamins, minerals and other active ingredients which support operation and regeneration of the brain. Thanks to a high content of melatonin, capsules perform well in persons who suffer from insomnia. Other ingredients of the supplement, such as lemon balm extract and magnesium, boost memorizing and improve concentration. Ashwagandgha root extracts and hops extracts as well as L-theanine reduce stress and nervousness.
Properties of the ingredients contained in OstroVit Braintus Respawn:
UNIQUE COMBINATION OF INGREDIENTS - A well-thought-out composition of as many as nine active ingredients is a guarantee of versatile influence on the nervous system.
CIRCADIAN RHYTHM REGULATION - Melatonin included in the supplement assures healthy sleep, also if you work on shifts or at night.
STIMULATION OF NERVOUS SYSTEM - Additional ingredients support memory, concentration and demonstrate soothing influence so that you don't get nervous so much.
CONVENIENCE OF CONSUMPTION - Under the influence of water, the capsule coating gets smooth so that you can easily swallow it.
Properties of OstroVit Braintus Respawn
Magnesium - It improves operation of gray matter and boosts memory and thinking. It supports the immunity system. It assists in case of muscle cramps.
Lemon balm leaves extract - It fosters memorizing and concentration.
Hop cones extract - It demonstrates relaxing and anti-oxidant properties. It can improve the quality of sleep.
L-theanine - It has soothing properties. It reduces stress and feeling of tiredness.
Pantothenic acid - It participates in numerous chemical reactions inside the organism. It supports regeneration of skin and mucous membranes. It may also improve immunity.
Ashwagandha root extract - Supports cognitive functions and regenerative processes.
Zinc - It takes care of skin, hair and nails. It supports wounds healing. It shows detoxification properties.
Vitamin B6 - It takes part in numerous key biochemical reactions in the organism, including a serotonin and adrenaline synthesis so that it can help the nervous system.
Melatonin - It assists in the fight against irregular circadian rhythm. It helps you fall asleep as well as prolongs and strengthens your sleep.
Suggested usage
Consume 1 serving (3 capsules) in the evening. The preparation is intended for adults.
The beneficial effect is when you consume 1 mg of melatonin shortly before going to bed or 0.5 mg shortly before going to bed on the first day of travel and for a few more days after arriving at your destination.
Do not exceed the recommended daily allowance. A dietary supplement cannot be used as a substitute (replacement) for a varied diet. A balanced diet and a healthy lifestyle are recommended. Do not eat if you are allergic to any of the ingredients of the product. The product should not be consumed in the case of sedative, hypnotic or antiepileptic drugs, and should not be used in children, pregnant and lactating women. Keep out of the reach of small children.
Nutritional information
Ingredients
Magnesium (magnesium carbonate), lemon balm leaf extract, hop cone extract, L-theanine, pantothenic acid (calcium D-pantothenate), ashwagandha root extract (7.2% withanolides, 1% alkaloids and 0.25% vitaferin A ), zinc (zinc picolinate), vitamin B6 (pyridoxal 5'-phosphate P-5-P), melatonin, capsule shell (bulking agent: hydroxypropyl methylcellulose).
Product may contain milk (including lactose), soy, peanuts, other nuts, sesame seeds, gluten-containing cereals, eggs, crustaceans, fish.
Nutrition Facts
| Active ingredients | Per portion | % RI* |
| --- | --- | --- |
| Magnesium (magnesium carbonate) | 57 mg | 15 |
| Lemon balm leaf extract | 200 mg | - |
| Hop cone extract | 200 mg | - |
| L-teanine | 200 mg | - |
| Pantothenic acid (calcium D-pantothenate) | 180 mg | 3000 |
| Ashwagandha root extract (7.2% withanolides, 1% alkaloids and 0.25% vitaferin A) | 135 mg | - |
| Zinc (zinc picolinate) | 15 mg | 150 |
| Vitamin B6 (pirydoksalo 5'-fosforan P-5-P) | 18 mg | 1286 |
| Melatonin | 1 mg | - |
*RI- Reference intake
Product reviews
0
opinion
Questions and Answers
Add a question about this product