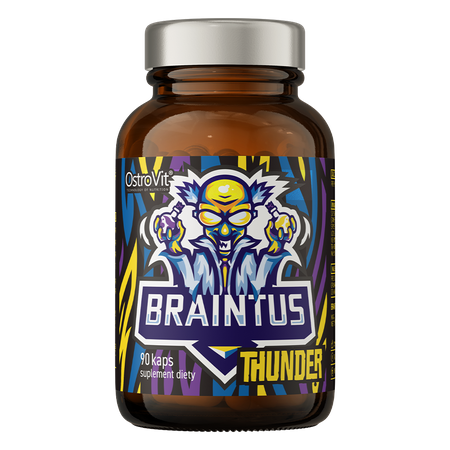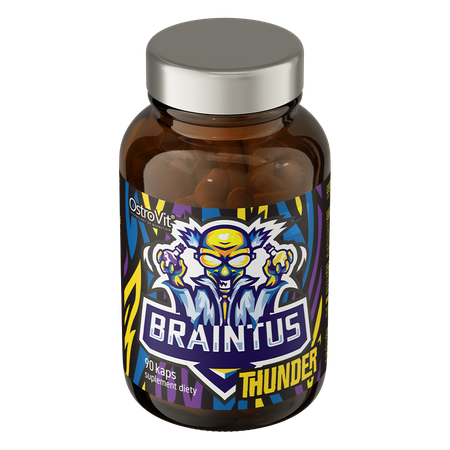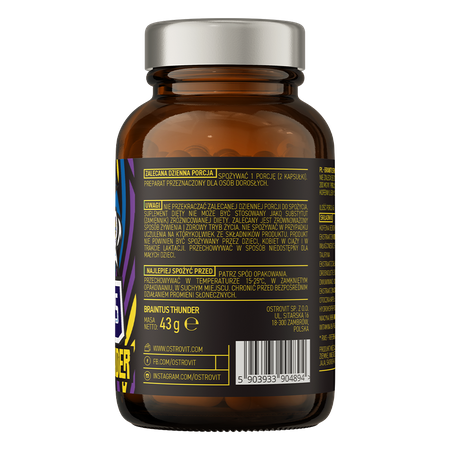 OstroVit Braintus Thunder 90 caps
6,40 €
OstroVit Braintus Thunder 90 caps
OstroVit Braintus Thunder is a complex dietary supplement containing a series of active ingredients which support operation of the nervous system. A unique combination of caffeine, taurine, choline, some B-group vitamins and natural plant extracts improves intellectual capabilities and general mood. Do you have difficulties in concentrating, remembering and studying? Or maybe you are always tired and drowsy? The solution is our latest dietary supplement – OstroVit Braintus Thunder.

Who OstroVit Braintus Thunder is for?
OstroVit Braintus Thunder dietary supplement is a set of eight active ingredients which support functioning of your nervous system. The capsules will be perfect for persons who intend to learn faster, concentrate better and put two and two together easier. It is also the solution for those who suffer from fatigue, drowsiness and lead a stressful lifestyle.
Ingredients included in the dietary supplement foster operation of the brain and regulate neurotransmitters. Choose OstroVit Braintus Thunder if you:
complain about your concentration and memory
do mental work
lead a stressful lifestyle
suffer from drowsiness
often get nervous
feel bad
Properties:
OstroVit Braintus Thunder is intended for all adults who perform intensive mental work or learn new things. The product also helps you counteract cognitive disorders.
Major features of the supplement:
SUPPORT TO NERVOUS SYSTEM – Braintus Thunder active ingredients complex can improve intellectual capabilities. The supplement encourages your brain to act and therefore can support cognitive processes.
CAREFULLY SELECTED INGREDIENTS – Braintus Thunder is home to as many as eight carefully selected ingredients which have a comprehensive impact on the nervous system.
BETTER MOOD – Thanks to regulation of serotonin, ingredients in the supplement make you feel better and prevent you from getting drowsy.
HANDY FORM – The supplement in the form of easy-to-swallow capsules is a great alternative to classic pills which are often hard to swallow.
Active ingredients of OstroVit Braintus Thunder
See active ingredients of our supplement and their impact:
Caffeine anhydrous - It stimulates the nervous system to act, improves concentration and thinking. It prevents drowsiness.
Ginseng root extract - It lowers susceptibility to stress. It demonstrates relaxing properties. It boosts memory and concentration.
Taurine - It fosters cognitive functions. It hinders production of serotonin so that your tissues and muscles can easily regenerate after a hard workout.
Water hyssop extract - It can influence memorizing, putting two and two together and recalling things. It is a support to studying.
Choline bitartrate - It stimulates the nervous system and improves cognitive functions. It can slower heartbeat, dilate blood vessels and lower blood pressure.
Guarana seeds extract – It serves as a rich source of natural caffeine so that it shows pro-cognitive properties.
Niacin - It defends nervous cells, supports brain functions and peripheral nervous system.
Vitamin B6 - It includes pyridoxine which has a positive influence on synthesis of neurotransmitters. Thanks to this, you can feel better and your mental condition improves.
Suggested usage
Take 1 serving (2 capsules). The product is intended for adults.
Do not exceed the recommended daily dose. Food supplements should not be used as a substitute (replacement) for a varied diet. A balanced diet and healthy lifestyle is recommended. Do not use if you are allergic to any of product compounds. The product should not be consumed by children, pregnant and lactating women. Keep out of reach of young children.
The product contains caffeine; not recommended for children or pregnant women (caffeine content 200 mg in 1 serving); do not use with other products that are sources of caffeine or other ingredients with similar effects.
Nutritional information
Ingredients
Caffeine anhydrous, ginseng root extract (20% ginsenosides), taurine, whole plant extract of bacopa minor (50% bacosides), choline bicinate, guarana seed extract (22% caffeine), vitamin B6 (pyridoxalo 5'-phosphate P-5-P), niacin (nicotinic acid), capsule shell (filler: hydroxypropylmethylcellulose).
The product may contain milk (including lactose), soya, peanuts, other nuts, sesame seeds, cereals containing gluten, eggs, shellfish, fish.
Nutrition Facts
| Active ingredients | Per portion | % RI* |
| --- | --- | --- |
| Anhydrous caffeine | 180 mg | - |
| Ginseng root extract (20% ginsenosides) | 150 mg | - |
| Taurine | 150 mg | - |
| Whole bacopa plant extract (50% bacosides) | 125 mg | - |
| Choline bitartrate | 100 mg | - |
| Guarana seed extract (22% caffeine - 20 mg) | 90.9 mg | - |
| Niacin (nicotinic acid) | 16 mg | 100 |
| Vitamin B6 (pyridoxal 5'-phosphate P-5-P) | 10 mg | 714 |
* RI - Reference intake
Product reviews
0
opinion
Questions and Answers
Add a question about this product