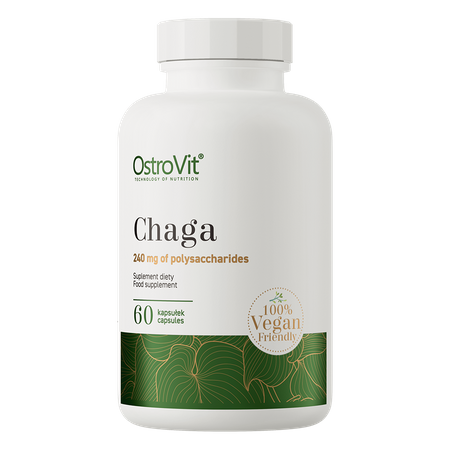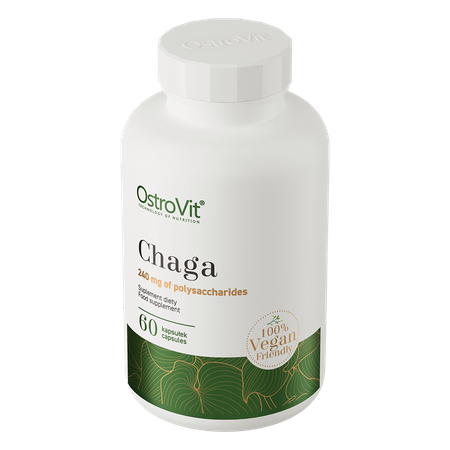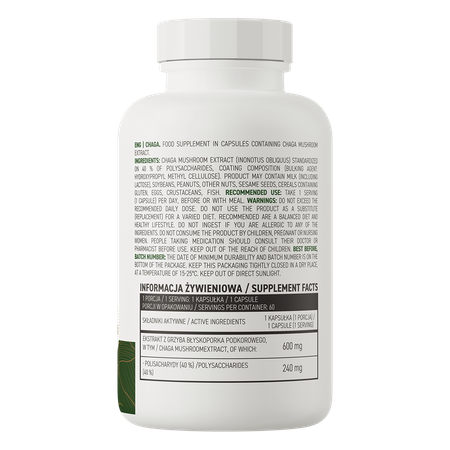 OstroVit Chaga VEGE 60 caps
5,23 €
OstroVit Chaga VEGE 60 caps
OstroVit Chaga VEGE is a mushroom dietary supplement rich in numerous substances which your organism needs on a daily basis. Chaga contains vitamins, minerals, enzymes and polysaccharides which improve functioning of your organism. Chaga is also known for its condition and performance enhancing properties.

One package of the OstroVit Chaga VEGE dietary supplement is a set of 60 capsules, which is enough for two months of supplementation. A single dose of the product contains as much as 600 mg of subcortical sparkle mushroom extract, including 240 mg of precious polysaccharides.
Chaga mushroom extract - for whom?
Chaga, also referred to as inonotus obliquus, is a type of parasitic mushroom which has been used in folk medicine for ages. Chaga occurs mostly in northern China and Siberia. Occasionally you can also find it in Poland. Chaga contains a series of health-promoting ingredients, such as phenols, sterols, riboflavin, pantothenic acid, melanin, superoxide dismutase and beta-glucan. It is also a rich source of B-group vitamins and numerous minerals, for example potassium, calcium, manganese, iron and zinc.
Thanks to a large amount of health-promoting substances, Chaga has a comprehensive influence on numerous systems and internal organs.
Properties of the ingredients contained in OstroVit Chaga VEGE:
GENERAL SUPPORT TO ORGANISM - If used regularly, Chaga extract can support your organism and let you protect yourself against irregular operation of internal organs.
IMPROVED IMMUNITY AND ENDURANCE - Thanks to strong anti-oxidant properties and content of beta-glucan, Chaga fosters immunity of your organism.It also stimulates endurance.
NUTRITIONAL WEALTH - Vitamins from B group, minerals, enzymes, polysaccharides included in OstroVit Chaga VEGE supplement nourish cells and foster their operation.
EASY TO SWALLOW - Chaga mushroom extract has been enclosed in a handy capsule which gets slippery when contacting water and can be easily swallowed.
Laboratory-confirmed quality
For the sake of our customers' health, the products we manufacture are regularly tested in an independent accredited laboratory to ensure and maintain the highest quality.






Suggested usage
Take 1 serving (1 capsule) per day, before or with meal.
Do not exceed the recommended daily dose. Do not use the product as a substitute (replacement) for a varied diet. Recommended are a balanced diet and healthy lifestyle. Do not ingest if you are allergic to any of the ingredients. Do not consume the product by children, pregnant or nursing women. People taking medication should consult their doctor or pharmacist before use. Keep out of the reach of children.
Nutritional information
Ingredients
Chaga mushroom extract (Inonotus obliquus) standardized on 40% of polysaccharides DER 20:1, coating composition (bulking agent: hydroxypropyl methyl cellulose).
Product may contain milk (including lactose), soybeans, peanuts, other nuts, sesame seeds, cereals containing gluten, eggs, crustaceans, fish.
Nutrition Facts
| Active ingredients | Per portion |
| --- | --- |
| Chaga mushroom extract, of which: | 600 mg |
| - polysaccharides (40%) | 240 mg |
Product reviews
0
opinion
Questions and Answers
Add a question about this product