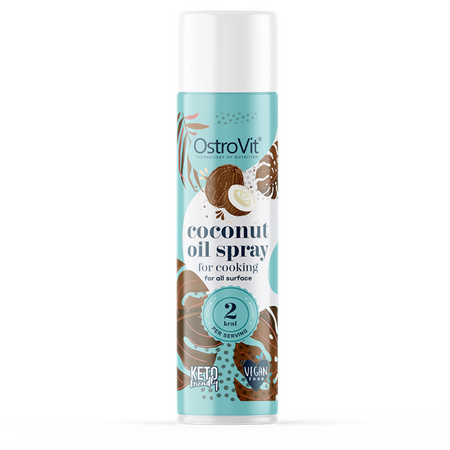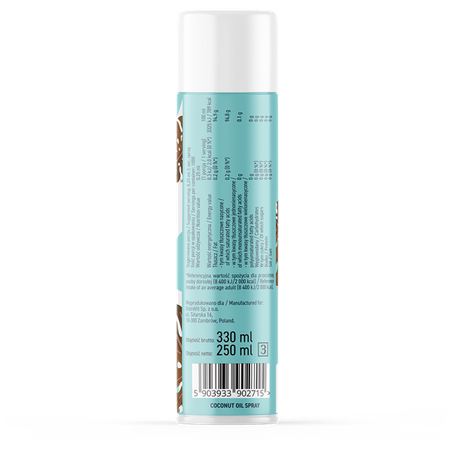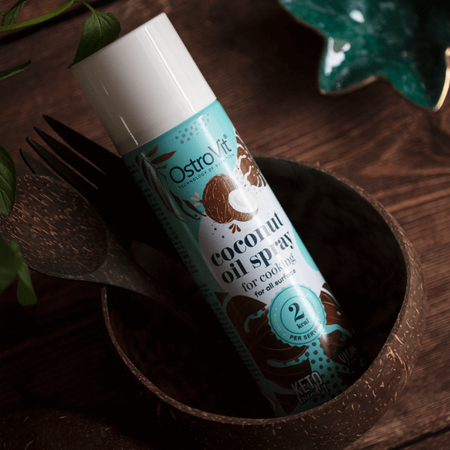 OstroVit Cooking Spray Coconut Oil 250 ml
3,91 €
OstroVit Cooking Spray Coconut Oil 250 ml
OstroVit Cooking Spray Coconut Oil is a user-friendly spray coconut oil. Coconut oil is considered as one of the healthiest sources of fat in food. Its soft and sweet aroma gives dishes a unique flavor. Thanks to the bottle with handy spray, you can easily control the size of portions.

Who OstroVit Cooking Spray Coconut Oil is designed for?
Saturated fatty acids MCT, included in the coconut oil, are known for their comprehensive health-promoting properties. The most frequent advantages of using them are the following: anti-bacterial properties, regulation of cholesterol in blood as well as support in fight against overweight. Additionally the coconut oil is a rich source of such minerals as calcium, iron, potassium and magnesium, folic acid and vitamin E, B2, B6, C and K.
The coconut oil will perform perfectly in persons who like to experiment in their kitchen. Thanks to a gentle note of coconut, it gives dishes an oriental flavor. It will be suitable when frying meat, vegetables as well as when preparing such sweet meals as pancakes, cakes and fried bananas.
Properties:
Check properties of OstroVit Cooking Spray Coconut Oil:
INTRIGUING FLAVOR - The coconut oil will give your dishes a unique flavor and aroma of natural coconut. Thanks to this, you will easily make your meals more oriental.
EASY DOSING - A handy spray will help you control sizes of portions and precisely cover the plate with a suitable amount of fat.
NUTRITIONAL VALUES - Using a coconut oil, you provide your organism with a set of minerals, vitamins and other nutrients which are an important part of daily diet.
VERSATILITY - The coconut oil is intended for thermal processing. It will perform perfectly in meat- and vegetable-based dry dishes and in warm desserts.
Suggested usage
Shake the bottle lightly before use. Before use, spray one coat of oil at a distance of about 20 cm distance directly on the pan, grill, baking sheet before inserting the food and heating the object.
WARNINGS: Pressurised container: May burst if heated. Extremely flammable aerosol. Keep away from heat, hot surfaces, sparks, open flames and other ignition sources.
No smoking.
Do not spray on an open flame or other ignition source. Do not pierce or burn, even after use.
Nutritional information
Ingredients
Coconut oil MCT, emulsifier: lecithin (rapeseed); propellent gas: propane butane.
Coconut oil come from EU.
Nutrition Facts
| Nutrition value | Per portion 0.25 ml | 100 ml |
| --- | --- | --- |
| Energy value | 8.3 kJ/ 2.0 kcal | 3325 kJ / 789 kcal |
| Fat | 0.2 g | 94.9 g |
| - of which saturated fatty acids | 0.2 g | 94.8 g |
| - of which monounsaturated fatty acids | 0 g | 0.1 g |
| - polyunsaturated fatty acids | 0 g | 0 g |
| Carbohydrates | 0 g | 0 g |
| - of which sugars | 0 g | 0 g |
| Protein | 0 g | 0 g |
| Salt | 0 g | 0 g |
Product reviews
0
opinion
Questions and Answers
Add a question about this product