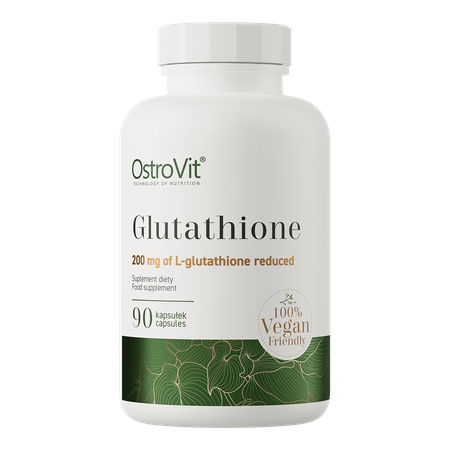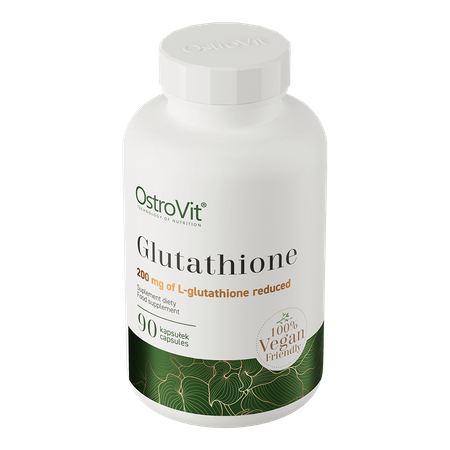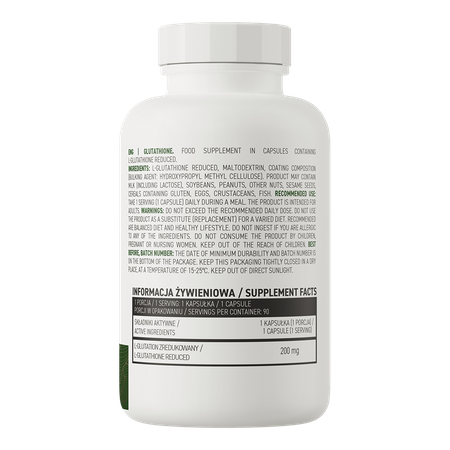 Ostrovit Glutation VEGE 90 kapsułek
9,90 €
Ostrovit Glutation VEGE 90 kapsułek
Ostrovit Glutation VEGE 90 kapsułek to najwyższej jakości suplement diety w kapsułkach celulozowych HPMC (hydroksypropylometyloceluloza) zawierający zredukowany L-glutation. Każda kapsułka zawiera w składzie 200 mg zredukowanego glutationu, wykazując działanie antyoksydacyjne (przeciwutleniające) wobec każdej komórki w naszym organizmie. OstroVit 100% VEGE CAPSULES to jakość, staranność oraz odpowiedź na oczekiwania naszych klientów.

100% VEGE CAPSULES LINE
Produkt dla wegan i wegan i wegetarian
90 porcji produkru
L-glutation w zredukowanej formie
Glutation
Glutation jest trójpeptydową organiczną cząsteczką składającą się z trzech aminokwasów białkowych: kwasu L-glutaminowego, L-cysteiny oraz L-glicyny. Glutation naturalnie występuje w naszym organizmie, działając jako główny przeciwutleniacz każdej komórki w naszym ciele. Suplementacja zredukowanym glutationem zwiększa pulę ogólnego stężenia tej substancji w naszym organizmie, co zwiększa szanse na dużo skuteczniejszą walkę z wolnymi rodnikami.
Właściwości składników zawartych w OstroVit Glutation VEGE:
Wykazuje działanie antyoksydacyjne
Działa jako "wymiatacz" wolnych rodników (reaktywne formy tlenu)
Może wykazywać działanie, które ma na celu wspieranie układu immunologicznego
Może działać "oczyszczająco" na nasz organizm
Usuwa zbędne metabolity z naszego organizmu
Wysoki poziom glutationu w organizmie to naturalna ochrona przeciwwirusowa
Wspomaga procesy enzymatyczne w organizmie
Produkty z serii VEGE CAPSULES zostały opracowane z wykorzystaniem wyłącznie wegańskich składników. Ze względu na wysoką politykę bezpieczeństwa firmy oraz fakt, że w procesie produkcji wykorzystywane są składniki uczulające, na etykiecie znajduje się więc informacja o możliwości wystąpienia alergenów krzyżowych. Aby uzyskać więcej informacji, prosimy o kontakt na adres e-mail.
Jakość potwierdzona laboratoryjnie
W trosce o zdrowie naszych klientów, produkty przez nas wytwarzane poddawane są regularnym badaniom w niezależnym akredytowanym laboratorium, w celu zapewnienia i utrzymania najwyższej jakości.






Suggested usage
Take 1 serving (1 capsule) daily during a meal. The product is intended for adults.
Do not exceed the recommended daily dose. Do not use the product as a substitute (replacement) for a varied diet. Recommended are balanced diet and healthy lifestyle. Do not ingest if you are allergic to any of the ingredients. Do not consume the product by children, pregnant or nursing women. Keep out of the reach of children.
Nutritional information
Ingredients
L-glutathione reduced, maltodextrin, coating composition (bulking agent: hydroxypropyl methyl cellulose). 
Product may contain milk (including lactose), soybeans, peanuts, other nuts, sesame seeds, oats, eggs, crustaceans, fish.
Nutrition Facts
| Active ingredients | Per portion |
| --- | --- |
| L-glutathione reduced | 200 mg |
Product reviews
0
opinion
Questions and Answers
Add a question about this product