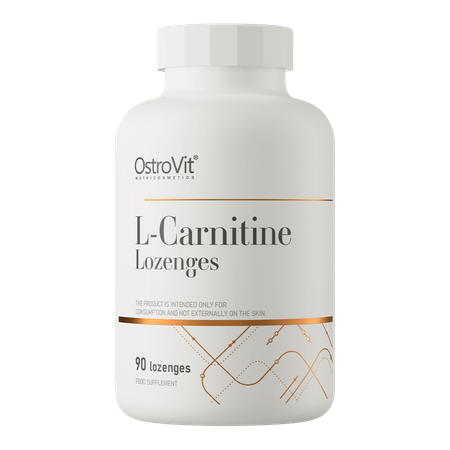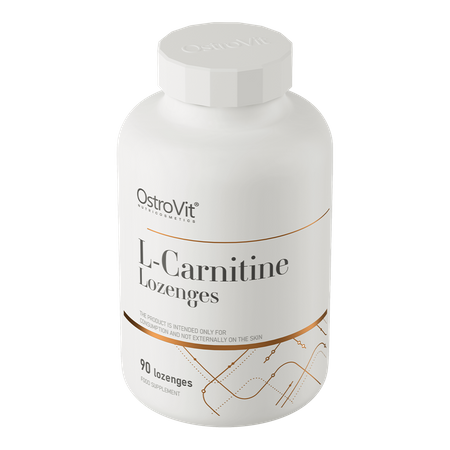 OstroVit L-Carnitine Lozenges 90 tabs green apple
6,07 €
OstroVit L-Carnitine Lozenge 90 tablets
OstroVit L-Carnitine lozenge is a source of high quality L-carnitine tartrate, which is available in a convenient form of lozenges with a fruity green apple flavor. It is a dietary supplement, which also provides the body with other valuable substances such as L-ornithine, HCL, L-arginine or chromium. OstroVit L-Carnitine lozenges does not contain sugar - in the composition of the preparation you can find low-calorie sweeteners. It is a dietary supplement, which is distinguished by a fast absorption rate and is recommended in particular to athletes.
Source of the highest quality L-carnitine tartrate - One portion of the preparation provides the body with up to 900 mg of the substance.
Contains L-ornithine HCl - One portion of the supplement is 100 mg of a valuable compound.
Contains chromium - One portion of the preparation provides the body with 12 ug of the element, and thus covers 30% of the reference intake value of the compound.
Comfortable form - Lozenges are a great solution for people who have trouble swallowing capsules.
Fruity taste - The dietary supplement is distinguished by the aroma of juicy, green apple.
Does not contain sugar - The product uses low-energy sweeteners, such as maltitol, sorbitol, sucralose or acesulfame K, which contribute to reducing the calorific value of the diet.
Efficiency - One package of the preparation is enough for 1.5 months of regular supplementation.
OstroVit L-Carnitine lozenges - a valuable compound in a convenient form
L-carnitine is an organic chemical compound from the group of amino acids. It is a dipeptide, which is formed by substances such as methionine and lysine. The compound occurs naturally in the human body - the intracorporeal production of L-carnitine takes place in the liver and kidneys and the substance is accumulated primarily in the heart muscle and skeletal muscles. L-carnitine can also be supplied to the body with food - its source is considered to be animal products and above all various types of meat.
L-carnitine can come in different forms. In OstroVit L-Carnitine, L-carnitine tartrate was used for sucking, i.e. a form, which shows a faster absorption rate than other available forms of the compound, which can be particularly valuable among physically active people. In addition, the preparation also contains valuable ingredients, such as L-ornithine HCl or L-arginine. The dietary supplement also contains chromium, which contributes to the maintenance of normal macronutrient metabolism and helps to maintain proper blood glucose levels.
Suggested usage
Suck 2 tablets daily.
Do not exceed the recommended daily dose. Do not use the product as a substitute (replacement) for a varied diet. Recommended are balanced diet and healthy lifestyle. Do not ingest if you are allergic to any of the ingredients. Children, pregnant or nursing women must not take the product. Keep out of the reach of children.
Keep this packaging tightly closed in a dry place, at a temperature of 15-25°C. Keep out of direct sunlight.
Nutritional information
Ingredients
Maltodextrin, L-carnitine tartrate, sweeteners: mannitol, sorbitol; L-ornithine HCL, L-arginine, anti-caking agents: magnesium salts of fatty acids, silicon dioxide; flavouring, sweeteners: sucralose, acesulfame K; chromium picolinate (chromium).
Product may contain milk (including lactose), soy, peanuts, other nuts, sesame seeds, cereals containing gluten, eggs, crustaceans, fish.
Nutrition Facts
| Active ingredients | Per serving (2 lozenges) | % RI* |
| --- | --- | --- |
| L-carnitine tartrate | 900 mg | - |
| L-ornithine HCL | 100 mg | - |
| L-arginine | 50 mg | - |
| Chromium | 12 µg | 30% |
*RI - Reference intake
Product reviews
0
opinion
Questions and Answers
Add a question about this product