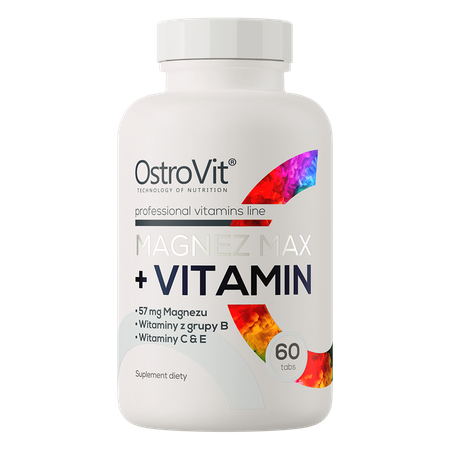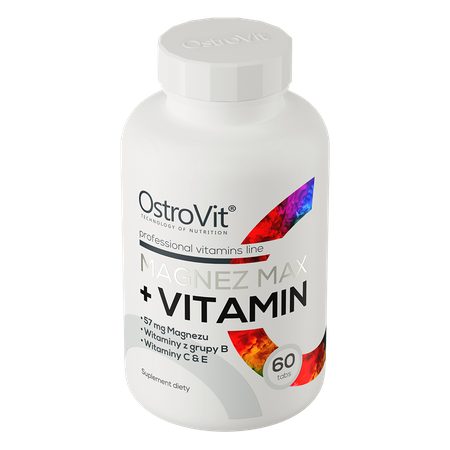 OstroVit Magnez MAX + Vitamin 60 tabs
2,00 €
OstroVit Magnesium MAX + Vitamin 60 tabs
OstroVit Magnesium Max + Vitamin is a unique vitamin-mineral complex consisting of highly bioavailable forms of magnesium compounds and 10 vitamins and minerals. Replenishing shortages Minerals are particularly important in the case of people doing sports, leading an active lifestyle, but also for people who value well-being and care for the homeostasis of their body.


Pack size: 60 tablets
Serving size: 1 tablet
60 servings of the product
Magnesium and 10 vitamin and minerals
OstroVit Magnesium Max + Vitamin
Magnesium contained in the preparation helps in the proper functioning of the muscles and in maintaining electrolyte balance and helps in maintaining healthy bones and teeth.Magnesium and vitamin B6 contribute to maintaining proper energy metabolism and help in the proper functioning of the nervous system. In addition, these ingredients contribute to the reduction of tiredness and fatigue and help maintain normal psychological functions.
Vitamins and minerals
The composition of the supplement was selected in such a way that the vitamins and minerals contained in it would affect almost all the biochemical processes occurring in the human body. Their supplementation and adequate supply is necessary to maintain proper physical and mental fitness, well-being and balance in the body. Only one dose of the preparation fully covers the daily need for the most needed vitamins and minerals of the adult human body and effectively replenishes any deficiencies resulting from increased physical activity or an incorrectly balanced diet.
Properties of the ingredients contained in OstroVit Magnesium MAX + Vitamin:
Has a positive effect on the nervous system
Contributes to the efficient use of macronutrients from food
Protects against the negative effects of stress
Plays a significant role in the storage of energy in muscle cells
Can help reduce fatigue and the proper functioning of cognitive functions
Prevents painful contractions of skeletal muscles
Suggested usage
Use 1 serving (1 tablet) per day 15 minutes after a meal.
Do not exceed the recommended daily dose for consumption. Dietary supplement can not be used as a substitute (replacement) of a varied diet. A balanced diet and a healthy lifestyle are recommended. Do not eat if you are allergic to any of the ingredients in the product. The product should not be used by children, pregnant women and nursing mothers. Keep out of reach of small children.
Nutritional information
Ingredients
Magnesium salts of citric acid (magnesium), bulking agent: microcrystalline cellulose; starch, anti-caking agents: magnesium salts of fatty acids, silicon dioxide; L-ascorbic acid (vitamin C), maltodextrin, DL-alpha-tocopheryl acetate (vitamin E), nicotinic acid (niacin), calcium D-pantothenate (pantothenic acid), pyridoxine hydrochloride (vitamin B6), riboflavin (vitamin E) B2), thiamine hydrochloride (thiamine), pteroylmonoglutamic acid (folic acid), D-biotin (biotin), cyanocobalamin (vitamin B12).
Product may contain milk (including lactose), soy, peanuts, other nuts, sesame seeds, gluten-containing cereals, eggs, crustaceans, fish.
Nutrition Facts
Servings per container: 60
Active ingredients
For a portion
% RI*
Magnesium
56 mg
15
Vitamin C
12 mg
15
Niacin
2.4 mg
15
Vitamin E
1.8 mg
15
Pantothenic acid 
0.9 mg
15
Vitamin B6
0.21 mg
15
Riboflavin
0.21 mg
15
Thiamin
0.165 mg
15
Folic acid
30 

µg

15
Biotin
7.5 

µg

15
Vitamin B12
0.375 

µg

15
*RI - Reference intake
Product reviews
0
opinion
Questions and Answers
Add a question about this product