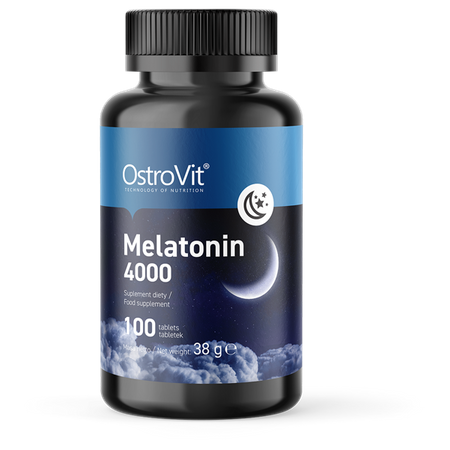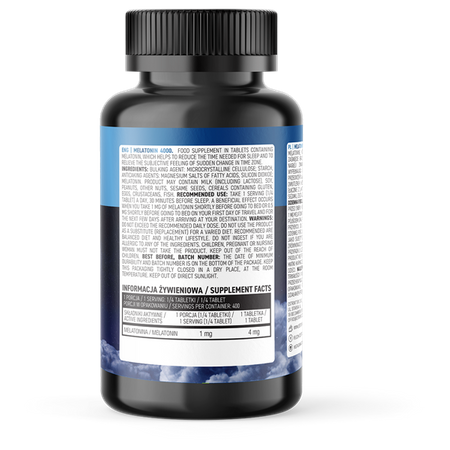 OstroVit Melatonin 4000 mcg 100 tabs
4,18 €
OstroVit Melatonin 4000 mcg 100 tabs
OstroVit Melatonin 4000 mcg is a dietary supplement in the form of tabs designed for persons suffering from sleeping disorders. If you use the product on a daily basis, you can regulate circadian rhythm as well as enjoy healthy and sound sleep. Do you have difficulties in falling asleep? Do you often wake up and cannot fall asleep again? Or maybe you can hardly deal with change of time zone after a journey? The answer to all of the above-stated cases is Melatonin 4000 from OstroVit.

What is melatonin and who should use it?
Melatonin is a natural hormone in human organism. It plays a crucial role in regulating the circadian rhythm and assures sound sleep. The amount of melatonin generated depends on the time of the day, while its top level is recorded at night. With age the amount of melatonin drops, thus the elderly more often deal with sleeping disorders.
Fortunately deficiency of melatonin can be easily eliminated thanks to OstroVit Melatonin 4000 mcg tabs which not only regulate your biological clock but also demonstrate antioxidant properties. Choose our product if you:
have difficulties with falling asleep
wake up very early in the morning
wake up at night many times
always feel tired and nervous throughout the day
suffer from jet lag when you change time zone
shift work prevents you from keeping a circadian rhythm
Properties:
If you take melatonin in pills on a regular basis, you can supplement this highly important hormone.
See the major features of our supplement:
CIRCADIAN RHYTHM REGULATION - OstroVit Melatonin 4000 mcg dietary supplement is indispensable in the fight against sleeping disorders. Thanks to these tabs, you can forget about sleepless nights and start falling asleep better.
ANTI-OXIDANT PROPERTIES - Aside from biological clock regulation, melatonin demonstrates antioxidant properties. It reduces the number of free radicals, thus protecting the organism.
HIGH MELATONIN CONTENT - One tab of the dietary supplement contains as many as 4 mg of melatonin. It is a perfect solution if you take more hormone.
CONVENIENT FORM - Melatonin 4000 by OstroVit is easy to swallow. Thanks to high content of active ingredient, from now on you don't need to take several melatonin pills a day.
Suggested usage
Take 1 serving (1/4 tablet) a day, 30 minutes before sleep.
A beneficial effect occurs when you take 1 mg of melatonin shortly before going to bed or 0.5 mg shortly before going to bed on your first day of travel and for the next few days after arriving at your destination.
Do not exceed the recommended daily dose. Do not use the product as a substitute (replacement) for a varied diet. Recommended are balanced diet and healthy lifestyle. Do not ingest if you are allergic to any of the ingredients. Children, pregnant or nursing woman must not take the product. Keep out of the reach of children.
Do not use while driving or operating machinery, do not combine with alcohol consumption and with other drugs, including herbal remedies.
Nutritional information
Ingredients
Bulking agent: microcrystalline cellulose; starch, anticaking agents: magnesium salts of fatty acids, silicon dioxide; melatonin.
Product may contain milk (including lactose), soy, peanuts, other nuts, sesame seeds, cereals containing gluten, eggs, crustaceans, fish.
Nutrition Facts
| Active ingredients | 1/4 tablet | 1 tablet |
| --- | --- | --- |
| Melatonin | 1 mg | 4 mg |
Product reviews
0
opinion
Questions and Answers
FAQ
Do you sell Melatonin 3mg or 4mg without magnezium? 4mg tablets contain some magnezium, but you do not indicate how much. If the amount is minimal then maybe I can purchase melatonin 4mg with some magnezium? Please, advise.
Good morning,
Our product contains the following ingredients: "Bulking agent: microcrystalline cellulose; starch, anti-caking agents: magnesium salts of fatty acids, silicon dioxide; melatonin."
1 tablet contains 4 mg of melatonin. The recommended daily allowance is 1/4 tablet - 1 mg of melatonin.
Magnesium salts of fatty acids acts as an anti-caking agent, which contains 5 % magnesium. We didn't put this on the label because it is not a source of magnesium. It's gives us only 0.75 mg of magnesium from magnesium salts of fatty acids / 1 tablet.
Do you need more information?
If the above information is not sufficient for you, please send us your question. We will do our best to answer them.
Add a question about this product