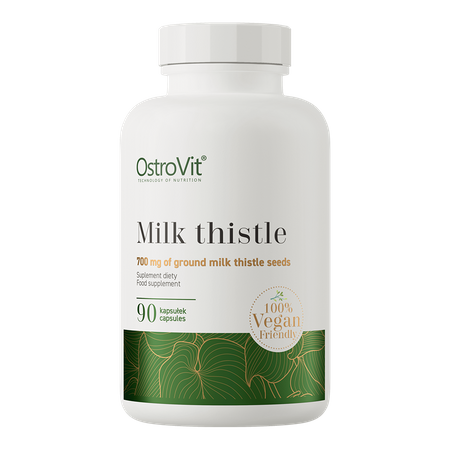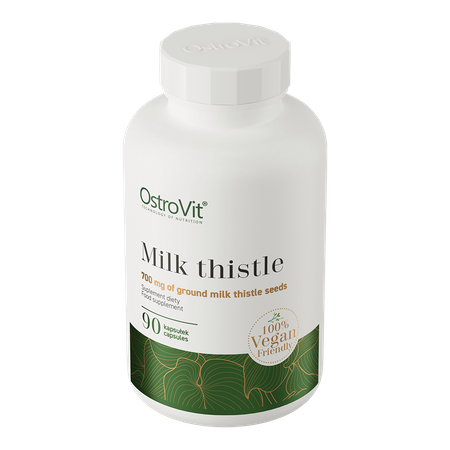 OstroVit Milk Thistle VEGE 90 vcaps
Customers recommend!
Rating 5/ 5
3,57 €
OstroVit Milk Thistle VEGE 90 capsules
OstroVit Milk Thistle VEGE is a dietary supplement in vegan capsules containing ground milk thistle seeds which makes it a friendly dietary element for anyone who cares about health and well-being. The HPMC (hydroxypropyl methylcellulose) capsule itself and the extract do not contain any substance of animal origin, so the supplement is dedicated to a wide audience. OstroVit 100% VEGE CAPSULES is quality, diligence and a response to the expectations of our customers.


100% VEGE CAPSULES LINE
The product is also dedicated to vegans and vegetarians
90 servings of the product
3 months of supplementation
Milk thistle - what is it?
Milk Thistle is a plant known as milk thistle (Silybum Marianum from the Asteraceae family), a medicinal thistle used in traditional preparations. It has a history of use in the Middle East and Europe for many years. Milk thistle is used to treat many liver diseases, including gallbladder disease, hepatitis, cirrhosis, and jaundice. Ground milk thistle is also used to protect the liver from poisoning by chemical and environmental toxins, including snake bites, insect bites, mushroom and alcohol poisoning. The main phytochemicals that can be considered valuable and particularly appreciated in milk thistle are silymarin, quercetin, apigenin, triterpenes, as well as compounds formed under the influence of alcohol maceration such as highly concentrated silymarin, silybin A and B, iso-silybin or silibinin.
Properties of the ingredients contained in OstroVit Milk Thistle VEGE:
Support proper liver function
Can have a beneficial effect on the gastric mucosa
Demonstrate support in the functioning of detoxification processes
May protect the liver cells (hepatocytes)
Contain antioxidant substances
It can lower low-density lipoprotein or LDL
Support detoxification of the body
Products from the VEGE CAPSULES line were developed using only vegan ingredients. Due to the company's high-security policy and the fact that the production plant uses ingredients with an allergenic effect, hence the information on the possibility of the occurrence of cross allergens on the label. For more information, please contact us by email.
Suggested usage
Take 1 serving (1 capsule) per day.
Do not exceed the recommended daily dose. Do not use the product as a substitute (replacement) for a varied diet. Recommended are balanced diet and healthy lifestyle. Do not ingest if you are allergic to any of the ingredients. Do not consume the product by children, pregnant or nursing women. Keep out of the reach of children.
Nutritional information
Ingredients
Ground milk thistle seeds (Silybum marianum (L.) Gaertn.), coating composition (bulking agent: hydroxypropyl methyl cellulose).
Product may contain milk (including lactose), soybeans, peanuts, other nuts, sesame seeds, oats, eggs, crustaceans, fish.
Nutrition Facts
| Active ingredients | 1 portion (1 capsules) |
| --- | --- |
| Ground milk thistle seeds |  700 mg |
Product reviews
1
opinion
What customers say about this product
Questions and Answers
Add a question about this product