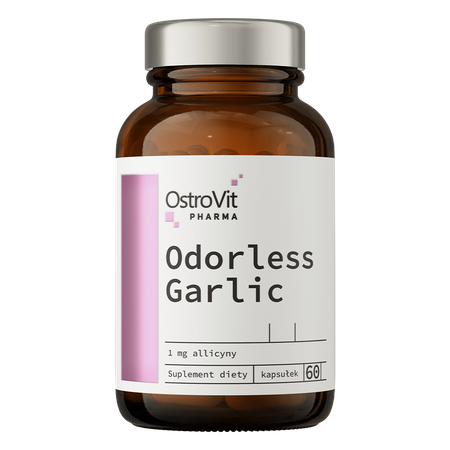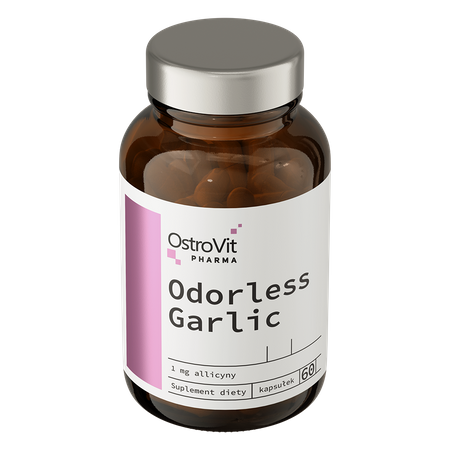 OstroVit Pharma Garlic 60 softgels
OstroVit Pharma Unscented Garlic 60 softgels
OstroVit Pharma Unscented Garlic is a dietary supplement in capsules containing unscented oil from fresh garlic bulbs. The supplement may favorably influence the health of the cardiovascular system, physical and sexual fitness, cognitive functions as well as general resistance to various types of infections. A special odorless formula, deprives it of a specific odor, thanks to which supplementation becomes easier for people who are particularly sensitive to sensory.

60 servings in the package
1 capsules a day
The extract corresponds to 1000 mg of fresh garlic bulb
2 mg unscented oil, 1 mg allicin
Excellent superfood in softgel capsules
Garlic - learn about its health-promoting effect on the body
Allium sativum L., more widely known as garlic, is one of the most studied in terms of the positive impact on human health and well-being of herbal products. For centuries, it has been used mainly as an irreplaceable aroma of spices in kitchens almost all over the world. Garlic is known for its specific, sulfuric smell, for which the main compound - allicin - is responsible for release. It is a kind of "self-defense" mechanism of the plant, protecting it against pests and insects. Many of us have heard that garlic is the health. And it is true. From generation to generation, family members mentioned its beneficial effects, but not everyone was able to convince it because of this "horrible" for most uncomfortable smell.
Thanks to the special odorless oil formula, placing it in the gel capsule, we received a complete product with the properties of fresh garlic. It is an excellent supplement that can support not only the proper functioning of the circulatory system, but also have antibacterial and antifungal functions. It can improve physical fitness, but it should not be forgotten that garlic is in fact a sensational aphrodisiac (here, especially our odor-free product will not be replaced). Garlic raises the body's overall immunity, and can also lower blood pressure and high cholesterol.
Properties of the ingredients contained in OstroVit Pharma Unscented Garlic:
Can contribute to the overall improvement of the body's immunity
Great aphrodisiac
May have a bactericidal and fungicidal effect
Can lower high blood pressure
Show the effect of lowering the level of "bad" LDL cholesterol
Can contribute to slowing down the aging process of the body
May contribute to the decontamination of the respiratory tract
Laboratory-proven quality
For the sake of the health of our customers, the products manufactured by us are regularly tested in an independent accredited laboratory to ensure and maintain the highest quality.
Suggested usage
Consume 1 serving (1 capsule) daily, preferably with a meal.
Do not exceed the recommended daily allowance. A dietary supplement cannot be used as a substitute (replacement) for a varied diet. A balanced diet and a healthy lifestyle are recommended. Do not eat if you are allergic to any of the ingredients of the product. The product should not be used by children, pregnant women and nursing mothers. Keep out of the reach of small children.
Nutritional information
Ingredients
Soybean oil, capsule shell: gelatin, humectant: glycerol, water; odorless garlic oil (Allium sativum L.) DER 500:1.
The product may contain milk (including lactose), peanuts, other nuts, sesame seeds, gluten-containing cereals, eggs, crustaceans, fish.
Nutrition Facts
| Active ingredients | Per portion |
| --- | --- |
| Unscented garlic oil DER 500: 1, incl: | 2 mg (1000 mg of fresh garlic tuber equivalent) |
| - allicin (50%) | 1 mg |
Product reviews
0
opinion
Questions and Answers
Add a question about this product