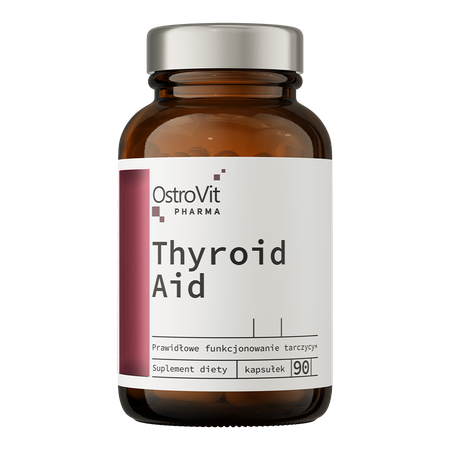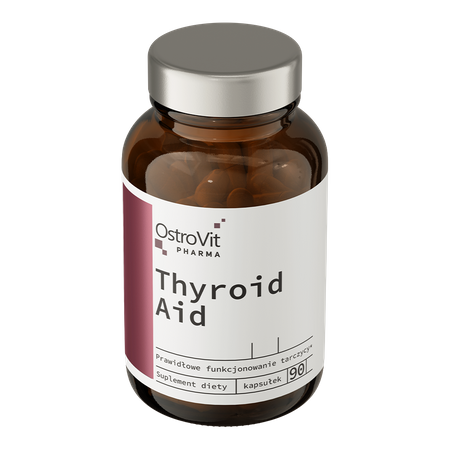 OstroVit Pharma Thyroid Aid 90 caps
5,11 €
OstroVit Pharma Thyroid Aid 90 caps
OstroVit Pharma Thyroid Aid is a dietary supplement containing a complex of active substances designed to support the proper functioning of the thyroid gland in convenient HPMC capsules. Thyroid Aid combines iodine and tyrosine, i.e. two substances necessary for the synthesis of thyroid secretion products, as well as selenium and zinc, which are cofactors necessary for the proper functioning of the thyroid. OstroVit Pharma is a line that puts the quality of raw materials, pharmaceutical diligence of production and all the components thanks to which the supplement is created in the first place.

As many as 9 carefully selected active ingredients
The product is sufficient for a month of supplementation
The highest quality of raw materials and production technology
Dark glass packaging
Easy to swallow capsule
A complex of ingredients supporting the work of the thyroid gland
OstroVit Pharma Thyroid Aid - composition
L-tyrosine - together with iodine is a T3 and T4 precursor. Too low supply of tyrosine interferes with the production of the shield hormones. Its deficiency may cause its dysfunction e.g. in the form of hypothyroidism, which causes a number of serious complications.
Magnesium - supports organisms in eliminating thyroid deficiency symptoms. Magnesium in combination with other supplements can lower TSH, reduce thyroid damage and even accelerate the healing of thyroid tissue.
Ashwagandha - positively affects hypothyroidism, especially with subclinical hypothyroidism. In addition, it supports the thyroid function and increases thyroxine levels. It can also stimulate the production of T4.
Zinc - participates in the process of thyroid cell proliferation and influences the thyroid hormone metabolism. It is a component of triodothyronine receptor proteins and its deficiency affects the impairment of binding of this hormone, which leads to disturbances of T3 levels.
Selenium - is a component of enzymes involved in the production and distribution of thyroid hormones and "antioxidant" enzymes. A key component of the enzyme that converts T4 into T3 in the body. Without it, it is impossible to produce T3 in sufficient quantities.
Japanese leaf extract - The Japanese leaf extract, otherwise known as Kelp, is known for its high content of natural iodine, which is used by the thyroid to synthesize the two most important hormones T3 and T4. Iodine deficiency can also affect slower metabolism.
Vitamin B6 (pirydoksalo 5'-fosforan P-5-P) - it needs a thyroid to effectively use iodine to produce hormones and increase the assimilability of magnesium.
Vitamin B12(metylocobalamin) - People with thyroid disorders or suffering from autoimmune diseases like Hashimoto are exposed to vitamin B12 deficiencies.
Properties of the ingredients contained in OstroVit Pharma Thyroid Aid:
Contain active substances essential for the production of thyroid hormones
Regulate the synthesis of hormones T3 and T4
Support the work of metabolism, which is indirectly related to thyroid hormones
They are responsible for healthy thyroid function
Fix cognitive functions
They have antioxidant properties
Increase energy levels
Laboratory-confirmed quality
For the sake of our customers' health, the products we manufacture are regularly tested in an independent accredited laboratory to ensure and maintain the highest quality.






Suggested usage
Consume 1 serving (3 capsules) daily, preferably with a meal. The preparation is intended for adults.
Do not exceed the recommended daily allowance. Dietary supplement cannot be used as a substitute for a varied diet. A balanced diet and a healthy lifestyle are recommended. Do not consume if you are allergic to any of the ingredients in the product. The product should not be used by children, pregnant women and nursing mothers. Keep out of reach of small children.
Nutritional information
Ingredients
L-tyrosine, magnesium (magnesium carbonate), ashwagandha root extract (7.2% withanolides, 1% alkaloids and 0.25% vitaferin A), inulin, capsule shell (bulking agent: hydroxypropyl methylcellulose), zinc (zinc picolinate), selenium (L- selenomethionine), japanese leaf extract (1% iodine 150 µg), vitamin B6 (pyridoxal 5'-phosphate P-5-P), vitamin B12 (methylcobalamin).
The product may contain milk (including lactose), soy, peanuts, other nuts, sesame seeds, oats, eggs, crustaceans, fish.
Nutrition Facts
| Active ingredients | Per portion | % RI* |
| --- | --- | --- |
| L-tyrosine | 500 mg | - |
| Magnesium (magnesium carbonate) | 57 mg | 15 |
| Ashwagandha root extract | 135 mg | - |
| Inulin | 100 mg | - |
| Zinc (zinc picolinate) | 15 mg | 150 |
| Selenium (L-selenomethionine) | 100 µg | 181 |
| Japanese leaf extract (1% iodine 150 µg) | 15 mg | 100 |
| Vitamin B6 (pyridoxalo 5'-phosphate P-5-P) | 5 mg | 357 |
| Vitamin B12 (methylcobalamin) | 2.5 µg | 100 |
*RI - Reference intake
Product reviews
0
opinion
Questions and Answers
FAQ
ich hatte sonst thyroid vom rind .--kann man dieses vergleichen
All ingredients of OstroVit Thyroid Aid are listed in the "Nutritional information" tab.
Do you need more information?
If the above information is not sufficient for you, please send us your question. We will do our best to answer them.
Add a question about this product