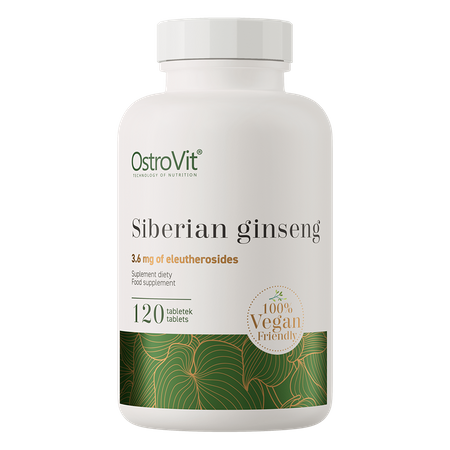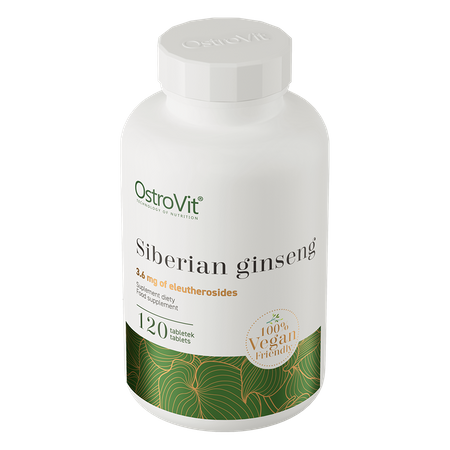 OstroVit Siberian Ginseng VEGE 120 tabs
5,39 €
OstroVit Siberian Ginseng VEGE 120 tabs
OstroVit Siberian ginseng is a preparation in tablets containing Siberian ginseng extract. It increases physical and mental efficiency. In addition, it supports learning and memorizing processes and protects our body from stress factors. People, regularly using ginseng, feel more energy. For this reason, it will work in states of weakness, fatigue or in the process of convalescence. Our product is recommended for those who work both physically and mentally.

120 tablets in the package
1 serving = 1 tablet
Adaptogenic effect
Siberian ginseng
Siberian ginseng root extract
Eleutherococcus senticosus, known as Siberian Ginseng or simply Siberian ginseng, is an adaptogen that has its traditional use in Asian countries like Japan, China and Korea. According to traditional Chinese medicine, it was used to treat kidney and spleen problems, to improve overall well-being, increase energy, and ease mental tension. The root (where all health-promoting compounds and substances accumulate) is light brown and has a sweet taste with hints of bitterness. Siberian ginseng, demonstrating its adaptogenic effect, supports the body's resistance to stress and various traumatic experiences, it is used in states of exhaustion or anxiety. Siberian ginseng can support the central nervous system and help restore normal neurological function. Siberian ginseng accelerates reaction time, improves concentration, memory, eyesight and even the sense of hearing. It can lower blood sugar levels, making it a useful herb for people with type II diabetes.
Properties of the ingredients contained in OstroVit Siberian Ginseng:
Have pro-cognitive activity
Strong adaptogenic properties
Can lower blood sugar levels
Can help maintain the correct weight
Show improved libido and sexual performance in men
Improve and regulate the brain
Laboratory-proven quality
For the sake of the health of our customers, our products are regularly tested in an independent accredited laboratory in order to ensure and maintain the highest quality.
Suggested usage
Take 1 serving (1 tablet) per day.
Do not exceed the recommended daily dose. Do not use the product as a substitute (replacement) for a varied diet. Recommended are balanced diet and healthy lifestyle. Do not ingest if you are allergic to any of the ingredients. Children, pregnant or nursing woman must not take the product. Keep out of the reach of young children.
Nutritional information
Ingredients
Siberian ginseng root extract (Eleutherococcus senticosus (Rupr. et Maxim.) Maxim) standardized on 1.2% of eleutherosides, bulking agent: microcrystalline cellulose; anticaking agents: magnesium salts of fatty acids, silicon dioxide.
Product may contain milk (including lactose), soybeans, peanuts, other nuts, sesame seeds, oats, eggs, crustaceans, fish.
Nutrition Facts
| Active ingredients  | 1 portion |
| --- | --- |
| Siberian ginseng root extract | 300 mg |
| - of which eleutherosides (1.2%) | 3.6 mg |
Product reviews
0
opinion
Questions and Answers
Add a question about this product