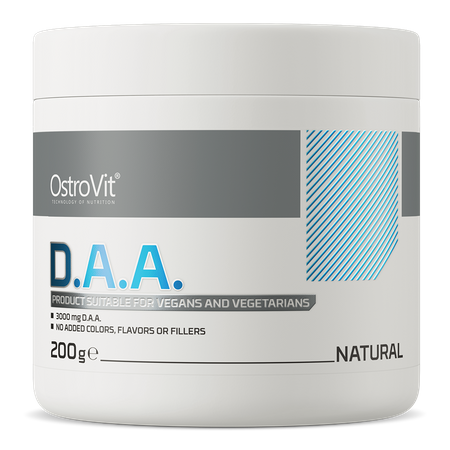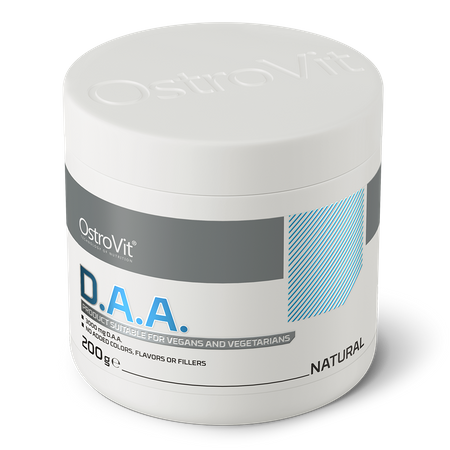 OstroVit Supreme Pure D.A.A 200 g natural
Customers recommend!
Rating 5/ 5
8,77 €
OstroVit D.A.A 200 g
OstroVit D.A.A is a high-quality, modern supplement, consisting of only one substance, which is D-aspartic acid. The product has been crushed by undergoing a micronization process, which allows for even better absorption. No fillers, preservatives and dyes. The minimalism of the composition, created for the best.

200 g of D-aspartic acid in the package
66 servings in the packaging
Only one component, no excessive fillers
OstroVit D.A.A - D-aspartic acid
Aspartic acid is an organic chemical compound from the group of endogenous protein amino acids. It participates in the biosynthesis of many compounds in our body, and is also one of the products of the citric acid cycle, commonly known as the Krebs cycle and gluconeogenesis (glucose biosynthesis).
Aspartic acid is an active compound in the very center of the brain - the pituitary gland. It causes the release of FSH (follicle-stimulating), LH (lutropin) and growth hormone. It can also accumulate in the testicles where it relieves the limitation of the rate of testosterone synthesis, which leads to an increase in its production.
Properties of the ingredients included in OstroVit DAA:
The DAA D-aspartic acid product is an ideal supplement for all those who want to increase their physiological testosterone level, increase the regeneration and efficiency of the body underestimated by many. Aspartic acid increases our natural testosterone levels, improves sexual performance by increasing libido and increases self-confidence.
Supplementation will increase the level of the main male hormone - testosterone
Effective libido increase!
Regulates the synthesis of hormones in our body
Constant supplementation allows you to increase muscle mass
It improves cognitive skills - it supports the process of memorizing, learning and concentration
Ideally supports regenerative processes after hard training
Suggested usage
Add 3 g (1/2 flat scoop) in 100-150 ml of water or juice. Consume one portion daily 30 minutes before bedtime.
Do not exceed the recommended daily dose for consumption. Dietary supplement can not be used as a substitute (replacement) of a varied diet. A balanced diet and a healthy lifestyle are recommended. Do not eat if you are allergic to any of the ingredients in the product. The product should not be used by children, pregnant women and nursing mothers. Keep out of reach of small children.
Nutritional information
Ingredients
D-aspartic acid.
The product may contain milk (including lactose),soya, peanuts, other nuts, sesame seeds, oats, eggs, crustaceans, fish.
Nutrition Facts
| Active ingredients | Per 100 g | For a portion |
| --- | --- | --- |
| D-aspartic acid | 100 g | 3 g |
Product reviews
1
opinion
What customers say about this product
Questions and Answers
FAQ
Good evening, I would like to try your product but before I start using it, I would like to ask you for how long it can be taken without side-effects. Also, for about 2 months I've taken 2 or 3 tablets a day of "Prolabs D-Aspartic" (each containing 1 mg of aspartic acid). Can I still start taking Ostrovit DAA safely? Thank you very much in advance for your support. Best Regards, Francesco. Email: calabritudo@gmail.com; Cell. +39 338 1837 226
We recomended do not excedd daily dose - 3 g. First of all, DAA supplementation can cause an increase in prolactin levels, the female hormone responsible for menstrual processes and pregnancy. When this hormone increases in men, they become prone to gynaecomastia. Additionally, problems with sleep and bad mood may occur. Our perception may be disturbed. Moreover, problems with logical thinking and concentration may occur. The risk of DAA supplementation exists but whether to use the supplement and how is an individual decision of the trainer.
Do you need more information?
If the above information is not sufficient for you, please send us your question. We will do our best to answer them.
Add a question about this product