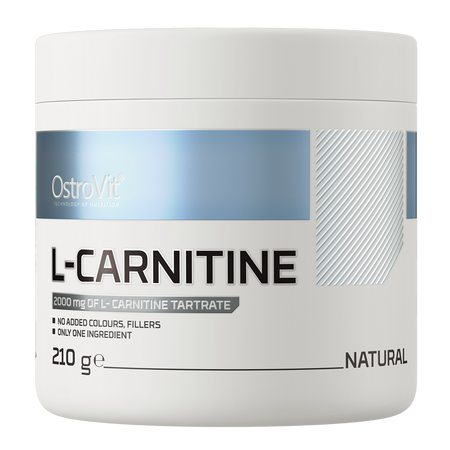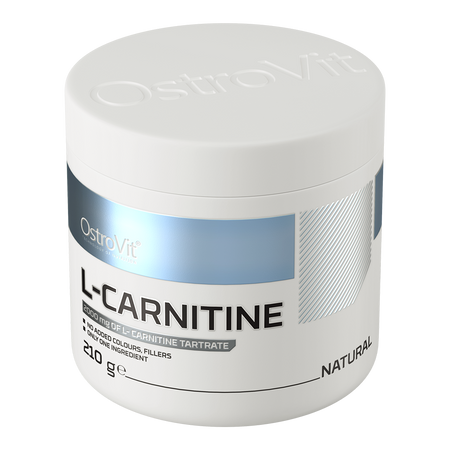 OstroVit Supreme Pure L-Carnitine 210 g natural
11,22 €
OstroVit L-Carnitine 210 g
OstroVit L-Carnitine is a dietary supplement that is the source of the highest quality L-carnitine tartrate. The preparation is intended for physically active people who want to lose weight. L-carnitine is one of the most popular substances used by consumers during the weight loss process. We can find it in food in meat and dairy products, therefore people on a vegetarian and vegan diet should supplement this compound.

210 g in the package
SUPREME PURE - no unnecessary fillers
The product contains up to 105 portions
1 portion = 2 g
L-Carnitine
It is a chemical organic compound from the group of amino acids that naturally occur in our body. Carnitine is a substance contributing to the burning of body fat. Fatty acids transported by L-carnitine are oxidized in the mitochondria - cellular energy centers. When applying L-carnitine, an increase in energy is felt. The use of our product contributes to preventing the deposition of fat.
Properties of the ingredients contained in OstroVit L-Carnitine:
They support fat burning processes (energy absorption from fats)
Accelerate post-training regeneration
Increase training endurance
Delay the effect of fatigue
Support the movement of fatty acids to the heart and immune cells
WARNING: The taste and smell of OstroVit Supreme Pure L-Carnitine is not the most pleasant. These are the natural sensory characteristics of L-carnitine tartrate product, which does not testify to its poor quality or deterioration.
The product has strong hygroscopic properties (strongly absorbs moisture). The formation of clumps or uniform (compact) consistency is not a sign of loss of product properties. In this case, the product must be crushed anew.
Laboratory-proven quality
For the sake of the health of our customers, the products manufactured by us are regularly tested in an independent accredited laboratory to ensure and maintain the highest quality.
Suggested usage
Pour one portion of 2 g (2.5 measure) with 100 - 150 ml of water or your favorite juice. Please use the measuring cup included in the package (1 ml). Drink one serving a day before meals.
Do not exceed the recommended daily dose for consumption. Dietary supplement can not be used as a substitute (replacement) of a varied diet. A balanced diet and a healthy lifestyle are recommended. Do not eat if you are allergic to any of the ingredients in the product. The product should not be used by children, pregnant women and nursing mothers. Keep out of reach of small children.
Nutritional information
Ingredients
100% L-carnitine tartrate.
The product may contain milk (including lactose), soya, peanuts, other nuts, sesame seeds, oats, eggs, fish.
Nutrition Facts
| Active ingredients | Per 100 g | For a portion |
| --- | --- | --- |
| L-carnitine tartrate | 100 g | 2000 mg |
| - including l-carnitine | 68 g | 1360 mg |
Product reviews
0
opinion
Questions and Answers
FAQ
Hello, Do You offer acetyl-L-carnitine in any of carnitines You have?
In the near future we will be introducing acetyl L-carnitine HCl in powder and in the form of vegan capsules.
Do you need more information?
If the above information is not sufficient for you, please send us your question. We will do our best to answer them.
Add a question about this product