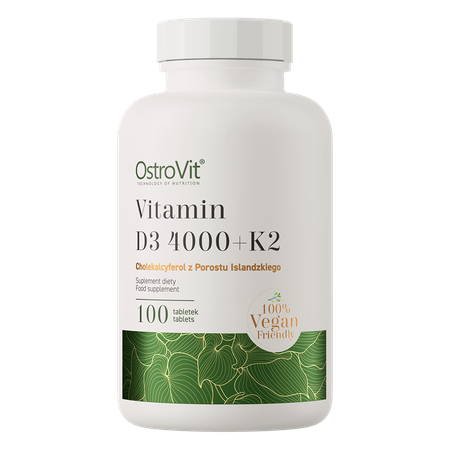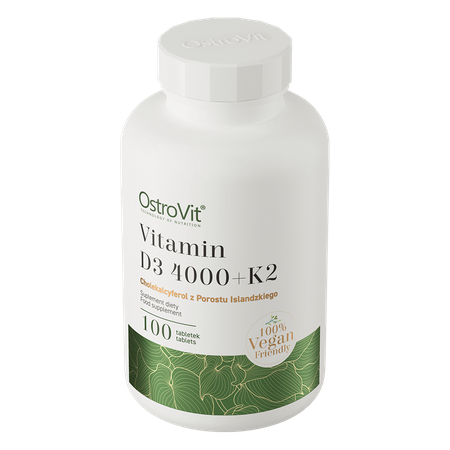 OstroVit Vitamin D3 4000 IU + K2 VEGE 100 tabs
5,31 €
OstroVit Vitamin D3 4000 IU + K2 VEGE 100 tabs
OstroVit Vitamin D3 4000 IU + K2 is a vegan dietary supplement which includes vitamin D3 in the form of the Iceland moss cholecalciferol and vitamin K2 MK-7 with natto. Thanks to a high content of active ingredients, the supplement performs well in people who deal with vitamin D deficiency and in seniors.

Why is it worth taking vitamin D3 and K2?
Vitamin D is produced in the organism mostly while you are exposed to sunlight, which is not always possible. It is also included in such foods as fat fish, eggs or dairy produce. Sadly the amount of vitamin D you absorb while eating is insufficient to fully meet your needs. This is why it is so important that you supplement products with vitamin D and K2.
Consequences of insufficiency of vitamin D3 and K2 may substantially hinder an everyday life. People who struggle with lowered levels of these ingredients in the body, often complain about general weakness and fatigue, drowsiness, fragile and painful bones, weak muscles, as well as frequent infections.
Properties of the ingredients contained in OstroVit Vitamin D3 4000 IU + K2 VEGE
HIGH DOSE OF VITAMINS – One pill represents as many as 100 µg of vitamin K2 and 100 µg of vitamin D3, which is 4000 IU.
COMPREHENSIVE INFLUENCE – Our dietary supplement supports operation of internal organs and systems, as well as may contribute to beauty of your looks. Thanks to this product, your skin may get more radiant, while hair – stronger.
PERFECT FOR SENIORS – A daily demand for vitamin D in people aged 75 and older is 4000 IU. This is exactly the amount which our supplement offers, so it is a perfect match for all seniors.
VEGAN FORMULA – The supplement was created with vegans in mind.
Suggested usage
Healthy adults under 75 years of age - 1/2 tablet daily, Healthy adults over 75 years of age - 1 tablet daily. It is advisable to perform a 25-(OH) D blood test and consult the doctor or pharmacist before use.
Do not exceed the recommended daily dose. Do not use the product as a substitute (replacement) for a varied diet. Recommended are balanced diet and healthy lifestyle. Do not ingest if you are allergic to any of the ingredients. The product should not be used by children, pregnant women, nursing women, people taking anticoagulants containing vitamin K antagonists (e.g. warfarin and acenocoumarol). Keep out of the reach of children.
Nutritional information
Ingredients
Bulking agent: microcrystalline cellulose; starch, natural vitamin D from the Icelandic lichen (cholecalciferol), menaquinone-7 MK-7 (vitamin K) from Bacillus subtilis natto, anticaking agents: magnesium salts of fatty acids, silicon dioxide.
Product may contain milk (including lactose), soybeans, peanuts, other nuts, sesame seeds, eggs, cereals containing gluten, crustaceans, fish.
Nutrition Facts
| Active ingredients | 1/2 tablet | %RI* | 1 tablet | %RI* |
| --- | --- | --- | --- | --- |
| Vitamin K | 50 μg | 67 | 100 μg | 133 |
| Vitamin D | 50 μg / 2000 IU | 1000 | 100 μg / 4000 IU | 2000 |
*RI - REFERENCE INTAKE
Product reviews
0
opinion
Questions and Answers
Add a question about this product