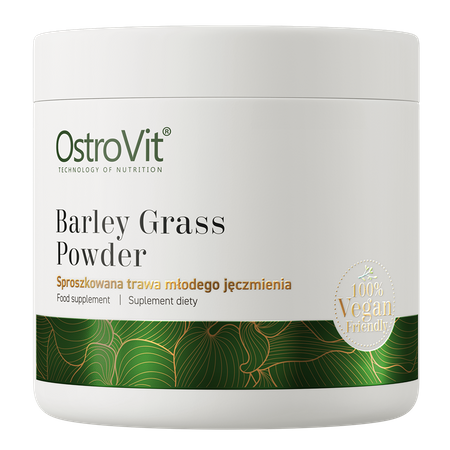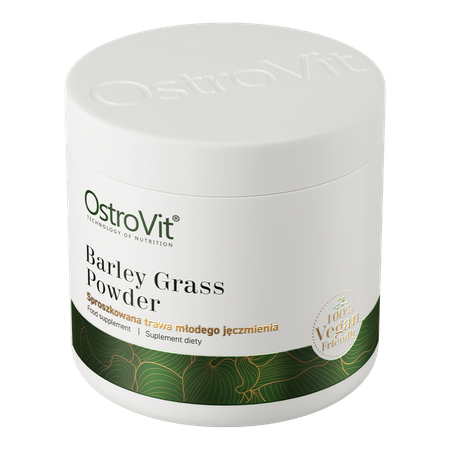 OstroVit Young Barley Grass VEGE 200 g natural
2,45 €
OstroVit Young Barley Grass VEGE 200 g
OstroVit Young Barley Grass is a plant dietary supplement in powder which demonstrates strong anti-oxidant properties. A young green barley is full of nutrients which support operation of the organism on a daily basis. Do you deal with acne, want to detoxify your organism or suffer from digestive system pain? Or maybe you try to slim down? Whatever it is, please be advised to supplement the barley grass.
Why to take a young barley?
Green barley (Hordeum vulgare) is a true mineral and vitamin bomb. It includes such vitamins as C, E, K, B-group vitamins, beta-carotene, iron, zinc, calcium, manganese and magnesium. The young barley grass counteracts inflammations and has strengthening properties. Its sprouts serve as a rich source of anti-oxidants which protect you against modern-age diseases. Young barley also contains fiber which fosters digestion, may cause you to feel full, and regulates cholesterol level in blood.
If used regularly, the young barley grass can improve functioning of your organism and help you supply important nutrients. Choose OstroVit Young Barley Grass if you are looking for the dietary supplement which:
provides a wide range of vitamins
helps you fight acne
has cleansing properties
neutralizes free radicals
counteracts inflammations
regulates operation of the digestive system
mitigates stomach aches
assures a feeling of satiety
can reduce the colorectal cancer risk
fosters immunity of your organism
Properties
OstroVit Young Barley Grass dietary supplement is an attractive alternative to classic multi-vitamin products. Thanks to a handy form of the powder, the supplement is easy to use and can be a healthy match for various drinks and meals.
Main features of our supplement:
LARGE CONTENT OF VITAMINS – Thanks to a large number of vitamins from B, E and C group, the dietary supplement supports numerous processes and reactions in the organism. It demonstrates strong anti-oxidant properties and strengthens immunity.
WEALTH OF NUTRIENTS – When using ground barley grass, you not only supply vitamins but also provide your organism with beta-carotene, natural hormones, folic acid, fiber and aminoacids.
HEALTHY SUPPLEMENTATION OF EVERYDAY DIET - A ground young barley grass performs perfectly as an additive to drinks, for example juice, milk or water. You can also add it to porridge oats, cocktail, yogurt, muesli or even salad!
VEGAN PRODUCT – Our green barley powder is free from any additives or preservatives. Choosing our dietary supplement by OstroVit, you take care of your organism in a purely natural way..
Suggested usage
Mix 1 scoop (5 g) in 200-250 ml of juice, milk or water (not hot). Can also be used as an addition to yogurt, oatmeal, muesli, salads. Please use the measuring cup included in the package.
Do not exceed the recommended daily dose. Do not use the product as a substitute (replacement) for a varied diet. Recommended are balanced diet and healthy lifestyle. Do not ingest if you are allergic to any of the ingredients. Children, pregnant or nursing woman must not take the product. Keep out of the reach of children.
Nutritional information
Ingredients
Young barley grass powder.
Product may contain milk (including lactose), soy, peanuts, other nuts, sesame seeds, cereals
containing gluten, eggs, crustaceans, fish.
Nutrition Facts
| Active ingredients | Per portion |
| --- | --- |
| Young barley grass powder | 5000 mg |
Product reviews
0
opinion
Questions and Answers
Add a question about this product