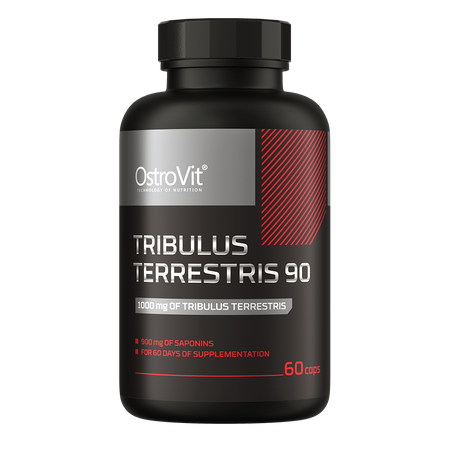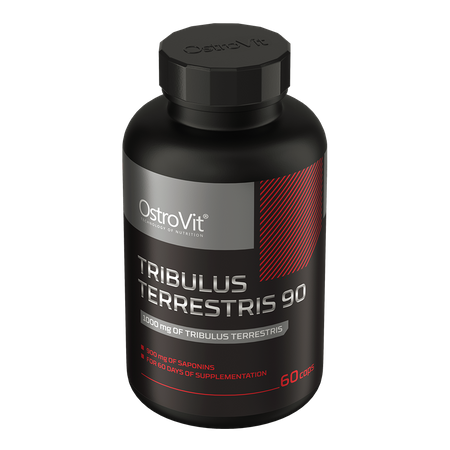 OstroVit Supreme Capsules Tribulus Terrestris 90 60 caps
5,28 €
OstroVit Tribulus Terrestris 90 60 caps
OstroVit Tribulus Terrestris is a top quality food supplement containing an extract of ground mole fruit (tribulus t.) with a total content of 90% saponins. Naturally, it will support the growth of endogenous testosterone in the body and provide vitality and energy not only to athletes, but to everyone who cares about their well-being.

900 mg of saponin (active substance) in one tablet
60 servings in the package
Only one tablet a day
The most studied natural testosterone booster
Only true ingredients, without useless additional substances
OstroVit Tribulus Terrestris
Tribulus Terrestris is a plant that has been known for a long time in Ayurvedic medicine (India) or Chinese medicine, where it is valued by their specialists and medics. The species of the plant from the family Zygophyllaceae R.Br.its entire potential in fruit and root. The active ingredient is valuable saponins (mainly tribulosin), chemical compounds belonging to the group of glycosides. The idea of ​​producing Tribulus as a supplement was unmistakably initiated by Bulgarian weightlifters.
Properties:
What's the most valuable is the increase in endogenous testosterone, which is the basic male sex hormone
As a natural diuretic, it promotes diuresis, which allows you to remove toxins from the body and through which we will get rid of excess subcutaneous water. Certainly, it will visually improve the condition of our body
Studies indicate success in the action of the supplement while lowering blood pressure in people with hypertension
Improvement of the physiological state of libido and erection in men. It is an irreplaceable criterion for successful sexual intercourse
Contributes to lowering cholesterol and lowering the LDL "bad cholesterol"
Post-workout regeneration and promotion of lipolysis or fat loss
Suggested usage
Use 1 serving (1 capsule) daily at bedtime.
Do not exceed the recommended daily allowance. A dietary supplement cannot be used as a substitute (replacement) for a varied diet. A balanced diet and a healthy lifestyle are recommended. Do not eat if you are allergic to any of the ingredients of the product. The product should not be used by children, pregnant women and nursing mothers. Keep out of the reach of small children.
Nutritional information
Ingredients
Extract from ground mole fruit (Tribulus terrestris L.) containing 90% saponins, capsule shell (gelatin, purified water).
The product may contain milk (including lactose), soy, peanuts, other nuts, sesame seeds, oats, eggs, crustaceans, fish.
Nutrition Facts
| Active ingredients | For a portion |
| --- | --- |
| Extract from ground mace fruit | 1000 mg |
| - including saponins (90%) | 900 mg |
Product reviews
0
opinion
Questions and Answers
FAQ
Hi. I would like to by OstroVit Supreme Capsules Tribulus Terrestris 90. Do you ship to Brazil? Currently I bought from ebay but it's more expensive. Thanks and be happy
We are very sorry, but unfortunately we do not retail outside of the European Union. Greetings.
Do you need more information?
If the above information is not sufficient for you, please send us your question. We will do our best to answer them.
Add a question about this product