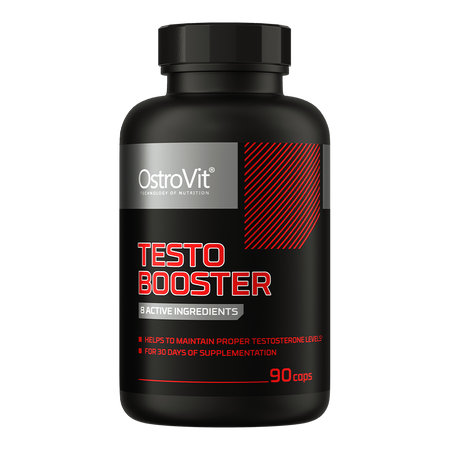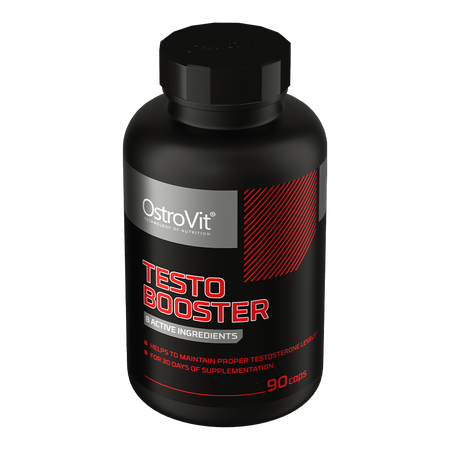 OstroVit Testo Booster 90 caps
Customers recommend!
Rating 5/ 5
6,42 €
OstroVit Testo Booster 90 caps
OstroVit Testo Booster is a dietary supplement in capsules developed for those who want to increase their natural testosterone level, increase muscle strength, improve libido and overall sexual performance. From now, age is just a number. Fitness, strength and condition are within your reach. OstroVit Testo Booster is a composition of natural plant extracts and minerals that together form a complete supplement. Even better worokuts and even better mood immediately!

90 capsules in the package
3 capsules in a serving
Natural ingredients
Raise your testosterone to the natural physiological limits
For every active man of all ages
OstroVit Testo Booster
Testosterone is an organic chemical compound from the androgens group, the primary male steroid sex hormone. Testosterone promotes vitality and well-being. It is involved in maintaining a good mood, increasing sexual desire or high libido, as well as in developing muscle mass and strength. With age, the level of this male hormone begins to decrease, which is why it is so important to keep it in the upper physiological range. OstroVit Testo Booster is a supplement that with a specially developed formula will ensure that you never have to worry about your testosterone levels again. One serving is only 3 capsules a day, which consists of only natural extracts of herbs and basic minerals such as:
Mace fruit extract (standardization to 90% saponins)
Fenugreek seed extract DER 4:1
Maca root extract DER 10:1
D-aspartic acid
Ginseng leaf and stem extract (standardization to 20% ginsenosides)
Magnesium with vitamin B6
Zinc
Properties of the ingredients contained in OstroVit Testo Booster:
You will raise your physiological testosterone levels
Better mood
Even better memory and concentration
Increases libido and overall sexual performance
Better endurance and fitness at training
High anabolism means bigger muscles, more strength and energy
Suggested usage
Take 1 serving (3 capsules) daily.
Do not exceed the recommended daily dose. Do not use the product as a substitute (replacement) for a varied diet. Recommended are balanced diet and healthy lifestyle. Do not ingest if you are allergic to any of the ingredients. Children, pregnant or nursing woman must not take the product. Keep out of the reach of children.
Nutritional information
Ingredients
Tribulus terrestris (Tribulus terrestris L.) fruit extract standardized on 90% saponins, fenugreek seed extract (Trigonella foenum-graecum L. ) DER 4:1, maca root extract (Lepidium meyenii Walp.) DER 10:1, magnesium citrate (magnesium), D-aspratic acid (DAA), zinc picolinate (zinc) , panax ginseng leaves and stems extract (Panax ginseng C.A. Mey.) - 20% ginsenosides, anticaking agent: silicon dioxide; pyridoxine hydrochloride (vit. B6), capsule casing (filling substance: hydroxypropyl methyl cellulose).
Product may contain milk (including lactose), soy, peanuts, other nuts, sesame seeds, oats, eggs, crustaceans, fish.
Nutrition Facts
| Active ingredients | For a portion | % RI* |
| --- | --- | --- |
| Tribulus terrestris fruit extract | 800 mg | - |
| - in these saponins 90% | 720 mg | - |
| Fenugreek seed extract DER 4:1 | 400 mg | - |
| Maca root extract DER 10:1 | 200 mg | - |
| D-aspartic acid (DAA) | 150 mg | - |
| Panax ginseng leaves and stems extract | 40 mg | - |
| - of which ginsenosides 20% | 8 mg | - |
| Magnesium | 56 mg | 15 |
| Zinc | 10 mg | 100 |
| Vitamin B6 | 1.4 mg | 100 |
*RI - Reference intake
Product reviews
1
opinion
What customers say about this product
Questions and Answers
FAQ
Dears Can I take 3 capsul together in 1 meal, Or in varies meal per day ? 3 per 1 meal.. Or 1 per 1 meal 3 times..
Yes, we recommend consuming 1 serving (3 capsules) daily. If you think that the product works better for you by taking it 3 times 1 capsule, you can also do so. There are no contraindications.
Is this product natural? and does it have any side effects because i am 18 and i don't want to harm my body and i'm scared to try it thanks.
The product is composed of plant extracts and vitamins, so in no case should it harm your health.
Do you need more information?
If the above information is not sufficient for you, please send us your question. We will do our best to answer them.
Add a question about this product