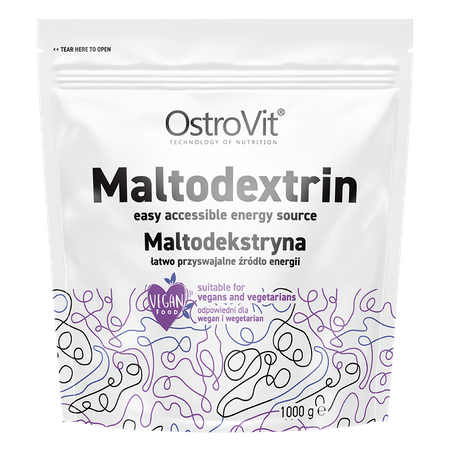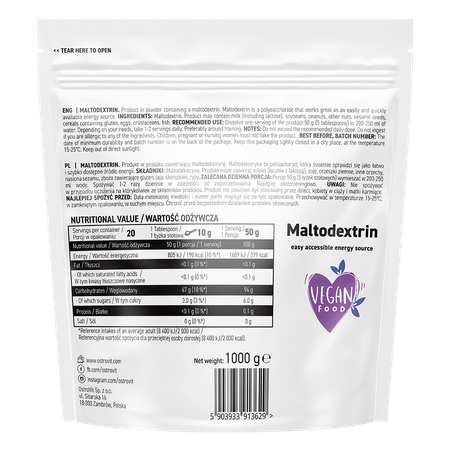 OstroVit Maltodextrin 1000 g natural
OstroVit Maltodextrin 1000 g
OstroVit Maltodextrin is a powder product, without any unnecessary additives and fillers, containing maltodextrin. Maltodextrin is a polysaccharide formed from partial hydrolysis of starch, which works great as an easily and quickly available source of energy. Therefore, it is dedicated to all physically active people and others who need to provide an effective source of energy in their daily diet.
1000 g per package = 20 servings
Product without unnecessary additives and fillers
Handy, convenient packaging
Maltodextrin - what is it and when should you supplement it?
Maltodextrin is a polysaccharide, which consists of glucose molecules that are connected by α-1,4-glycosidic bonds. Typically, the "polymeric" chains, which are part of maltodextrin consist of three to even seventeen glucose molecules. Maltodextrin is typically obtained by enzymatic hydrolysis of starch. In the US, this starch is usually corn; in Europe, the use of wheat is common. Increasingly, it appears as an addition to cocktails and carbohydrate supplements, especially in the diet of physically active people. Maltodextrin is absorbed very quickly and passes into the bloodstream, increasing insulin levels and thus providing the necessary fuel to the muscles. Thanks to this, it quickly adds energy and increases training efficiency.
Suggested usage
Mix a portion of 50 g (5 tablespoons) in 200-250 ml of water. Take 1-2 times a day as required. Preferably around the workout.
Do not consume if you are allergic to any of the product ingredients. The product should not be used by children, pregnant women and nursing mothers.
Store at 15-25°C in a closed container, in a dry place. Protect from direct sunlight.
Nutritional information
Ingredients
Maltodextrin.
Product may contain milk (including lactose), soybeans, peanuts, other nuts, sesame seeds, cereals containing gluten, eggs, crustaceans, fish.
Nutrition Facts
| Nutritional value | at 1 serving 50 g | at 100 g | % RI* |
| --- | --- | --- | --- |
| Energy | 805 kJ / 190 kcal | 1609 kJ / 379 kcal | 10% |
| Fat | <0.1 g | <0.1 g | - |
| - of which saturated fatty acids | <0.1 g | <0.1 g | - |
| Carbohydrates | 47 g | 94 g | 18% |
| - of which sugars | 3 g | 6 g | 3% |
| Protein | <0.1 g | 0.1 g | - |
| Salt | - | - | - |
*RI - Reference intake for the average adult (8 400 kJ/2 000 kcal)
Product reviews
0
opinion
Questions and Answers
Add a question about this product