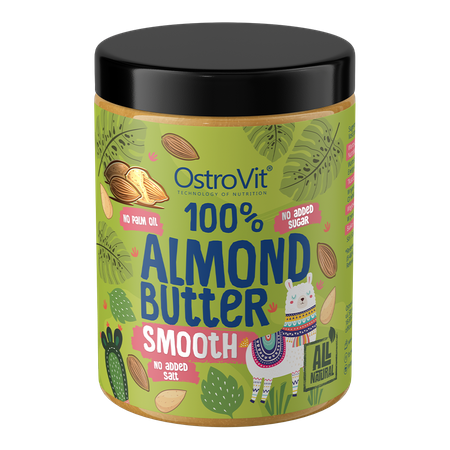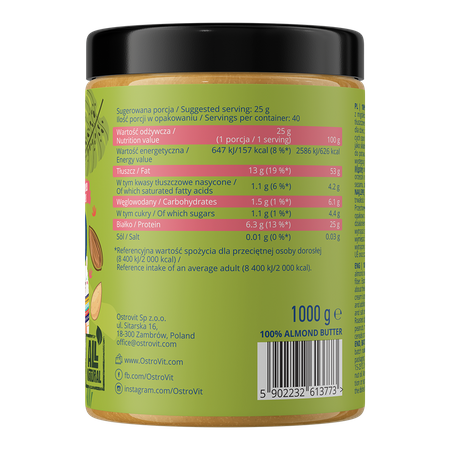 OstroVit 100% Almond Butter 1000 g smooth
17,10 €
OstroVit 100% Almond Butter 1000 g
OstroVit 100% Almond Cream is a delicious cream obtained from almonds, which is i.a. a source of protein and essential fatty acids (EFAs). It does not contain added sugar and salt and its unique taste makes it great as an addition to both sweet and dry dishes. This product is recommended especially for people who care about a slim figure, as well as athletes.

Made from 100% almonds.
The source of valuable ingredients - The product contains easily digestible protein, essential fatty acids, as well as dietary fiber, vitamins and minerals.
Uniform, smooth and velvety texture.
No added salt.
No added sugar.
No palm oil.
Suitable for vegetarians and vegans - The product does not contain ingredients of animal origin.
OstroVit 100% Almond Butter - valuable and tasty dietary supplement
Peanut butter, also called almond butter, it is a product made from the seeds of almond tree - a perennial plant from the rosaceae family, which can naturally be found in the Mediterranean countries, although its main producer is the USA. Colloquially, almonds are referred to as the "king of nuts", but they are not really nuts. They are a valuable source of valuable ingredients - monounsaturated and polyunsaturated fatty acids, protein, dietary fiber, as well as vitamins and minerals.
OstroVit 100% Almond Cream is a product with a uniform and velvety consistency, which will work both as an addition to sweet and dry dishes. This is an extraordinary supplement to the diet of athletes, as well as people who care about a slim figure, which does not contain unnecessary ingredients and is free from the addition of sugar and salt.
Laboratory-confirmed quality
For the sake of our customers' health, the products we manufacture are regularly tested in an independent accredited laboratory to ensure and maintain the highest quality.






Suggested usage
Consume as needed.
Do not eat if you are allergic to any of the ingredients in the product.
Nutritional information
Ingredients
Roasted Almonds 100%.
The product may contain other nuts, peanuts, milk (including lactose), soybeans, sesame seeds, oats, eggs, crustaceans, fish.
Nutrition Facts
Net weight of product: 1000 g
Servings per container: 40
| Nutritional values | Per 100 g | For a portion | % RI* |
| --- | --- | --- | --- |
| Energy value | 2586 kJ/626 kcal | 647 kJ/157 kcal | 8% |
| Fat | 53 g | 13 g | 19% |
| - including saturated fatty acid | 4.2 g | 1.1 g | 6% |
| Carbohydrates | 6.1 g | 1.5 g | 1% |
| - including sugar | 4.4 g | 1.1 g | 1% |
| Protein | 25 g | 6.3 g | 13% |
| Salt | 0.03 g | 0.01 g | - |
*RI - Reference intake
Product reviews
0
opinion
Questions and Answers
Add a question about this product