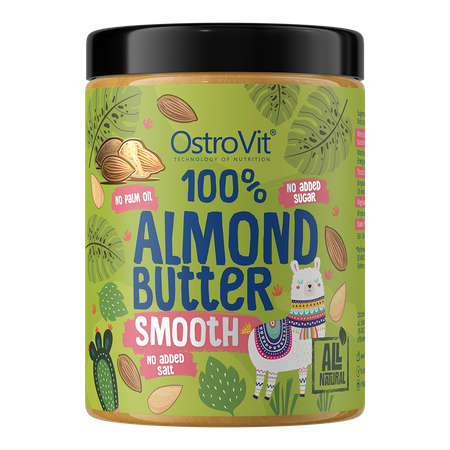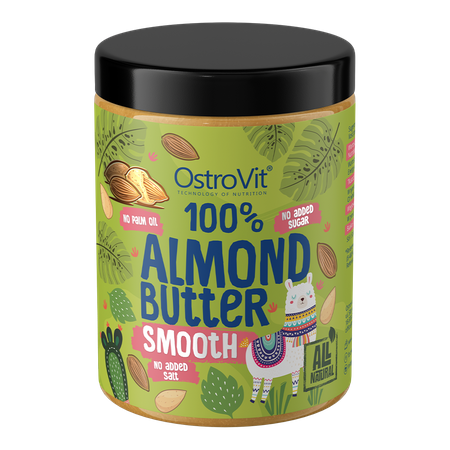 OstroVit 100% Almond Butter 1000 g smooth
15,54 €
OstroVit 100% Almond Butter 1000 g
OstroVit 100% Almond Butter is an excellent and unique product, created for the most demanding gourmets who care about a slim figure, play sports, and for those who limit harmful excess salt or sugar in their diet. The deep, full, almond flavor of the product fits perfectly as a sweet and salty addition. It is a real bomb of valuable fatty acids, proteins and minerals. Depth of taste, 100% satisfaction and a guarantee of the highest quality - OstroVit 100% Almond Butter.

Made of 100% almonds
No salt added
No added sugar
Contains no added palm oil
OstroVit 100% Almond Butter
Almond Butter is 100% made from only almonds. It does not contain salt, sugar and palm oil. Almonds considered nuts are actually seeds. They come from the largest American crops. They are rich in protein and calcium. It is also a source of valuable vitamins and minerals. They are at the forefront of superfoods. Research indicates that their consumption may have a positive effect on reducing stress and supporting the functioning of the urinary and respiratory systems. They improve the condition of our hair and nails. The product itself is slightly flowing and has a perfect almond texture.
Properties:
Source of easily digestible protein
The wealth of healthy monounsaturated and polyunsaturated fats
Perfect for physically active people who have an increased need for calories
A great source of micro and macronutrients for vegans and vegetarians
Perfect base of minerals, min. magnesium
High content of valuable potassium
May help lower blood pressure.
Suggested usage
Consume as needed.
Do not eat if you are allergic to any of the ingredients in the product.
Nutritional information
Ingredients
Roasted Almonds 100%
The product may contain other nuts, peanuts, milk (including lactose), soybeans, sesame seeds, oats, eggs, crustaceans, fish.
Nutrition Facts
Net weight of product: 1000 g
Servings per container: 40
| Nutritional values | Per 100 g | For a portion | % RI* |
| --- | --- | --- | --- |
| Energy value | 2586 kJ/626 kcal | 647 kJ/157 kcal | 8 |
| Fat | 53 g | 13 g | 19 |
| - including saturated fatty acid | 4.2 g | 1.1 g | 6 |
| Carbohydrates | 6.1 g | 1.5 g | 1 |
| - including sugar | 4.4 g | 1.1 g | 1 |
| Protein | 25 g | 6.3 g | 13 |
| Salt | 0.03 g | 0.01 g | - |
*RI - Reference intake
Product reviews
0
opinion
Questions and Answers
Add a question about this product