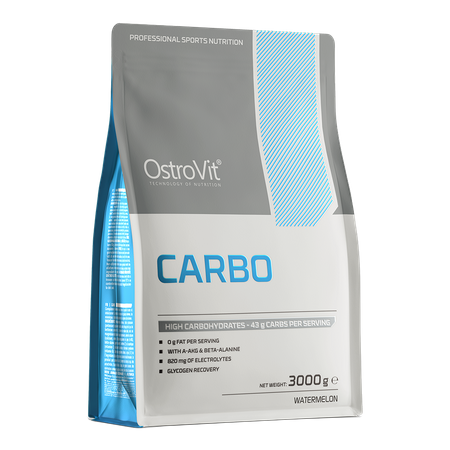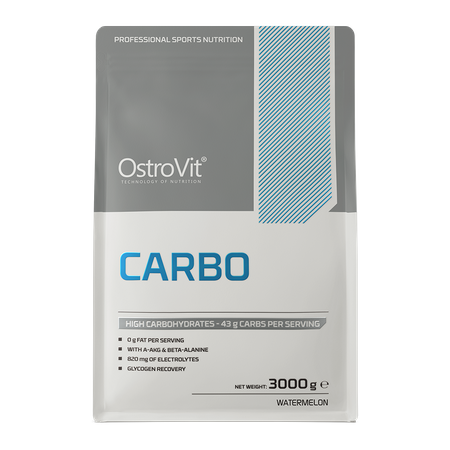 OstroVit Carbo 3000 g watermelon
OstroVit Carbo 3000 g
OstroVit Carbo is the highest quality carbohydrate dietary supplement, which is characterized by a very short absorption time. It allows you to supply gradually the right amount of energy during the training period. The preparation is especially recommended for athletes practicing strength sports. In addition, the product has been enriched with essential minerals, vitamins, as well as substances that improve blood circulation, such as L-arginine and Beta-alanine.

3000 g of the product in the package
60 servings
Excellent product solubility
1 serving is 50 g
delicious flavor variants
OstroVit Carbo
Carbohydrates are the basic "fuel", a source of energy in the human body. The main component of OstroVit Carbo is maltodextrin or hydrolyzed starch. It is characterized by high bioavailability and a fast metabolism rate, thanks to which it does not remain in the stomach for long hours like some of similar substances. They are an excellent injection of energy and strength during hard workouts and long distances to be run or with the help of your irreplaceable bike. OstroVit Carbo is the perfect workout supplement that will fill up the "storage deficiencies" of our muscle glycogen and make us feel like "a newborn". If you want a cheap and effective supplement that replenishes your energy reserves, this is the perfect solution for you!
Properties:
Obtained as a result of enzymatic hydrolysis of starch
An easily digestible, easily absorbed source of energy, it does not accumulate in the stomach
Maximizes physical exertion and accelerates post-workout regeneration
The perfect workout supplement
Laboratory-proven quality
For the sake of the health of our customers, the products manufactured by us are regularly tested in an independent accredited laboratory to ensure and maintain the highest quality.
Suggested usage
Dissolve one serving of the product 50 g (3 flat scoops) in 500 ml of water in a shaker. Consume 1 serving during training.
Do not exceed the recommended daily dose. Do not use the product as a substitute for a varied diet. Recommended are balanced diet and healthy lifestyle. Do not ingest if you are allergic to any of the ingredients. Children, pregnant or nursing woman must not take the product. Keep out of the reach of children.
Nutritional information
Ingredients
Maltodextrin, dextrose, potassium citrate (potassium), acidity regulator: citric acid; sodium chloride (sodium), beet juice concentrate in powder, magnesium salts of citric acid (magnesium), calcium carbonate (calcium), aroma, L-arginine alpha ketoglutarate (AAKG), beta-alanine, L-ascorbic acid (vitamin C), sweetener: sucralose; pyridoxine hydrochloride (vitamin B6).
Product may contain milk (including lactose), soy, peanuts, other nuts, sesame seeds, oats, eggs, crustaceans, fish.
Nutrition Facts
Nutritional values
Per 100 g
Per portion
% RI*
Energy value
1492 kJ / 367 kcal
746 kJ / 184 kcal
9
Fat
0.1 g
0.05 g
-
- of which saturated fatty acids
0 g
0 g
-
Carbohydrates
84 g
42 g
16
- of which sugars
36 g
18 g
20
Protein
0 g
0 g
-
Salt
1.50 g
0.75 g
13
Active ingredients    
Potassium
600 mg
300 mg
15
Sodium
570 mg
285 mg
-
Calcium
320 mg
160 mg
20
Magnesium
150 mg
75 mg
20
Vitamin C
160 mg
80 mg
100
Vitamin B6
2.8 mg
1.4 mg
100
L-arginine alpha-ketoglutarate
400 mg
200 mg
-
- of which L-arginine
262 mg
131 mg
-
Beta-alanine
400 mg
200 mg
-
*RI - Reference intake
Product reviews
0
opinion
Questions and Answers
Add a question about this product