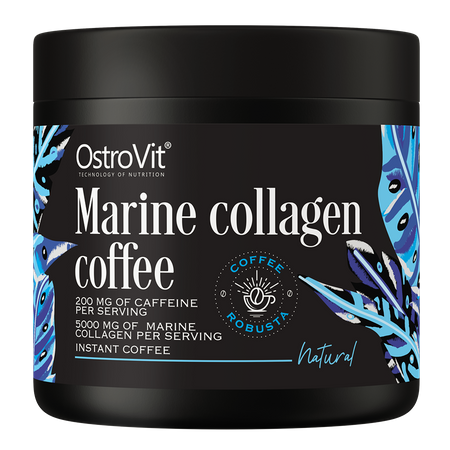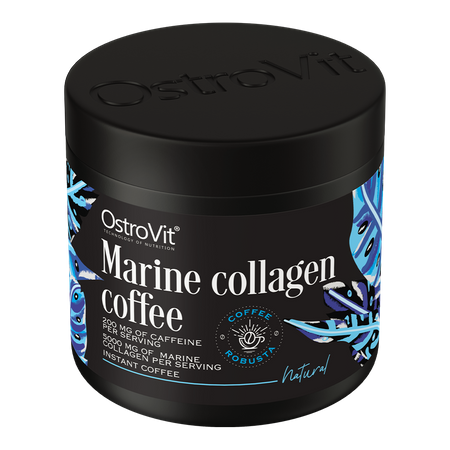 OstroVit Coffee with Marine Collagen 150 g natural
6,74 €
OstroVit Coffee with Marine Collagen natural flavor 150 g
OstroVit Coffee with Marine Collagen is an instant coffee with natural flavor, with increased caffeine content and with the addition of inulin and fish collagen peptides. It goes well with the addition of milk and sugar or sweetener, which you can add according to your preference. So if you are a coffee lover and are looking for an aromatic alternative to your daily morning cup of this beverage, reach for OstroVit Coffee with Marine Collagen 150 g and enjoy its unique taste and aroma!
3
Scoops
1 serving = 3 scoops
Robusta coffee + fish collagen peptides
200 mg of caffeine in each serving
Available in flavored versions - creamy wafers or natural
Coffee
For centuries, it has been a beverage appreciated by people around the world. The development of food technology has made it possible for us to choose among its various forms and types. Its regular consumption does not have to be associated with negative consequences for our health at all anymore. OstroVit Coffee with Marine Collagen is especially dedicated to people who love the taste of coffee and need to reach for it when they feel a decrease in strength and need a boost, as well as those who want to supplement their daily diet with marine collagen. Just pour 3 teaspoons of our Marine collagen coffee over hot water and enjoy its delicious taste. It is rich in:
Caffeine - derived from Robusta beans. Caffeine is an alkaloid that exhibits stimulating, energizing and performance-enhancing effects, which is why it is so readily added to many beverages and dietary supplements.
Marine collagen peptides - it is a source of highly absorbable collagen, which is one of the most important proteins found in our body. Collagen is the basic building block of skin, tendons, bones, joints, cornea of the eye, among others. It affects the cohesiveness, strength and elasticity of connective tissue.
Laboratory-confirmed quality
For the sake of our customers' health, the products we manufacture are regularly tested in an independent accredited laboratory to ensure and maintain the highest quality.






Suggested usage
Pour 12 g of the product (3 scoops) over hot water about 200 ml and mix. Consume once a day.
Do not exceed the recommended daily dose. Do not use the product as a substitute (replacement) for a varied diet. Recommended are balanced diet and healthy lifestyle. Do not ingest if you are allergic to any of the ingredients. The product should not be used by children, pregnant women, nursing women. Keep out of the reach of children.
Keep this packaging tightly closed in a dry place, at a temperature of 15-25°C. Keep out of direct sunlight.
Nutritional information
Ingredients
Natural robusta coffee, fish collagen peptides hydrolysed, inulin, caffeine anhydrous.
It is not recommended for use by children and pregnant women (content of caffeine 200 mg in 1 serving); do not consume with other products that are a source of caffeine or other ingredients with similar effects.
Product may contain milk (including lactose), soybeans, peanuts, other nuts, sesame seeds, cereals containing gluten, eggs, crustaceans.
Nutrition Facts
Net weight of product: 150 g
| Active ingredients | 1 serving (12 g) |
| --- | --- |
| Caffeine | 200 mg |
| Fish collagen peptides hydrolysed | 5000 mg |
Product reviews
0
opinion
Questions and Answers
Add a question about this product