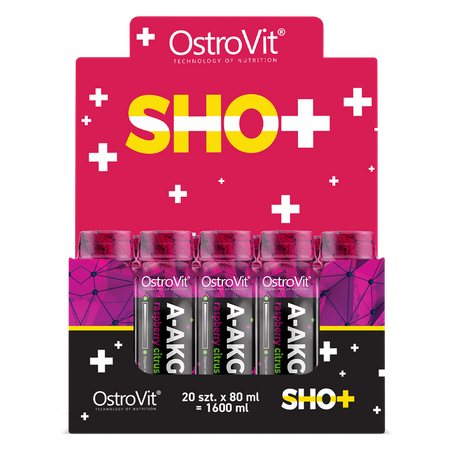 OstroVit A-AKG Shot 20 x 80 ml
OstroVit A-AKG Shot 80ml
OstroVit A-AKG Shot is a liquid food supplement. Contains sweeteners. Non-carbonated drink based on L-arginine alpha-ketoglutarate. The supplement is dedicated to athletes who want to speed up post-workout regeneration, get a significant "muscle pump" effect and increase their strength.

Shot contains 80 ml of the product in the package
1 Shot = 2 servings
1 Shot is 5 g L-arginine alpha-ketoglutarate
Delicious taste
A pocket version of the famous OstroVit Supreme Pure A-AKG
A-AKG
Arginine alpha-ketoglutarate, a chemical compound of glutaric acid and arginine. Glutaric acid is a product of citric acid cycle, the final stage in the metabolism of all organisms that breathe oxygen and is often called the Krebs cycle. Arginine is one of the amino acids that occurs in our body, taking an active part in the most important life processes. The combination of these two molecules forms a synergistic compound (the two compounds work together more efficiently than one).
Properties of the ingredients contained in OstroVit A-AKG Shot:
By expanding the blood vessels, it increases blood flow to the muscles which results in increased strength
They are the perfect oxygen transporters for cells. They become perfectly oxygenated, increasing our efficiency
By increasing the production of nitric oxide, we get an extraordinary "muscle pump" effect
Accelerate the regeneration of the body after heavy and exhausting workouts
Laboratory-proven quality
For the sake of our customers' health, the products we manufacture are regularly tested in an independent accredited laboratory to ensure and maintain the highest quality.






Suggested usage
Take 1/2 bottle (40 ml) daily. Do not eat more than 1 serving a day. Shake before use. Consume within 24 hours after opening.
Do not exceed the recommended daily dose for consumption. Dietary supplement can not be used as a substitute (replacement) of a varied diet. A balanced diet and a healthy lifestyle are recommended. Do not eat if you are allergic to any of the ingredients in the product. The product should not be used by children, pregnant women and nursing mothers. Keep out of reach of small children.
Nutritional information
Ingredients
Water, apple juice from apple juice concentrate (20%), L-arginine alpha-ketoglutarate (A-AKG), acid: citric acid; acidity regulator: trisodium citrate; aromas, sweeteners: sucralose, acesulfame K; preservatives: sodium benzoate, potassium sorbate.
Food supplement. Contains sweeteners.
Nutrition Facts
| Active ingredient | For a portion |
| --- | --- |
| L-arginine alpha-ketoglutarate | 2500 mg |
Product reviews
0
opinion
Questions and Answers
Add a question about this product