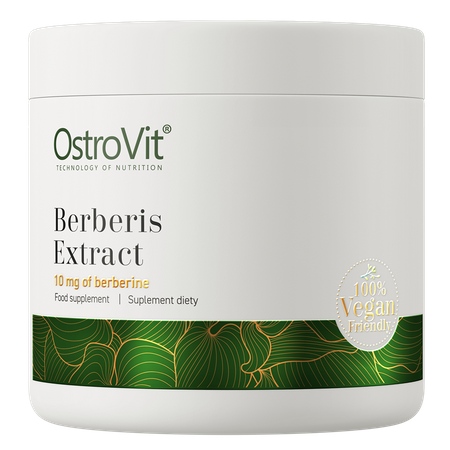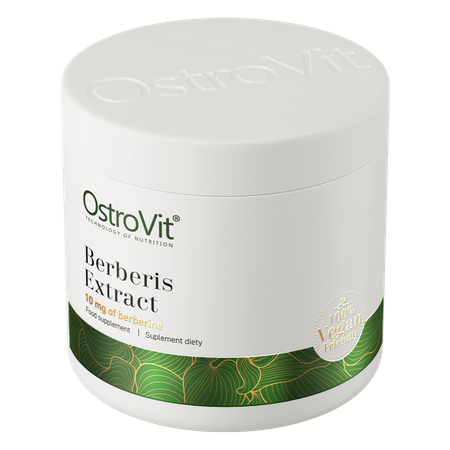 OstroVit Berberis Extract 100 g natural
OstroVit Berberis Extract 100 g
OstroVit Berberis Extract is a universal dietary supplement in the form of berberis root extract. The product is widely used, and its main properties are regulation of insulin in blood, support to digestive system and relaxing effect. The berberis root extract will perform well also in treatment of bacterial infections. Are you looking for a natural product which can let you raise sensitivity of natural insulin receptors, support digestive system and enjoy better mood? See how OstroVit Berberis Extract supplement works!

What is OstroVit Berberis Extract?
Berberis is a popular shrub plant which can be found on many continents, e.g. in Europe, Asia and Africa. Its health-promoting impact has been used in Indian and Chinese natural medicine for hundreds of years. The berberis root contains berberine which demonstrates anti-bacterial properties. A regular use of berberine-rich supplements lets you limit your susceptibility to stress and boost your immunity.
Berberis root extract also contains other pro-health active substances. A special attention must be drawn to tannin, pectins, organic acids, mineral salts and vitamins. Berberis root is relaxant, regulates heart functions, supports breathing, as well as soothes muscle ache and joint ache. It performs well in persons whose glucose in the blood is irregular while its impact is compared to metformin – an agent used to treat diabetes and PCOS. Choose OstroVit Berberis Extract dietary supplement if you look for a product which:
is used to deal with high blood sugar level
helps you reduce nervousness
has a positive influence on immunity
regulates bile production
normalizes bowels functions
shows relaxant properties
soothes muscle aches
Properties:
OstroVit Berberis Extract dietary supplement is a perfect solution to those who wish to naturally strengthen their organism from the inside as well as support operation of many organs and systems.
Major features of the supplement:
COMPREHENSIVE SUPPORT - Berberis root extract relaxes and supports digestive system. It also boosts immunity and may soothe muscle and joint aches.
FIXED CONTENT OF BERBERINE - OstroVit extract is standardized for 2% of berberine. This means every package of the product contains the same amount of active substance.
HIGH EFFICIENCY - One package of OstroVit Berberis Extract supplement contains as many as 200 recommended daily portions of the product. It means the extract may be sufficient for over a half-year supplementation, if used regularly.
VEGAN PRODUCT - The composition of the supplement limits to one substance – a pure berberis extract. The product does not contain any preservatives, colorants and anti-caking agents.
Suggested usage
Take 1 serving - 500 mg (2 scoops) daily with meal, drink water. Please use the measuring cup included in the package (0.5 ml).
Do not exceed the recommended daily dose. Do not use the product as a substitute (replacement) for a varied diet. Recommended are balanced diet and healthy lifestyle. Do not ingest if you are allergic to any of the ingredients. Do not consume the product by children, pregnant or nursing women. Keep out of the reach of children.
Nutritional information
Ingredients
Berberis root extract (Berberis aristata DC.) standardized on 2% berberine.
Product may contain milk (including lactose), soy, peanuts, other nuts, sesame seeds, cereals containing gluten, eggs, crustaceans, fish.
Nutrition Facts
| Active ingredients | Per portion |
| --- | --- |
| Berberis root extract, of which: | 500 mg |
| - berberine (2%) | 10 mg |
Product reviews
0
opinion
Questions and Answers
Add a question about this product