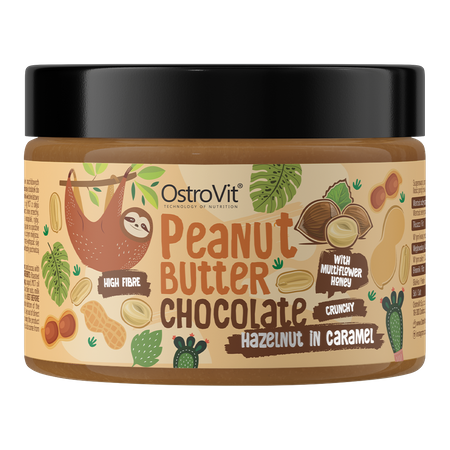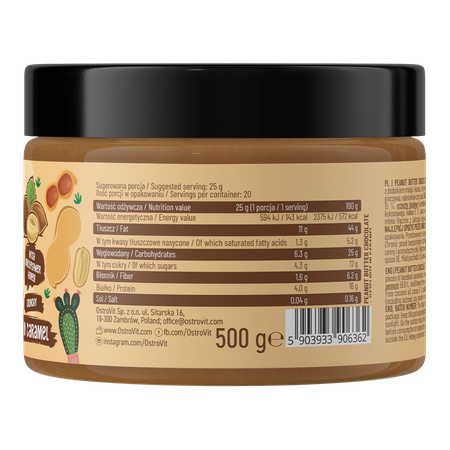 OstroVit Chocolate Peanut Butter + Caramelized Hazelnuts 500 g crunchy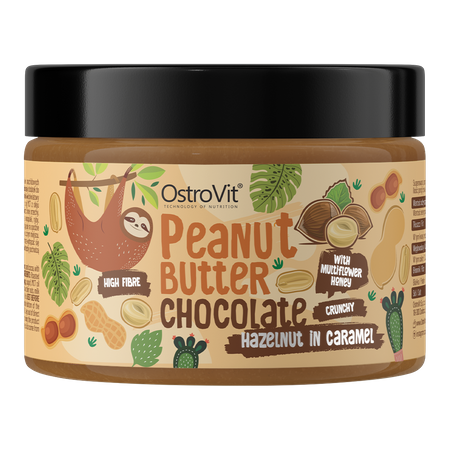 6,82 €
OstroVit Chocolate Peanut Butter + Caramelized Hazelnuts 500 g
OstroVit Chocolate Peanut Butter + Caramelized Hazelnuts is a delicious and unique cream for sandwiches, pancakes and desserts. Our cream is a combination of roasted peanuts, caramelized hazelnuts, mixed flower honey, coconut-based MCT oil, cocoa, natural chocolate aroma and salt which gives the product a unique salty flavor. Are you looking for a healthy nutty cream which is tasty and free from preservatives? OstroVit Chocolate Peanut Butter + Caramelized Hazelnuts is a product for you!


Chocolate Peanut Butter by OstroVit
Our latest peanut butter with caramelized hazelnuts is ideal for all sweetness lovers who detest empty calories. A high content of peanuts and hazelnuts in the cream makes it rich in carbohydrates, proteins, fiber, vitamins, minerals, polyphenols and flavonoids. The use of the mixed flower honey instead of sugar and sweeteners gives the cream a special aroma and flavor, and contributes to support of your immunity.
Choose our cream if you:
love sweets and sweet snacks,
are looking for a healthier alternative to creams available in stores,
are looking for a universal additive to pancakes, porridge and omelets,
want to find a product that provides healthy vegetable fats, carbohydrates, proteins and fiber.
Properties
OstroVit Chocolate Peanut Butter + Caramelized Hazelnuts is an alternative to popular sandwich creams which often contain sugar, colorants, preservatives and artificial aromas.
The most important features of the product:
UNIVERSAL APPLICATION - Our chocolate cream with nuts will serve as a perfect additive to desserts and healthy snacks. It is an ideal match for sandwiches, pancakes, pies, ice-cream, cakes, porridge and fruity smoothies.
STRONG NUTTY FLAVOR - Thanks to a high content of peanuts and caramelized hazelnuts, the cream is very nutty in flavor, strengthened by the salt.
UNIQUE SELECTION OF INGREDIENTS - Aside from two kinds of nuts, our cream includes honey, MCT oil, cocoa and natural chocolate aromas. With them, the product is not only delicious but may have a positive impact on your health.
LARGE CAPACITY - One package is 0,5 kg! Such a capacity will suit sweet lovers and will serve as a perfect treat it you are together with other family members.
Suggested usage
Consume as needed.
Do not eat if you are allergic to any of the ingredients in the product.
Nutritional information
Ingredients
Roasted peanuts 59.8 %, multiflower honey 15 %, hazelnut caramelized 10 % (roasted hazelnuts, sugar), MCT oil from coconut oil, cocoa 5 %, natural chocolate flavouring, salt.
Product may contain other nuts, milk (including lactose), soy, sesame seeds, cereals containing gluten, eggs, crustaceans, fish.
Nutrition Facts
| Nutritional values | Per 100 g | For a portion |
| --- | --- | --- |
| Energy value | 2375 kJ / 572 kcal | 594 kJ / 143 kcal |
| Fat | 44 g | 11 g |
| - including saturated fatty acids | 5.2 g | 1.3 g |
| Carbohydrates | 25 g | 6.3 |
| - including sugar | 17 g | 4.3 g |
| Protein | 16 g | 4 g |
| Salt | 0.16 g | 0.04 g |
Product reviews
0
opinion
Questions and Answers
Add a question about this product