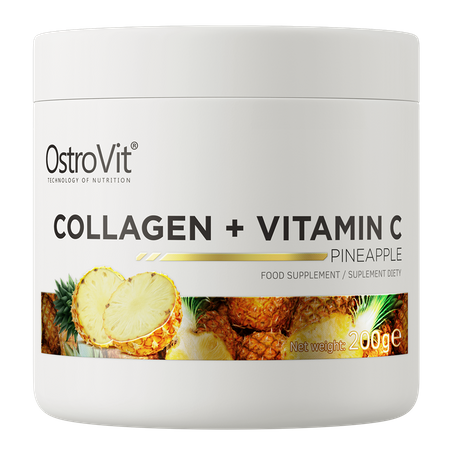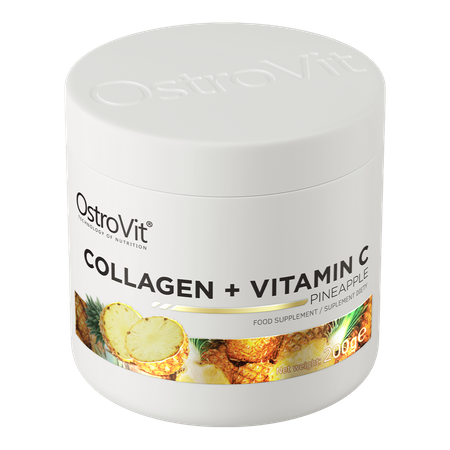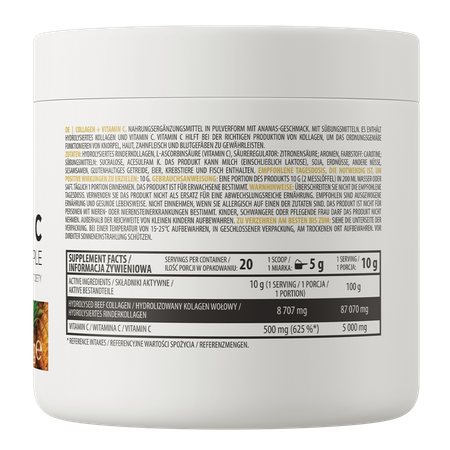 OstroVit Collagen + Vitamin C 200 g pineapple
5,79 €
OstroVit Collagen + Vitamin C 200 g
OstroVit Collagen + vitamin C is the highest quality dietary supplement created for people who need aromas, sweeteners and other preservatives. The OstroVit True Taste line is only the active ingredients you need. A conditioner dedicated to physically active people and those who have an increased demand for collagen and vitamin C. The addition of L-ascorbic acid helps in even more favourable collagen synthesis to ensure the proper functioning of cartilage, skin, gums and blood vessels of our body.

Two variants of 200 and 400 g of product
Suitable for 20 and 40 servings per container
Collagen enriched with L-ascorbic acid (essential vitamin C)
High vitamin C content
Delicious flavors in the TRUE TASTE line!
Collagen + Vitamin C
Hydrolyzed collagen - is a protein found in our body in virtually all tissues. It builds our tendons, skin, joints and bones. Responsible for the production of synovial fluid, cartilage elasticity and hardness, skin hydration and proper skin renewal. It affects the cohesion, strength and elasticity of connective tissue. It also has a unique ability to bind water, thanks to which the skin maintains proper firmness, elasticity and tension.
Vitamin C (L-ascorbic acid) - is, as the name suggests, an essential organic chemical. It is an exogenous nutrient in the human diet, which is mainly responsible for the proper functioning of connective tissue and bones. Its biologically active form - vitamin C, acts as a reducing agent and coenzyme in several metabolic pathways of the human body. Vitamin C is considered one of the main antioxidants.
Properties of the ingredients contained in: OstroVit Collagen + Vitamin C
Collagen supports the proper functioning of the joints
Collagen maintains proper firmness, elasticity and skin tone
Strengthens our joints and bones
Vitamin C has a beneficial effect on the nervous and immune systems
Vitamin C is directly involved in the production of collagen (builds muscle tissue)
Vitamin C can accelerate muscle regeneration and growth
Vitamin C is a powerful antioxidant that removes excess free radicals from our cells
Laboratory-proven quality
For the sake of the health of our customers, the products manufactured by us are regularly tested in an independent accredited laboratory to ensure and maintain the highest quality.
Suggested usage
Dissolve a single serving of the product 10 g (2 scoop) in 200 ml of water or juice in a shaker. Take 1 servings daily. The product is intended for adults.
The product is not intended for people with renal or renal stone disease.
Do not exceed the recommended daily dose. Do not use the product as a substitute (replacement) for a varied diet. Recommended are balanced diet and healthy lifestyle. Do not ingest if you are allergic to any of the ingredients. Children, pregnant or nursing woman must not take the product. Keep out of the reach of children.
Nutritional information
Ingredients
Hydrolysed beef collagen, L-ascorbic acid (vitamin C), acidity regulator: citric acid; aromas, colour: carotenes; sweeteners: sucralose, acesulfame K.
Product may contain milk (including lactose), soybeans, peanuts, other nuts, sesame seeds, cereals containing gluten, eggs, crustaceans, fish.
Nutrition Facts
| Active ingredients | Per 10 g | % RI* | Per 100 g |
| --- | --- | --- | --- |
| Hydrolysed beef collagen | 8 707 mg | - | 87 070 mg |
| Vitamin C | 500 mg | 625 | 5 000 mg |
*RI- Reference intake
Product reviews
0
opinion
Questions and Answers
Add a question about this product