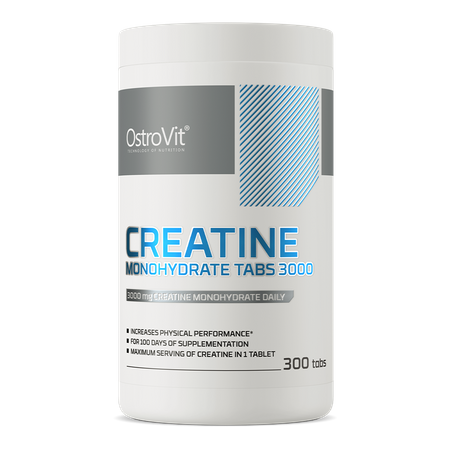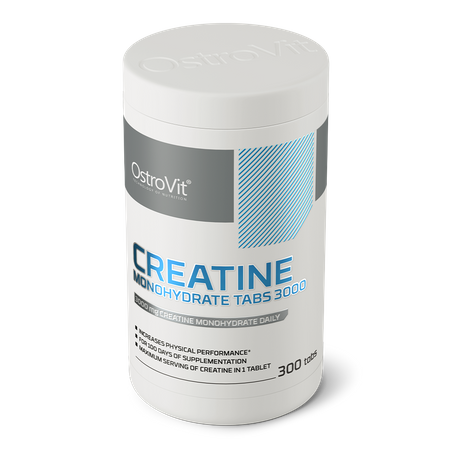 OstroVit Creatine Monohydrate 3000 mg 300 tablets
OstroVit Creatine Monohydrate 3000 mg 300 tablets
OstroVit Creatine Monohydrate is a high-quality dietary supplement in tablet form, containing a concentrated dose of creatine monohydrate. It was developed for physically active people and those engaged in all kinds of sports who need to supplement creatine levels in their daily diet.The supplement comes in the form of convenient-to-use tablets, which are an ideal alternative for those who do not like taking creatine in the form of dissolving powder. So, if you are looking for a supplement that will support the effectiveness of your daily workouts and help consolidate their effects - reach for our OstroVit Creatine Monohydrate in tablets - pure content of the active ingredient in each serving, without unnecessary additives.
3
Tablets
1 serving = 3 tablets
300 tablets of creatine monohydrate per package
100 servings per package
1 serving = 3 tablets
pure form of creatine monohydrate without unnecessary additives
OstroVit - Creatine Monohydrate
Creatine is an organic chemical compound that occurs naturally in the human body. As a dietary supplement, it comes in many forms - monohydrate, malate or creatine hydrochloride. It is usually supplied in our diet with zoonotic products, i.e. meat, eggs or fish. Its beneficial effects rely on a simple mechanism that, by breaking down phosphocreatine in the muscles, releases energy in the form of high-energy ATP (adenosine triphosphate) molecules. Despite the fact that creatine is also contained in food, its optimal level can only be ensured by additional supplementation - especially in people who regularly engage in all kinds of sports.
Properties of the creatine contained in OstroVit Creatine Monohydrate:
Its intake can increase power and training endurance
By increasing the amount of phosphocreatine in the muscles, it increases the reserves of our energy potential
By causing water retention in muscle cells, it creates an ideal anabolic environment for muscle mass growth
Regular creatine supplementation can increase the growth of lean muscle tissue
Creatine takes an active part in the resynthesis of our glycogen
Laboratory-confirmed quality
For the sake of our customers' health, the products we manufacture are regularly tested in an independent accredited laboratory to ensure and maintain the highest quality.






Suggested usage
1 serving: 3 tablets. On workout days, consume one serving daily after training. On non-workout days, one serving after waking up. The product is intended for adults performing high-intensity physical exercises.
Do not exceed the recommended daily serving for consumption. Food supplement should not be used as a substitute (replacement) for a varied diet. A balanced diet and healthy lifestyle are recommended. Do not consume if you are allergic to any of the product ingredients. The product is unsuitable for people with renal impairment. The product should not be used by children, pregnant women and nursing mothers. Keep out of reach of small children.
Store at 15-25°C, in a closed container, in a dry place. Protect from direct sunlight.
Nutritional information
Ingredients
Creatine monohydrate, bulking agent: microcrystalline cellulose; anticaking agents: magnesium salts of fatty acids, silicon dioxide.
Product may contain milk (including lactose), soybeans, peanuts, other nuts, sesame seeds, cereals containing gluten, eggs, shellfish, fish.
Nutrition Facts
| Active ingredients | 1 portion (3 tablets) |
| --- | --- |
| Creatine monohydrate | 3000 mg |
| - of which creatine | 2640 mg |
Product reviews
0
opinion
Questions and Answers
Add a question about this product