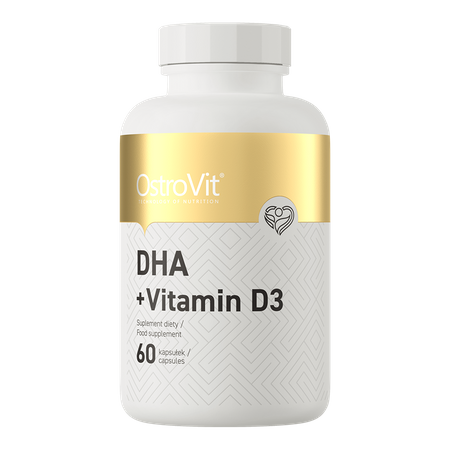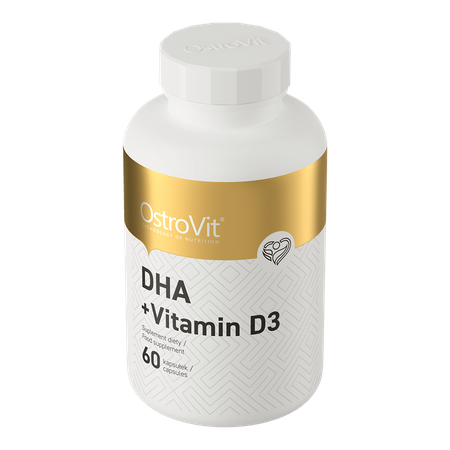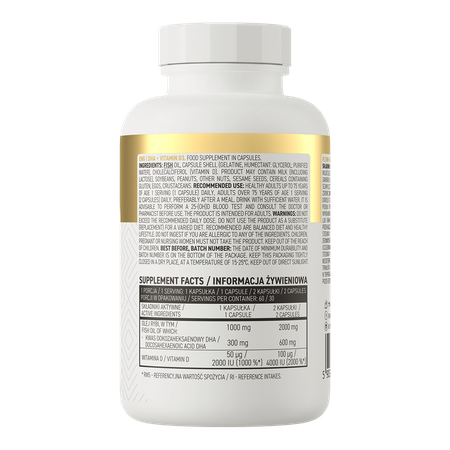 OstroVit DHA + Vitamin D3 60 capsules
5,37 €
OstroVit DHA + Vitamin D3 60 capsules
OstroVit DHA + Vitamin D3 60 capsules is a high quality dietary supplement in oral capsules. The preparation is a complex of docosahexaenoic acid DHA with vitamin D3. It has been developed from the highest quality active substances for all physically active people who care about the combined supplementation of these ingredients every day.
docosahexaenoic acid DHA from fish oil + Vitamin D3 in each serving
a pack lasts for a month or two months of supplementation - depending on dosage
convenient form of capsules
DHA + D3 complex - why is it worth supplementing them together?
An increasing number of us, when choosing dietary supplements, are guided, among other things, by their convenience and ease of use. We are keen to have as many minerals or vitamins as possible in each serving, to limit the number of pills consumed. Also of considerable importance is the right combination of supplement ingredients. That's why we thought of OstroVit DHA + Vitamin D3 60 capsules - a comprehensive combination of ingredients in each capsule for even the most demanding consumers. OstroVit DHA + Vitamin D3 60 capsules support the supplementation of the diet with:
Docosahexaenoic acid DHA from fish oil - it is a polyunsaturated fatty acid from the group of omega 3 acids. It belongs to the essential in the diet, but exogenous fatty acids - our body does not produce it on its own. So we need to supply an adequate amount of it through foods rich in fatty acids. Its sources include algae, fatty fish, eggs. DHA acids are promoted primarily for proper cardiovascular and nervous system function.
Vitamin D - it is a fat-soluble so-called ''sun vitamin'' - which is mainly synthesized in our skin during exposure to the sun's rays. It is worth supplementing it especially in autumn and winter, when this sun is less and less. Among other things, it is responsible for maintaining normal blood calcium levels and calcium-phosphate balance, and thus maintaining healthy bones, teeth and muscles. In addition, it supports the proper functioning of the immune system.
Suggested usage
Healthy adults up to 75 years of age 1 serving (1 capsule) daily, adults over 75 years of age 1 serving (2 capsules) daily, preferably after a meal. Sip with an adequate amount of water.
Before use, it is advisable to test 25-(OH)D in the blood and consult the test result with your doctor or pharmacist. The product is intended for adults.
Do not exceed the recommended daily serving for consumption. The dietary supplement should not be used as a substitute (replacement) for a varied diet. A balanced diet and healthy lifestyle is recommended. Do not consume if you are allergic to any of the product ingredients.
Store at 15-25°C, in a closed container, in a dry place. Protect from direct sunlight.
Nutritional information
Ingredients
Fish oil, capsule shell (gelatin, humectant: glycerol; purified water), cholecalciferol (vitamin D).
Product may contain milk (including lactose), soybeans, peanuts, other nuts, sesame seeds, cereals containing gluten, eggs, shellfish, fish.
Nutrition Facts
| Active ingredients | 1 capsule | % RI* | 2 capsules | % RI* |
| --- | --- | --- | --- | --- |
| Fish oil: | 1000 mg | - | 2000 mg | - |
| - of which docosahexaenoic acid DHA | 300 mg | - | 600 mg | - |
| Vitamin D | 50 μg / 2000 IU | 1000% | 100 μg / 4000 IU | 2000% |
*RI - Reference Intake
Product reviews
0
opinion
Questions and Answers
Add a question about this product