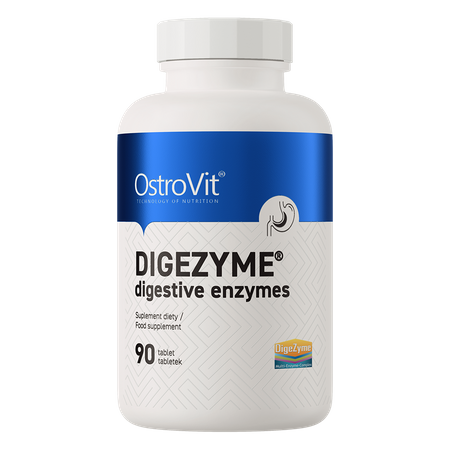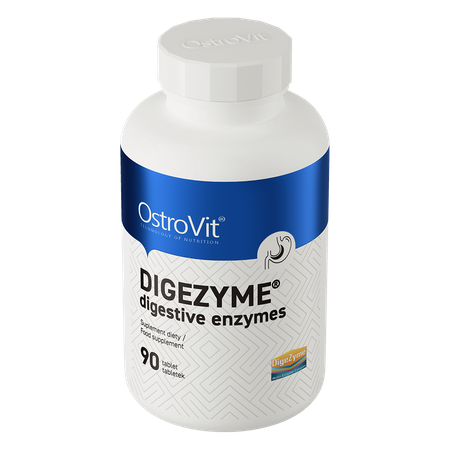 OstroVit Digezyme Digestive Enzymes 90 tablets
5,39 €
OstroVit Digezyme Digestive Enzymes 90 tablets
OstroVit Digezyme Digestive Enzymes is a high-quality dietary supplement in oral tablets. The preparation is a complex of five active ingredients - digestive enzymes. It was developed from the highest quality substances, for all people who want to comprehensively take care of proper metabolism and support the digestive process.
1
Tablet
1 serving = 1 Tablet
α-amylase, neutral protease, lactase, lipase and cellulase in each tablet
1 tablet = 1 serving of supplement per day
comprehensive support of the digestive system
What are digestive enzymes?
Digestive enzymes is a general term for a group of substances found in the body, without which digestion, would be impossible. They participate in the processes of digestion of the various components of which the foods we eat are composed. These chemical transformations enable the proper breakdown of complex substances present in food into simple chemical compounds. This ensures that all stages of digestion and absorption of essential nutrients from the gastrointestinal tract can take place properly. Maintaining a balanced digestive process is essential for good health and all physiological functions. OstroVit Digezyme Digestive Enzymes dietary supplement will comprehensively allow you to supplement your daily diet with:
α-amylase - it is an enzyme that breaks down polysaccharides (e.g., starch) into simple sugars, which are then absorbed from the gastrointestinal tract in this simplified form. It is produced mainly by the salivary glands and the pancreas, in addition to in the intestinal mucosa and by the milk glands.
Neutral protease - it is a type of enzyme from the peptidase group, fermented by Bacillus Subtilis. It finds its use primarily in the hydrolysis - or decomposition - of proteins (both plant and animal), into their less complex forms, namely peptides and amino acids.
Lactase - it is an enzyme necessary, among other things, for the digestion of milk and products made from it. Its mechanism of action is that it breaks down lactose - milk sugar - into glucose and galactose, which can then be used as a source of energy. It is produced by animals, plants, fungi, bacteria and yeast.
Lipase - this is a group of enzymes produced mainly in the pancreas, secreted into the lumen of the digestive tract. They are responsible in the digestive process for the breakdown of fats - they convert triglycerides to fatty acids and glycerol.
Cellulase - it is an enzyme from the hydrolase group that catalyzes bonds between glucose molecules in cellulose. Cellulose is otherwise known as fiber. The result of this reaction is, as a final product, the simple sugar glucose.
Laboratory-confirmed quality
For the sake of our customers' health, the products we manufacture are regularly tested in an independent accredited laboratory to ensure and maintain the highest quality.






Suggested usage
Take 1 serving (1 tablet) daily.
Do not exceed the recommended daily serving for consumption. Dietary supplement should not be used as a substitute (replacement) for a varied diet. A balanced diet and healthy lifestyle is recommended. Do not consume if you are allergic to any of the product ingredients. The product should not be used by children, pregnant women and nursing mothers. Keep out of reach of small children.
Store at 15-25°C, in a closed container, in a dry place. Protect from direct sunlight.
Nutritional information
Ingredients
Filling agent: microcrystalline cellulose; DigeZyme® multienzyme complex, starch, anti-caking agents: magnesium salts of fatty acids, silicon dioxide.
Product may contain milk (including lactose), soy, peanuts, other nuts, sesame seeds, cereals containing gluten, eggs, shellfish, fish.
Nutrition Facts
| Active ingredients | Per 1 serving (1 tablet) |
| --- | --- |
| DigeZyme®, of which: | 150 mg |
| - α-amylase | 3600 DU |
| - Neutral protease | 900 PC |
| - Lactase | 600 ALU |
| - Lipase | 30 FIP |
| - Cellulase | 165 CU |
Product reviews
0
opinion
Questions and Answers
Add a question about this product