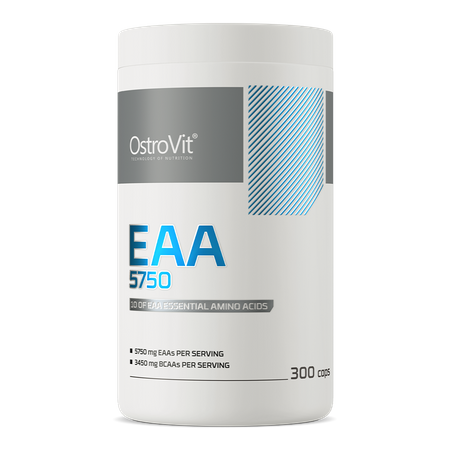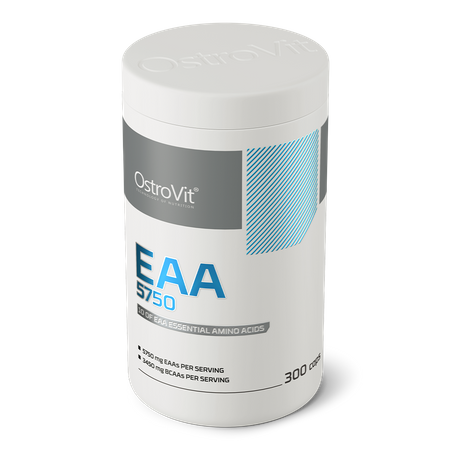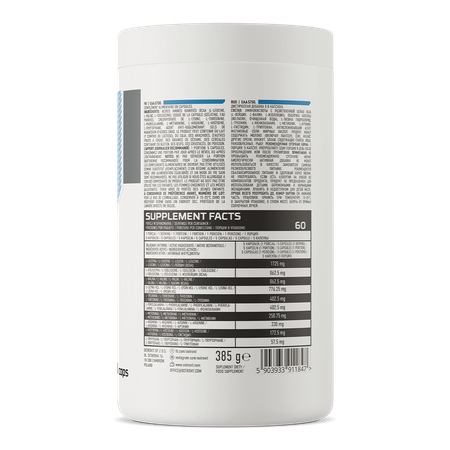 OstroVit EAA 5750 mg 300 capsules
13,50 €
OstroVit EAA 5750 mg 300 capsules
OstroVit EAA 5750 mg - is a dietary supplement that is a complex of exogenous and endogenous amino acids in the form of oral capsules. The product is distinguished by the minimalism of the composition while maintaining high concentrations of amino acids in each serving. The main task of EAA amino acids is to protect muscles from catabolism and improve their post-workout regeneration. Therefore, our product in particular is dedicated to all physically active people who need daily supplementation of their diet with amino acids.
60 servings in package
300 capsules = two months of supplementation
As many as 10 types of amino acids in each serving of the supplement!
EAA - what are they?
EAA from essential amino acids is a group of organic chemical compounds (amino acids), which are the basic components for the construction of peptides and proteins. Unfortunately, our body is not able to synthesize (produce) them on its own, so it is so important to provide them with a proper diet or with the help of supplementation. The composition includes a BCAA complex, i.e. three long-chain amino acids: leucine, valine and isoleucine, as well as compounds as: lysine, threonine, phenylalanine, methionine, arginine, histidine and tryptophan. The OstroVit EAA 5750 mg complex, thanks to protein amino acids supports the regeneration and anabolic processes of our muscle cells. The components of the supplement contribute to the support and directly participate in a number of life processes of the body, supporting the immune, nervous and digestive systems. Amino acid supplementation in people who train regularly can have a very positive effect on increasing athletic performance and endurance. Here are all the amino acids you can find in our OstroVit EAA 5750 mg:
L-Leucine
L-Isoleucine
L-Valine
L-Lysine HCL
L-Threonine
L-Phenylalanine
L-Methionine
L-Arginine
L-Histidine
L-Tryptophan
Suggested usage
1 serving: 5 capsules. Take one serving daily after waking up or after training.
Do not exceed the recommended daily dose. Do not use the product as a substitute (replacement) for a varied diet. Recommended are balanced diet and healthy lifestyle. Do not ingest if you are allergic to any of the ingredients. Children, pregnant or nursing woman must not take the product. Keep out of the reach of children.
Keep this packaging tightly closed in a dry place, at a temperature of 15-25°C. Keep out of direct sunlight.
Nutritional information
Ingredients
Branched chain amino acids BCAA (L-leucine, L-valine, L-isoleucine), capsule shell (gelatin, purified water), L-lysine hydrochloride, L-threonine, L-phenylalanine, L-methionine, L-arginine, L-histidine, L-tryptophan, anti-caking agent: magnesium salts of fatty acids.
Product may contain milk (including lactose), soy, peanuts, other nuts, sesame seeds, cereals containing gluten, eggs, crustaceans, fish.
Nutrition Facts
| Active ingredients | Per portion |
| --- | --- |
| L-leucine | 1725 mg |
| L-isoleucine | 862.5 mg |
| L-valine | 862.5 mg |
| L-lysine HCL | 776.25 mg |
| L-threonine | 402.5 mg |
| L-phenylalanine | 402.5 mg |
| L-methionine | 258.75 mg |
| L-arginine | 230 mg |
| L-histidine | 172.5 mg |
| L-tryptophan | 57.5 mg |
Product reviews
0
opinion
Questions and Answers
Add a question about this product