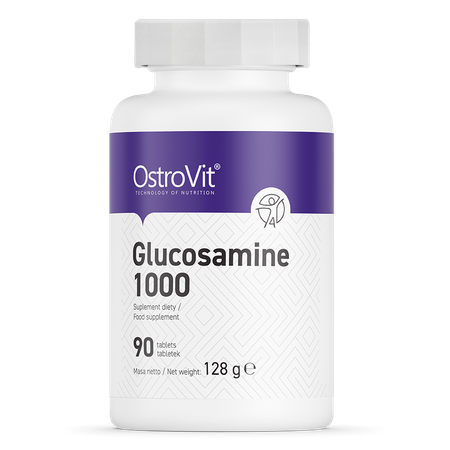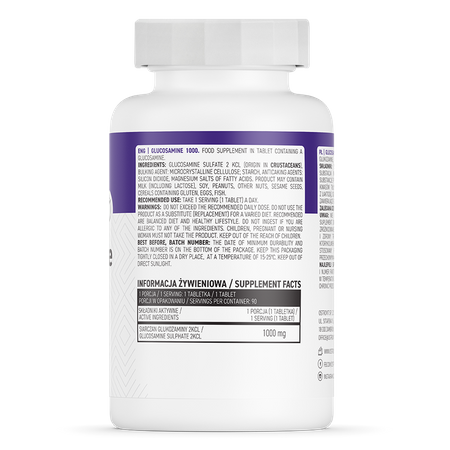 OstroVit Glucosamine 1000 mg 90 tablets
4,25 €
OstroVit Glucosamine 1000 mg 90 tablets
OstroVit Glucosamine 1000 mg 90 tablets is a high-quality dietary supplement that is a source of glucosamine sulfate - a form of the compound that is distinguished by excellent absorption compared to other forms of the substance. It is a preparation in the form of a tablet convenient to swallow, which was created for physically active people.

Rich source of glucosamine sulfate - one serving of dietary supplement provides the body with 1000 mg of valuable compound.
Excellent assimilability - the use of glucosamine in the form of glucosamine sulfate in the product positively affects the bioavailability of the compound.
1 tablet = 1 serving.
1000 mg of glucosamine per tablet.
Product performance - one package of the product is enough for 90 servings, i.e. for 3 months of regular supplementation.
Convenient form - it is enough to swallow one tablet before a meal.
OstroVit Glucosamine 1000 mg 90 tablets - support for physically active people
Glucosamine is an organic chemical compound that is an amine derivative of glucose. It is a substance that occurs naturally in many tissues of the human body, where it is formed as a result of the combination of glucose and glutamine molecules accompanied by a corresponding enzyme, which is glucosamine synthase.
Glucosamine in the body is synthesized in small amounts, and the ability to produce it decreases with age. However, the compound can be supplied to the body with food - the substance is found in seafood, in the chitinous shells of crustaceans, as well as in the form of dietary supplements.
The supplement OstroVit Glucosamine 1000 mg 90 tablets uses glucosamine sulfate, a form of the compound that is considered to be the most bioavailable, which makes the compound stand out for its better absorption than other forms of the substance.
Suggested usage
Use 1 serving (1 tablet) daily before the first meal.
Do not exceed the recommended daily dose for consumption. Dietary supplement can not be used as a substitute (replacement) of a varied diet. A balanced diet and a healthy lifestyle are recommended. Do not eat if you are allergic to any of the ingredients in the product. The product should not be used by children, pregnant women and nursing mothers. Keep out of reach of small children.
Nutritional information
Ingredients
Glucosamine sulfate (contains crustaceans), bulking agents: microcrystalline cellulose, starch; anti-caking agents: silicon dioxide, magnesium salts of fatty acids.
The product may contain milk (including lactose), soy, peanuts, other nuts, sesame seeds, cereals containing gluten, eggs, celery, mustard, fish.
Nutrition Facts
Net weight of product: 128 g
Servings per container: 90
| Active ingredients | Per portion |
| --- | --- |
| Glucosamine sulphate | 1000 mg  |
Product reviews
0
opinion
Questions and Answers
Add a question about this product