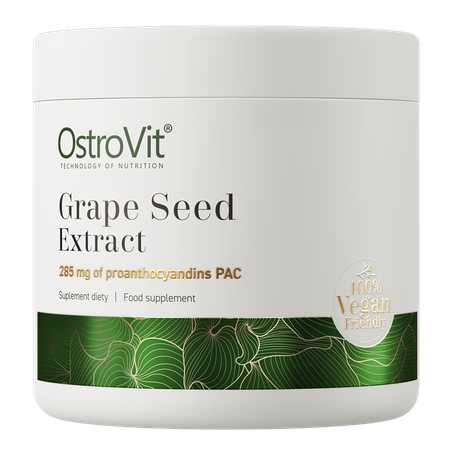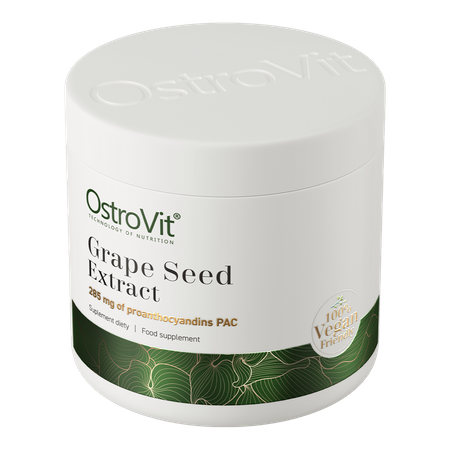 OstroVit Grape Seed Extract 50 g natural
5,32 €
OstroVit Grape Seed Extract 50 g
OstroVit Grape Seed Extract is a dietary supplement coming as a powder and containing grapes seeds extract (Vitis vinifera L.), standardized for 95% of proanthocyanidins (PAC), which assures high content of health-promoting polyphenols in every portion. This extract will be of interest to anyone who looks for the supplement rich in antioxidants. You will use its antioxidant properties, for example, after hard training, which causes the formation of free radicals in your muscles that have a negative impact on your health.

The standardized form of grape seed extract contained in the OstroVit product Grape Seed Extract is a wealth of antioxidants and other biologically active ingredients. Standardization for the content of proanthocyanidins (PAC) means that in each measure you will provide your body with exactly the same amount of active ingredients.
Grape Seed Extract
The emerging states of high blood pressure are nothing pleasant. They are usually manifested by pain or dizziness, increased sweating of the skin, irregular heart rate, insomnia, redness on the face, reduced physical and mental fitness and hot flashes. Grape seed extract taken regularly may have blood pressure-lowering properties.
You can also use the extract if you play sports or perform other forms of intense physical exertion. Greater blood flow through the muscles allows you to more effectively provide them with nutrients and faster excretion and neutralization of free radicals. Thanks to better blood circulation you will feel the so-called "Muscle pump", which gives additional effects of visual muscle enlargement.
Properties of the ingredients contained in OstroVit Grape Seed Extract
VERY STRONG ANTIOXIDANT - Extremely useful after hard work and every time you want to get rid of harmful free radicals.
REDUCES TOTAL CHOLESTEROL - Grape seed extract will help to ensure an adequate level of cholesterol.
REGULATES THE WORK OF THE HEART - Grape seed extract can help you achieve optimal blood pressure.
BOOSTS BLOOD FLOW - Increased blood flow after use of the supplement leads to enlargement of muscles during workout, and supports their regeneration and growth.
Suggested usage
Take 1 serving - 300 mg (1 scoop) daily with meal, drink water. Please use the measuring cup included in the package (0,5 ml).
Do not exceed the recommended daily dose. Do not use the product as a substitute (replacement) for a varied diet. Recommended are balanced diet and healthy lifestyle. Do not ingest if you are allergic to any of the ingredients. The product should not be consumed when using sedatives, sleeping pills, antiepileptic drugs and should not be used by children, pregnant women and during lactation. Keep out of the reach of children.
Nutritional information
Ingredients
Grape seed extract (Vitis vinifera L.) standardized on 95% of proanthocyandins (PAC).
Product may contain milk (including lactose), soy, peanuts, other nuts, sesame seeds, cereals containing gluten, eggs, crustaceans, fish.
Nutrition Facts
| Active ingredients | Per portion |
| --- | --- |
| Grape seed extract, of which: | 300 mg |
| - proanthocyandins PAC (95%) | 285 mg |
Product reviews
0
opinion
Questions and Answers
Add a question about this product