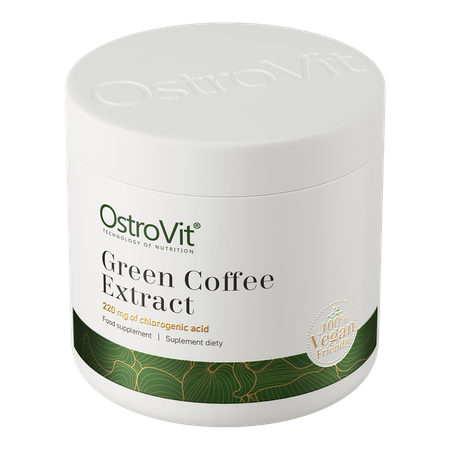 OstroVit Green Coffee Extract 100 g natural
7,71 €
OstroVit Green Coffee Extract 100 g
OstroVit Green Coffee Extract is a plant-based dietary supplement which contains a pure green coffee seed extract, standardized for 50% of chlorogenic acid and 5% of caffeine. The supplement was created for all people who are on a reduction diet or need stimulation while lacking energy to act. The supplement not only regulates absorption of fat but also gives you vital forces. If you also plan to lose some kilograms soon and want to feel healthy, choose green coffee extract by OstroVit.

Why to supplement green coffee?
Green coffee extract is made from unroasted cocoa seeds, which are known for high content of chlorogenic acid. This valuable nutrient has slimming and anti-oxidant properties - it can help you burn fatty tissue and secure yourself against free radicals.
Unroasted coffee seeds is also a rich source of polyphenols, minerals, vitamins from B group and caffeine whose task is to boost the organism and support reduction of fatty tissue. Choose OstroVit Green Coffee Extract dietary supplement if you:
are on a reducing diet
lack energy
want to foster absorption of fats
wish to defend yourself against diseases caused by free radicals
Properties:
Coffee is said to have slimming properties. Sadly, when beans are roasted, a large amount of chlorogenic acid responsible for reduction of fatty tissue is destroyed. This way the traditional coffee in the form of drink is unable to act in 100%. The answer to this problem is unroasted green coffee extract.
Major features of the supplement:
SUPPORT TO SLIMMING - Thanks to a fixed content of chlorogenic acid and caffeine, the dietary supplement can contribute to body weight drop. It will come in hand when you are on a reducing diet or plan to lose weight.
BLOOD PRESSURE REGULATION - Chlorogenic acid representing 50% of the supplement can regulate the operation of the vascular system – its operation may lead to normalization of blood pressure and heart beat.
EXTRA POWER - If you deal with insomnia, fatigue or concentration issues, green coffee extract will give you power and motivation to act. Thanks to caffeine, you will get more energetic and focus on your work and study easier.
CONVENIENT DIETARY SUPPLEMENT - Green coffee extract is user-friendly and will surely suit all those who do not like coffee taste. To see impact of the product, all you need to do is measure the extract with the use of a special measure and drink some water.
Suggested usage
Take 1 serving - 440 mg (2 scoops) daily with meal, drink water. Please use the measuring cup included in the package (0.5 ml).
Do not exceed the recommended daily dose. Do not use the product as a substitute (replacement) for a varied diet. Recommended are balanced diet and healthy lifestyle. Do not ingest if you are allergic to any of the ingredients. Do not consume the product by children, pregnant or nursing women. Keep out of the reach of children.
Nutritional information
Ingredients
Green coffee bean extract (Coffea Arabica L.) standardized on 50% of chlorogenic acid and 5% of caffeine.
Product may contain milk (including lactose), soy, peanuts, other nuts, sesame seeds, cereals containing gluten, eggs, crustaceans, fish.
Nutrition Facts
| Active ingredients | Per portion |
| --- | --- |
| Green coffee bean extract, of which: | 440 mg |
| - chlorogenic acid (50%) | 220 mg |
| - caffeine (5%) | 22 mg |
Product reviews
0
opinion
Questions and Answers
Add a question about this product