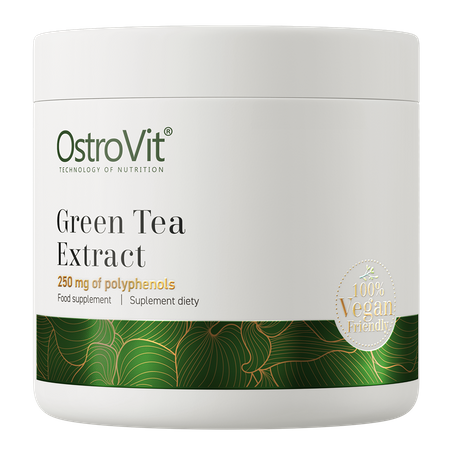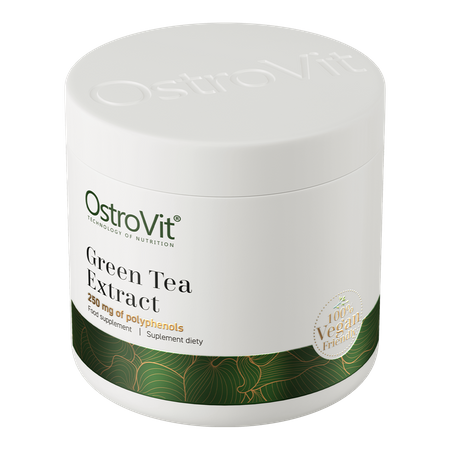 OstroVit Green Tea Extract 100 g natural
OstroVit Green Tea Extract 100 g
OstroVit Green Tea Extract is a natural dietary supplement in the form of green tea leaves powder. The product contains much polyphenols which play a very important role in the organism. Green tea gently stimulates the organism to work, helps you burn fatty tissue and supports digestion, as well as stimulates your brain and has cleansing properties. If you are on a reducing diet and look for the supplement which can assist you in the fight for beautiful figure, you must try green tea extract by OstroVit.

How green tea extract works?
OstroVit Green Tea Extract is a rich source of valuable nutrients, including caffeine, L-teanine and polyphenols. Thanks to high content of anti-oxidants, the product hinders development of free radicals and thus cleanses the organism naturally. It also shows antibacterial properties and secures skin against harmful UV radiation. Plus, it lets you keep suitable cholesterol and blood sugar levels.
Green tea extract is recommended to all persons who want to safely lose weight and at the same time reduce fatty tissue. Polyphenols included in the supplement foster fats disintegration and fatty cells destruction. In turn caffeine reduces a feeling of hunger. Choose OstroVit Green Tea Extract if you:
want to lose weight
are on a reducing diet
look for a natural anti-oxidant
deal with high cholesterol
Properties:
OstroVit Green Tea Extract is rich in valuable polyphenols which demonstrate strong anti-oxidant impact - they cleanse the organism from the inside and secure it against harmful UV radiation, and prevent infections. Regular use may support digestion and lead to reduction of fatty tissue.
Major features of the supplement:
SUPPORT TO WEIGHT LOSS - Green tea extract will help you lose extra kilograms. Thanks to regular intake, you can easily reduce the number of fatty cells and in effect enjoy figure of your dreams.
ANTI-OXIDANT PROPERTIES - Thanks to green tea, you can easily cleanse your organism from the inside. Polyphenols will let you eliminate free radicals and protect your organism against oxidative stress.
PLANT-BASED COMPOSITION - Green tea extract is a natural way to look beautiful and be healthy. The dietary supplement is based on one ingredient only – there are no fillers and other substances which would hinder impact of the extract.
EASY DOSING - A modern form of the plant extract with high content of active ingredients will be perfect if you do not like supplements in tabs and capsules.
Suggested usage
Take 1 serving - 500 mg (1 scoop) daily with meal, drink water. Please use the measuring cup included in the package (1 ml).
Do not exceed the recommended daily dose. Do not use the product as a substitute (replacement) for a varied diet. Recommended are balanced diet and healthy lifestyle. Do not ingest if you are allergic to any of the ingredients. Do not consume the product by children, pregnant or nursing women. Keep out of the reach of children.
Nutritional information
Ingredients
Green tea-leaf extract (Camellia sinensis L.) standardized on 50% of polyphenols.
Product may contain milk (including lactose), soy, peanuts, other nuts, sesame seeds, cereals containing gluten, eggs, crustaceans, fish.
Nutrition Facts
| Active ingredients | Per portion |
| --- | --- |
| Green tea leaf extract, of which: | 500 mg |
| - polyphenols (50%) | 250 mg |
Product reviews
0
opinion
Questions and Answers
Add a question about this product