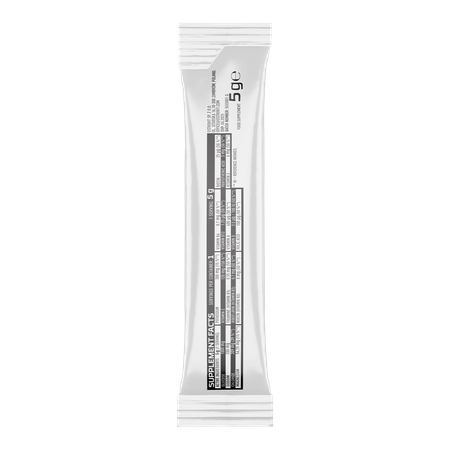 OstroVit Isotonic 5 g x 30 BOX grapefruit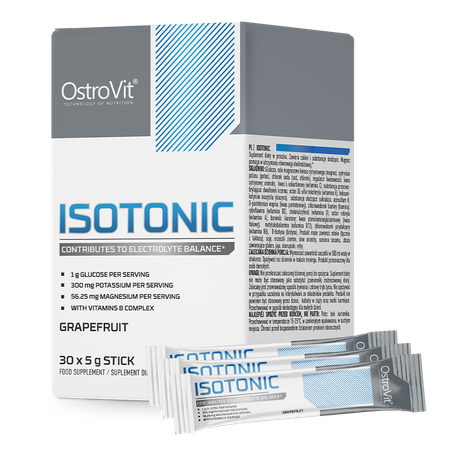 10,05 €
OstroVit Isotonic 5 g
OstroVit Isotonic is a powdered dietary supplement designed to prepare an isotonic drink solution that contains valuable substances and electrolytes, such as magnesium, potassium or B vitamins. It is a preparation with a delicious and refreshing grapefruit flavor, which will be great for physically active people.
1
SACHET
1 serving = 1 sachet
Rich in electrolytes and valuable nutrients - dietary supplement provides the body with magnesium, potassium, sodium and chloride, as well as vitamins A and C, vitamin E and D and B vitamins.
Source of glucose - one serving of the product contains 1000 mg of the ingredient.
1 sachet = 1 serving.
Convenient form - the preparation is packed in single sachets, and in order to prepare the drink it is enough to mix the contents of one package with water.
Delicious taste of grapefruit, that provides a feeling of refreshment and freshness.
OstroVit Isotonic - a refreshing source of electrolytes
An isotonic, also known as an isotonic drink, is a product whose osmolality is the same as that of human body fluids. This is a drink designed for physically active people, whose main task is to protect the body from dehydration, as well as to replenish the body's system with valuable components that were lost during intense physical activity.
OstroVit Isotonic with grapefruit flavor is a preparation designed to prepare a refreshing isotonic drink, which contains a source of carbohydrates, as well as a wealth of vitamins and a carefully developed composition of electrolytes. It is a high-quality dietary supplement that provides the body with glucose, vitamins A, D, E and C and B vitamins, as well as chloride, potassium, magnesium and sodium. It is a comprehensive support for physically active people.
OstroVit Isotonic - a refreshing source of electrolytes
The magnesium present in OstroVit Isotonic contributes to reducing feelings of fatigue and tiredness, and also helps maintain electrolyte balance. It is a mineral component that additionally supports the proper functioning of the nervous system and helps in the proper work of muscles.
The potassium used in the dietary supplement supports optimal functioning of the nervous system, as well as muscle function and helps maintain normal blood pressure.
The vitamin C contained in the product helps in the proper production of collagen to ensure the proper functioning of bones, cartilage and skin, as well as contributes to reducing feelings of fatigue and tiredness and helps in the proper functioning of the nervous and immune systems.
Vitamin A supports the maintenance of proper condition of mucous membranes and maintenance of normal vision.
Vitamin E used in the product helps protect cells from oxidative stress. In turn, vitamin D supports optimal muscle function.
B vitamins, such as vitamin B2 or B12, contribute to maintaining normal energy metabolism and help reduce feelings of fatigue and tiredness.
Suggested usage
Mix the contents of the sachet in 500 ml of water in a shaker. Consume once a day during training. Product is intended for adults.
Do not exceed the recommended daily dose. Do not use the product as a substitute (replacement) for a varied diet. Recommended are balanced diet and healthy lifestyle. Do not ingest if you are allergic to any of the ingredients. Children, pregnant and nursing women must not take the product. The product is intended for adults. Keep out of the reach of children. Keep this packaging tightly closed in a dry place, at the temperature 15-25°C. Keep out of direct sunlight.
Nutritional information
Ingredients
Glucose, magnesium salts of citric acid (magnesium), potassium citrate (potassium), sodium chloride (sodium, chloride), acidity regulator: citric acid; flavourings, L-ascorbic acid (vitamin C) anti-caking agent: silicon dioxide; DL-alpha-tocopheryl acetate (vitamin E), inositol hexanicotinate (niacin), sweeteners: sucralose, acesulfame K; calcium D-pantothenate (pantothenic acid), thiamine hydrochloride (thiamine), riboflavin (vitamin B2), cholecalciferol (vitamin D), retinyl acetate (vitamin A), colour: carotenes; pteroylmonoglutamic acid (folic acid), methylcobalamin (vitamin B12), pyridoxine hydrochloride (vitamin B6), D-biotin (biotin).
The product may contain milk (including lactose), soy, peanuts, other nuts, sesame seeds, cereals containing gluten, eggs, crustaceans, fish.
Nutrition Facts
| Active ingredients | Per portion | % RI* |
| --- | --- | --- |
| Glucose | 1000 mg | - |
| Sodium | 200 mg | - |
| Chloride | 309 mg | 39% |
| Magnesium | 56.25 mg | 15% |
| Potassium | 300 mg | 15% |
| Vitamin C | 120 mg | 150% |
| Thiamine (Vitamin B1) | 0.55 mg | 50% |
| Riboflavin (Vitamin B2) | 0.7 mg | 50% |
| Niacin (Vitamin B3) | 8 mg | 50% |
| Vitamin B6 | 0.7 mg | 50% |
| Vitamin B12 | 1.25 μg | 50% |
| Vitamin A | 400 μg | 50% |
| Vitamin D | 2.5 μg / 100 IU | 50% |
| Folic acid | 100 μg | 50% |
| Biotin | 25 μg | 50% |
| Pantothenic acid | 3 mg | 50% |
| Vitamin E | 6 mg | 50% |
*RI - Reference intake
Product reviews
0
opinion
Questions and Answers
Add a question about this product