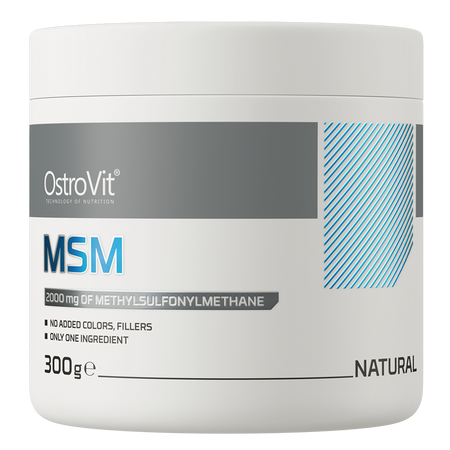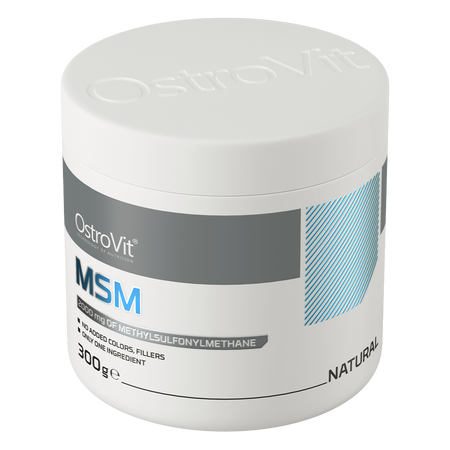 OstroVit MSM 300 g natural
7,42 €
OstroVit MSM 300 g
OstroVit MSM is a dietary supplement that is a source of methylsulfonylmethane, also known as organic sulfur. It is a high-quality preparation, available in powder form, which contains only the active substance, without unnecessary additives. It is a product designed for athletes and people who want to supplement their daily menu with a valuable compound.


Source MSM - one serving of the dietary supplement provides the body with 2000 mg of organic sulfur.
Simple composition - the product contains only the active substance, without unnecessary additives and fillers.
1 serving = 2 scoops.
Perfomance - the package contains 150 servings of the product, which is enough for 5 months of regular supplementation.
Convenient form - the preparation available in powder form allows trouble-free supply of dietary supplement and is a great solution for people who have difficulty swallowing tablets.
OstroVit MSM - a valuable source of methylsulfonylmethane
MSM, or Methylsulfonylmethane, is an odourless, organic sulfur compound that dissolves well in water. Ingredient naturally occurs in soil, plants and animal organisms. In the daily diet, the substance can be found in milk and dairy products, whole grain cereals, eggs, as well as fresh fruits and vegetables. Although organic sulfur is a component of many different foods, only a small amount of the compound reaches the human body that can be used by the body, which is due to the fact that MSM is a very delicate compound that is easily degraded, e. g. as a result of cooking, pasteurization, freezing or irradiation of food. Therefore, a good solution may be to provide the compound to the body also in the form of dietary supplements.
The product shows strong hygroscopic properties (strongly absorbs moisture). The formation of clumps or uniform (compact) consistency is not a sign of loss of product properties. In this case, the product should be crushed anew.
Suggested usage
The recommended daily dose of 2 g (2 scoops) is mixed in 100 - 150 ml of water or juice. Please use the measuring cup included in the package (1 ml). Consume 1 portion daily, preferably 30 minutes before a meal.
Do not exceed the recommended daily dose for consumption. Dietary supplement can not be used as a substitute (replacement) of a varied diet. A balanced diet and a healthy lifestyle are recommended. Do not eat if you are allergic to any of the ingredients in the product. The product should not be used by children, pregnant women and nursing mothers. Keep out of reach of small children.
Nutritional information
Ingredients
Methylsulfonylmethane.
The product may contain milk (including lactose), soy, peanuts, other nuts, sesame seeds, oats, eggs, crustaceans, fish.
Nutrition Facts
| Active ingredients | For a portion |
| --- | --- |
| Methylsulfonylmethane | 2000 mg |
Product reviews
0
opinion
Questions and Answers
Add a question about this product