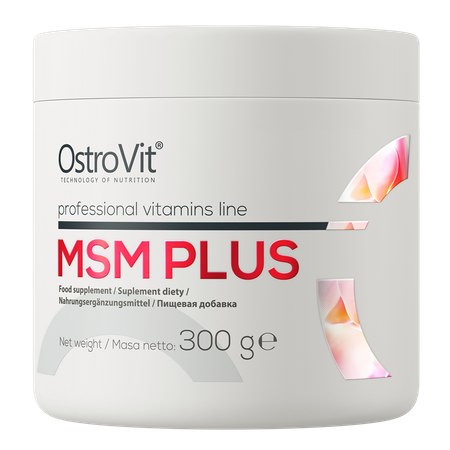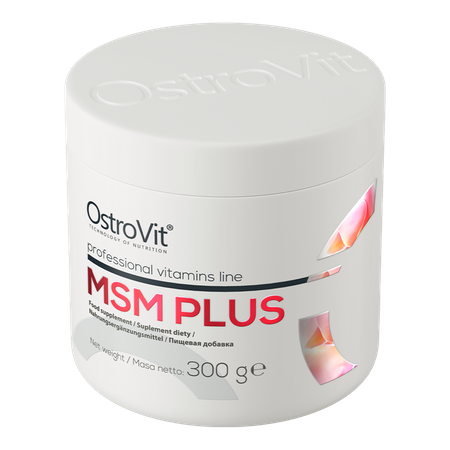 OstroVit MSM Plus 300 g natural
7,34 €
OstroVit MSM Plus 300 g
OstroVit MSM Plus it is a preparation that is a source of methylsulfonylmethane, i.e. an organic compound of sulfur, glucosamine, as well as vitamin C, which synergistically together form an excellent complex supporting the action of cartilage, bones, blood vessels, gums, skin and teeth.

300 g of the product
150 servings
Comprehensive support for bones and joints
Simple composition
Sulfur is the most common mineral in our body, right after calcium and phosphorus. Sulfur plays an extremely important role in the synthesis of amino acids, enzymes, immunoglobulins (antibodies) and glutathione - an intracellular antioxidant that protects cells from free radicals.
Methylsulfonylmethane MSM is an organic chemical compound of sulfur (organic sulfur), often found in green vegetables or in fresh milk. Unfortunately, it is a substance that is easily degraded during technological processes of food processing. Therefore, supplementation with methylsulfonylmethane is so important to us. It plays an important role during the synthesis of amino acids and collagen.
L-ascorbic acid - vitamin C is an organic chemical compound from the group of polyhydroxy alcohols. It is an essential nutrient in the human diet, which is mainly responsible for the proper functioning of connective tissue and bones. Its biologically active form - vitamin C, acts as a reducing agent and a coenzyme in several metabolic pathways of the human body. Vitamin C is considered to be one of the major antioxidants.
Glucosamine is a substance that builds compounds found in joint cartilage. During periods of increased physical activity, increased load on joints, overweight and the elderly, the body produces less glucosamine than it needs. The lack of this substance means that the joints do not perfume their functions properly. Providing the body with an appropriate source of glucosamine supports joint cartilage.
Properties of the ingredients included in OstroVit MSM Plus:
Methylsulfonylmethane, commonly referred to as organic sulfur, has an extremely beneficial effect on our body. Sulfur is one of the essential minerals that plays a lot of important functions in our body. It will work perfectly for those who value a healthy appearance of the skin, nails or hair, but those who focus on broadly understood physical activity. Not only professional, but also typically recreational. The key here is the regeneration of tendons or ligaments after injuries and accidents.
Reduces the post-workout muscle soreness and also affects their regeneration
During supplementation, plasma creatinine and bilirubin are decreased
Significantly improves the skin, hair and nails, giving them an exceptionally healthy look
Effectively rebuilds the tendons and ligaments, provides regeneration and proper functioning of joints
Participates in the synthesis of collagen (the main connective tissue protein)
Prevents premature hair loss and strengthens it by improving their structure
The product has strong hygroscopic properties (strongly absorbs moisture). The foration of clumping or uniform (compact) consistency is not a sign of loss of product propertiesm. In this case, the product should be shredded again.
Suggested usage
The recommended daily dose of 2 g (2 scoops) is mixed with 100-150 ml of water or juice. Consume 1 serving a day, preferably 30 minutes before a meal. Please use the measuring cup included in the package (1 ml).
Do not exceed the recommended daily dose for consumption. Dietary supplement can not be used as a substitute (replacement) of a varied diet. A balanced diet and a healthy lifestyle are recommended. Do not eat if you are allergic to any of the ingredients in the product. The product should not be used by children, pregnant women and nursing mothers. Keep out of reach of small children.
Nutritional information
Ingredients
Methylsulfonylmethane (contains anti-caking agent: silicon dioxide), D-glucosamine sulfate 2KCL (from shellfish), L-ascorbic acid (vitamin C).
The product may contain milk (including lactose), soy, peanuts, other nuts, sesame seeds, oats, eggs, fish.
Nutrition Facts
Net weight of product: 300 g
Servings per container: 150
| Active ingredients | Per 100 g | For a portion | % RI* |
| --- | --- | --- | --- |
| Methylsulfonylmethane | 94 g | 1880 mg  | - |
| Glucosamine sulphate | 5 g | 100 mg  | - |
| Vitamin C | 1 g | 20 mg  | 25 |
*RI - Reference intake
Product reviews
0
opinion
Questions and Answers
Add a question about this product