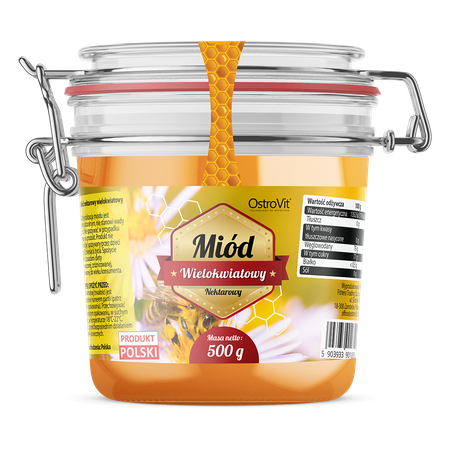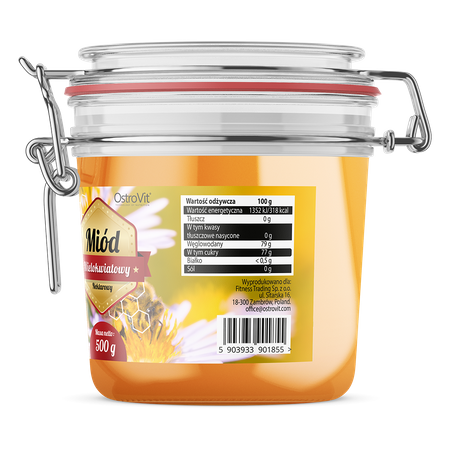 OstroVit Multiflower Honey 500 g
4,64 €
OstroVit Multiflower Honey
The mixed flower honey is naturally obtained in spring, summer and autumn, and it owes its unique taste to the unique combination of pollen. Every harvesting of this kind of honey brings different proportions of chemical factors influencing its health promoting properties. It is their combination and diversity that makes it the most universal honey combining advantages of all others. It is suitable for vegans and vegetarians. It can be used as an ingredient of dishes, desserts or sweetener for drinks and cakes.

Mixed flower honey description
The color of OstroVit mixed flower honey ranges from bright cream to orange brown, and when crystallized from light yellow to dark brown. The honey comes as a dense liquid and when crystallized as medium-grade product. Crystallization takes up to several months after opening, so this honey remains liquid for a long time.
The mixed flower blossom honey is a high-energy product due to its composition which primarily includes simple sugars: glucose and fructose. Thanks to this, it is a great choice for hardworking athletes or persons who need a source of easy-to-digest simple sugars during or after workout, as well as white-collar workers who look for healthy source of energy for their brain.
Properties:
The mixed flower honey is rich in vitamins C, A, PP, B2, B6 and B2, and such minerals as magnesium, phosphorus, potassium, molybdenum, calcium, iron and silicon. Their amount depends on specific harvest, just like any other properties of this honey, even flavor. Spring harvest will be more delicate in taste, while late summer and autumn harvest - clearer and sharper.
There is no discussion about the fact that inclusion of natural mixed flow honey in everyday diet is beneficial to your organism. No matter if you are currently building muscles or wish to get rid of redundant fatty tissue, add the mixed flower honey to your meals to see benefits. This kind of honey:
improves blood circulation
supports digestion
calms, helps you fall asleep earlier
is a great source of energy for body and mind
The most important features of our honey:
100% NATURAL - OstroVit Multiflower Honey does not contain any preservatives, fillers or additives, and comes from the nature.
VERY TASTY - It will provide your life and meals with natural sweetness, coming from top-quality material you can afford.
INTEGRAL PART OF YOUR DAY - It will be perfect for any meal, e.g. porridge for breakfast or as part of a natural isotonic drink during intensive workout.
SAFE PACKAGING - A glass jar which holds our honey makes it fresh for a long time and without extensive crystallization.
Crystallization of honey:
Honey has the consistency of a thick liquid in liquid form, and after crystallization - medium-grained. Crystallization takes up to several months after opening, so it is honey that keeps its liquid form for a long time. Honey crystallization is a natural phenomenon, it does not affect the quality and properties of the product.
Suggested usage
Consume depending on your needs.
Honey crystallization is a natural process and is not a product defect. Do not eat if you are allergic to the product. The product should not be consumed by children under 12 months of age. Consumption in accordance with the principles of a balanced, varied diet, adapted to the consumer's age.
Nutritional information
Ingredients
Multifloral nectar honey.
Country of origin in Poland
Nutrition Facts
| Nutritional values | Per 100 g |
| --- | --- |
| Energy value | 1352 kJ/318 kcal |
| Fat | 0 g |
| - including saturated fatty acids | 0 g |
| Carbohydrates | 79 g |
| - including sugars | 77 g |
| Protein | < 0.5 g  |
| Salt | 0 g |
Product reviews
0
opinion
Questions and Answers
Add a question about this product