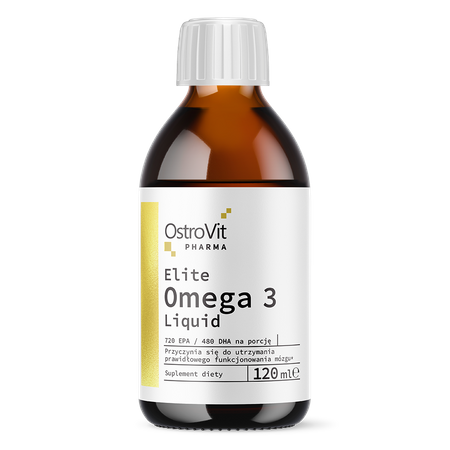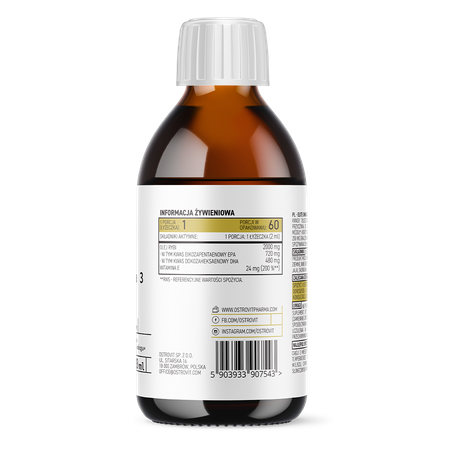 OstroVit Pharma Elite Omega 3 liquid 120 ml
8,77 €
OstroVit Pharma Elite Omega 3 liquid 120 ml
OstroVit Pharma Elite Omega 3 liquid 120 ml in liquid is the highest quality dietary supplement in the form of fish oil for oral use, which contains a complex of OMEGA 3 acids - including EPA and DHA, with vitamin E. OstroVit Pharma is a line, which puts the quality of raw materials, pharmaceutical production diligence and all components thanks to which the supplement is created in the first place. OstroVit Pharma are absolutely elite supplements for consumers who know what is most important to them.


The source of omega 3 essential fatty acids - One serving of the product contains 2000 mg of fish oil.
High EPA and DHA content - A portion of dietary supplement provides the body with as much as 720 mg of EPA and 480 mg of DHA.
Preparation enriched with vitamin E - One serving of oil is 24 mg of D-alpha-tocopherol.
Efficiency - The product package contains 60 servings of dietary supplement.
Convenient form and ease of consumption - The liquid form of the oil is a great solution for people who have difficulty swallowing tablets.
Dark bottle protects against unwanted fatty acid oxidation and harmful sunlight.
OstroVit Pharma Elite Omega 3 Liquid - the source of EPA and DHA and vitamin E
Omega-3 polyunsaturated fatty acids are compounds belonging to the group of essential fatty acids (EFAs). The body is not able to synthesize them on its own, which is why they must be delivered to the body from the outside, along with food or dietary supplements. Among the omega-3 fatty acids we can distinguish i.a. eicosapentaenoic acid (EPA) and docosahexaenoic acid (DHA), which naturally occur in oily sea fish or seafood.
In the dietary supplement you can also find vitamin E, i.e. a group of organic chemical compounds, classified as fat-soluble vitamins, among which the greatest biological activity is shown by D-alpha-tocopherol used in the preparation.
Properties of ingredients contained in OstroVit Pharma Elite Omega 3 Liquid:
Docosahexaenoic acid (DHA) present in the OstroVit Pharma Elite Omega 3 Liquid supplement allows you to maintain the proper functioning of the brain and also supports the maintenance of proper vision. Additionally, eicosapentaenoic acid (EPA) and docosahexaenoic acid (DHA) contribute to normal heart function, with beneficial effects occurring when consuming 250 mg of EPA and DHA per day. In turn, vitamin E used in the preparation helps to protect cells against oxidative stress.
ATTENTION! Due to the high content of fish oil, the product is characterized by a fishy smell.
Suggested usage
Drink 1 serving of 2 ml (1 teaspoon) daily.
Shake before use. Do not exceed the recommended daily dose. The dietary supplement must not be used as a substitute (replacement) for a varied diet. A balanced diet and healthy lifestyle is recommended. Do not consume if you are allergic to any of the product ingredients. Use by pregnant women and nursing mothers after consultation with a doctor. Keep out of reach of small children. Consume within 3 months of first opening. Store at 15-25°C, in a closed container, in a dry place. Protect from direct sunlight. Once opened, store in the refrigerator.
Nutritional information
Ingredients
Fish oil, D-alpha-tocopheryl acetate (vitamin E).
Product may contain milk (including lactose), soya, peanuts, other nuts, sesame seeds, cereals containing gluten, eggs, crustaceans.
Nutrition Facts
| Active ingredients | Per portion (2 ml) | % RI* |
| --- | --- | --- |
| Fish oil | 2000 mg | - |
| - of which eicosapentaenoic acid EPA | 720 mg | - |
| - of which docosahexaenoic acid DHA | 480 mg | - |
| Vitamin E | 24 mg | 200% |
*RI - Reference intake
Product reviews
0
opinion
Questions and Answers
Add a question about this product