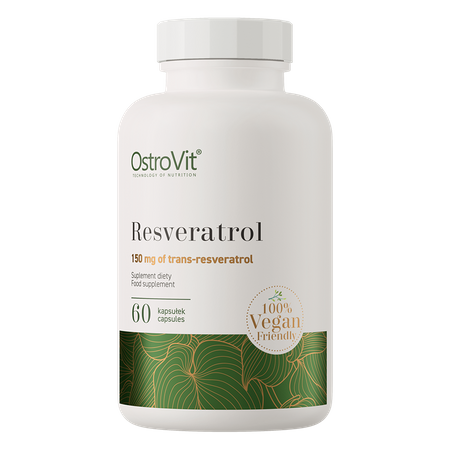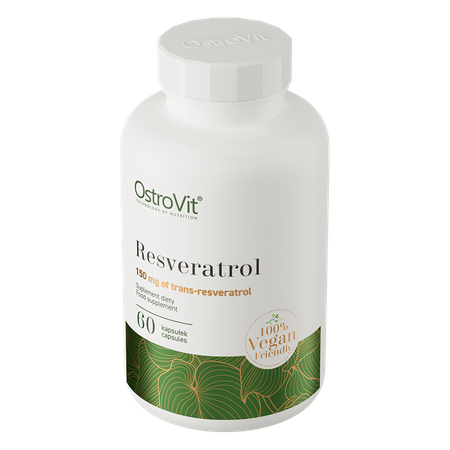 OstroVit Resveratrol VEGE 60 capsules
6,27 €
OstroVit Resveratrol VEGE 60 capsules
OstroVit Resveratrol VEGE is a dietary supplement in capsules containing a Japanese knotweed root extract standardised to 50% trans-resveratrol. The capsule itself (HPMC - hydroxypropylmethylcellulose) and the extract do not contain any animal substances, so the supplement is suitable for a wide audience, including vegans and vegetarians. OstroVit 100% VEGE CAPSULES stands for quality, care and meeting our customers' expectations.

100% VEGE CAPSULES LINE
This product is also suitable for vegetarians and vegans.
60 doses
Standardised extract with 50% trans-resveratrol
Japanese Knotweed
Japanese Knotweed is a plant species of the knotweed family native to southern Asia. Its current distribution also includes Europe and even some areas of Poland. It has been classified as an invasive species, i.e. one that can directly threaten the wildlife endemic to the area. Japanese knotweed is primarily known for its medicinal properties, and a high concentration of a compound known as trans-resveratrol is responsible for these.
Resveratrol is an organic chemical compound from the polyphenol group. It exists in the form of two isomers, cis- and trans-, where only the trans- shows biological significance for our body. In higher concentrations, it is mainly found in Japanese knotweed and grapes - the health benefits and advantages of occasional red wine drinking have been known for a long time.
Properties of OstroVit Resveratrol VEGE ingredients:
Support the proper functioning of the cardiovascular system
It may have neuroprotective effects
Lowers blood glucose and triglyceride levels
Is a natural antioxidant (antioxidant)
Contribute to the 'reduction' of body fat
The products in the VEGE CAPSULES range have been developed using only vegan ingredients. Due to the company's high safety policy and the fact that allergenic ingredients are used in the production facility, hence the information about the possibility of cross allergens on the label. For further information, please contact us by email.
Laboratory-confirmed quality
For the sake of our customers' health, our products are regularly tested in an accredited laboratory to ensure and maintain the highest quality.






Suggested usage
Take 1 serving (1 capsule) daily.
Do not exceed the recommended daily dose. Do not use the product as a substitute (replacement) for a varied diet. Recommended are balanced diet and healthy lifestyle. Do not ingest if you are allergic to any of the ingredients. Do not consume the product by children, pregnant or nursing women. Keep out of the reach of children.
Nutritional information
Ingredients
Japanese knotweed root extract (Polygonum cuspidatum Siebold & Zucc.) standardized on 50% of trans-resveratrol, coating composition (bulking agent: hydroxypropyl methyl cellulose).
Product may contain milk (including lactose), soybeans, peanuts, other nuts, sesame seeds, oats, eggs, crustaceans, fish.
Nutrition Facts
| Active ingredients | Per portion |
| --- | --- |
| Japanese knotweed root extract | 300 mg |
| - of which trans-resveratrol (50%) | 150 mg |
Product reviews
0
opinion
Questions and Answers
Add a question about this product