OstroVit THE BAR. 60 g strawberry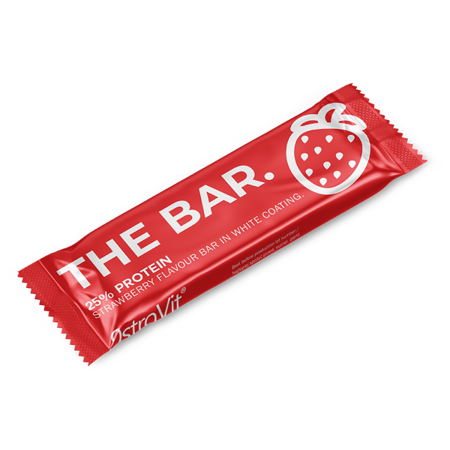 1,35 €
OstroVit THE BAR. 60 g
OstroVit THE BAR. is a high-protein bar that will perfectly satisfy your desire to reach for something sweet. It's an excellent protein snack that you can take with you wherever you like. Put it in a bag or backpack, so that you can enjoy its delicious taste in your free time. OstroVit THE BAR. available in three delicious versions: chocolate, vanilla and strawberry. Depending on the variant, the bar was topped with a dark or white icing that gives it a character and fits perfectly into the whole, creating a real magnum opus among snacks.

The bar is available in three flavors,
Chocolate, vanilla, strawberry,
Two delicious toppings depending on the taste,
60 g of unforgettable taste impressions,
Perfect healthy snack for every occasion,
High in protein!
OstroVit THE BAR.
OstroVit THE BAR. is a real treat for everyone. Are you a glutton and just love sweets? Couldn't you hold out for a moment without thinking about the sweets that are your whole life? Or maybe a balanced diet is important to you, where a high supply of protein counts and you can not afford to fill your caloric balance with only "empty" calories? OstroVit THE BAR. it is not only a brilliant taste, but also a source of valuable protein. The OstroVit company has created a protein bar, that connects snack lovers and sports enthusiasts where a high supply of protein is so desirable. Forget about cheat meals! Catch OstroVit THE BAR. in the hand and eat it knowing that you did the right thing. OstroVit THE BAR. it is a meal substitute that you can eat whenever and wherever you want!
Properties:
For athletes and lovers of sweets,
High in protein,
Fantastic flavors,
A meal substitute anywhere, at any time!
Just THE BAR.
Laboratory-proven quality
For the sake of our customers' health, the products we manufacture are regularly tested in an independent accredited laboratory to ensure and maintain the highest quality.






Suggested usage
A simple matter, just unpack, eat and reach for the second one ;)
Nutritional information
Ingredients
Protein blend 26% (soy protein isolate, whey protein concentrate from milk, glucose syrup, white topping 18% [sugar, fully hydrogenated fats (coconut, sunflower) , skimmed milk powder 8%, lactose (from milk), emulsifier: sunflower lecithins; flavor], oligofructose, dried apples 7% ( contain antioxidant: sulfur dioxide ), coconut fat, humectant: glycerol; rapeseed oil, soy flakes, strawberry concentrate 1.5%, emulsifier: sunflower lecithins; salt, aromas, colors: crimson *, cochineal red A *.
The product may contain gluten, peanuts, other nuts, sesame, eggs.
Dietary supplement. Contains sweeteners.
*Carmosine and Cochineal Red A - May have an adverse effect on activity and attention in children.
Nutrition Facts
| Nutritional values | Per 100 g | For a portion | % RI* |
| --- | --- | --- | --- |
| Energy value | 404 kcal | 242 kcal | 12% |
| Fat | 15 g | 9 g | 13% |
| - including saturated fatty acids | 11 g | 6.6 g | 33% |
| Carbohydrates | 38 g | 23 g | 9% |
| - including sugar | 24 g | 14 g | 16% |
| Fibre | 8.5 g | 5.1 g | - |
| Protein | 25 g | 15 g | 30% |
| Salt | 0.5 g | 0.3 g | 5% |
*RI - Reference intake
Product reviews
0
opinion
Questions and Answers
Add a question about this product