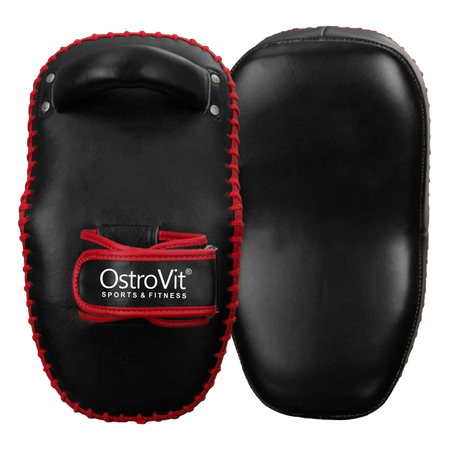 OstroVit Training shield
OstroVit punching and kicking shields are made of a top-quality material. They will be suitable during such combat sports as boxing, kickboxing, muay thai and MMA, protecting the assistant against punches and kicks and absorbing the force of impact to prevent potential injuries. Shields of this sort are used to practice kicking and punching. The shields are comfortable and light, which allows the trainer to quickly change their position while performing combinations of blows.
The shields are available in a black color, strengthened with a thick red stitching whose task is to reinforce and protect against tearing. The handles have also been strengthened with steel bolts to guarantee resistance to detachment. The handle and Velcro fastening ensure a stable attachment of the disc to the hand, thus ensuring a secure grip and ensuring that the disc slips during strong blows or kicks. Thanks to the filling used, the shield is light, yet durable and resistant to damage, and the appropriate profiling ensures comfort during exercise. The offer is for one piece.
Technical information:
Color: black
Length: 37 cm
Width: 23 cm
Height: 10 cm
Weight: 620 g
Product reviews
0
opinion
Questions and Answers
Add a question about this product