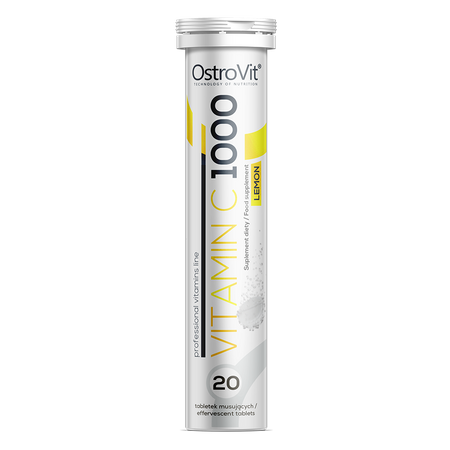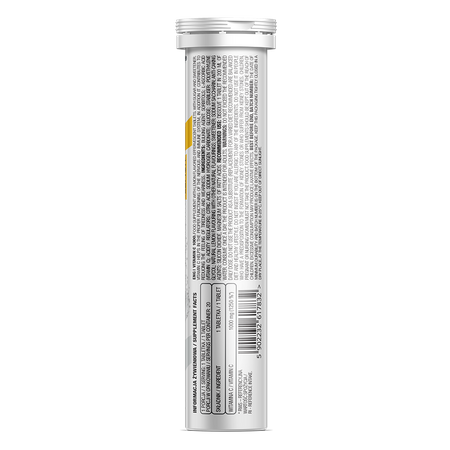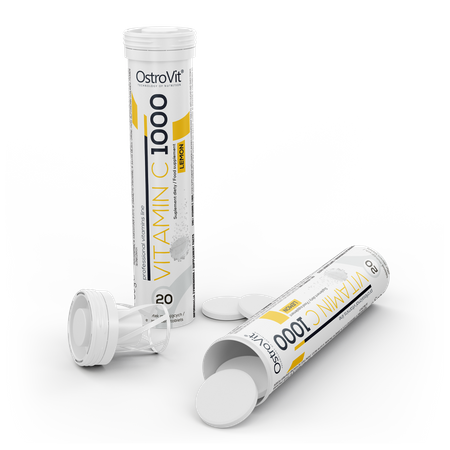 OstroVit Vitamin C 1000 mg 20 effervescent tablets
1,44 €
OstroVit Vitamin C 1000 mg 20 effervescent tablets
OstroVit Vitamin C 1000 is a dietary supplement in the form of effervescent tablets to dissolve in water. It is an excellent alternative for people who want to supplement their daily level of vitamin C, who at the same time avoid supplementation in the form of tablets and who care about a single-ingredient formula with a high dose of vitamin C. One effervescent tablet of our dietary supplement provides as much as 1000 mg of L-ascorbic acid - just dissolve it in water and drink the ready liquid. Vitamin C plays a significant role in the human body, regulating many physiological processes and functions, so if you want to supplement its daily levels, reach for our supplement OstroVit Vitamin C 1000 in effervescent tablets!
1 portion = 1 tablet
Number of servings in a package - 20
In the form of easy-to-use effervescent tablets
Refreshing lemon flavor
Vitamin C
Vitamin C - i.e. L-ascorbic acid - is an organic chemical compound from the group of polyhydric alcohols. It is an essential nutrient in the human diet, which is mainly responsible for the proper functioning of connective tissue and bones. Its biologically active form, vitamin C, acts as a reducing agent, and coenzyme in several metabolic pathways of the human body. Vitamin C is considered one of the main antioxidants - it removes excess free radicals from our cells. Its proper level in our diet also allows for faster regeneration and muscle growth, taking a direct part in the production of collagen. Supports the nervous and immune systems.
Laboratory-proven quality
For the sake of our customers' health, the products we manufacture are regularly tested in an independent accredited laboratory to ensure and maintain the highest quality.






Suggested usage
Dissolve 1 tablet in 200 ml of water. Consume once a day.
Do not use in people who have a predisposition to the formation of kidney stones or suffer from kidney stones.
Do not exceed the recommended daily dose for consumption. Dietary supplement can not be used as a substitute (replacement) of a varied diet. A balanced diet and a healthy lifestyle are recommended. Do not eat if you are allergic to any of the ingredients in the product. The product should not be used by children, pregnant women and nursing mothers. Keep out of reach of small children.
Nutritional information
Ingredients
Bulking agent: sorbitols; L-ascorbic acid (vitamin C); acidity regulators: citric acid, sodium hydrogen carbonate; glucose; stabiliser: polyethylene glycol; natural lemon flavouring with other natural flavourings; sweetener: sodium saccharin; anti-caking agents: silicon dioxide, magnesium salts of fatty acids.
Nutrition Facts
| Active ingredients | For a portion | % RI* |
| --- | --- | --- |
| Vitamin C | 1000 mg | 1250 |
*RI -Reference intake
Product reviews
0
opinion
Questions and Answers
Add a question about this product