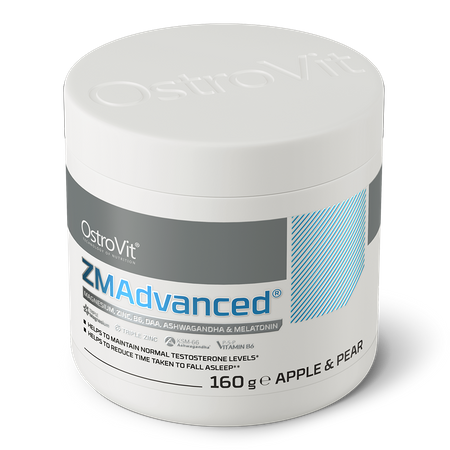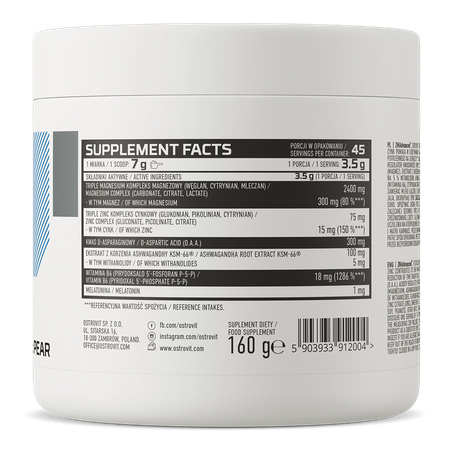 OstroVit ZMAdvanced 160 g apple-pear
6,29 €
OstroVit ZMAdvanced 160 g
OstroVit ZMAdvanced 160 g is a high-quality powdered dietary supplement with a delicious apple and pear taste. The formula is a complex of up to six active ingredients - zinc and magnesium complex combined with D-aspartic acid, Ashwagandha root extract, melatonin and vitamin B6. It has been developed with the highest quality ingredients for all physically active people who care about the proper process of recovery and rest every day.
1/2
Scoops
1 serving = 1/2 scoop

multi-ingredient, high-quality formula
3.5 g (half a scoop) = 1 serving of supplement per day
delicious, fruity taste & easy application - ideal for those avoiding supplementation in tablet form
Recovery and rest process - why is it so important?
The diurnal cycle of each of us is invariably 24 hours - this time is divided primarily into one in which we undertake all kinds of activities and one in which we should provide the body with the opportunity for rest and recovery. Maintaining balance in this regard is extremely important - it is thanks to the time allocated for both physical and mental rest that our body is able to regenerate and continue to function properly. Properly planned rest each day, combined with a valuable diet that provides essential nutrients and micronutrients, gives us the ability to take on more challenges. Thanks to OstroVit ZMAdvanced you can supplement your daily diet with:
TRIPLE MAGNESIUM magnesium complex - a source of magnesium, which, among other things, supports the proper functioning of the nervous system and the maintenance of proper psychological functions. In addition, it participates in the proper work of our muscles and in maintaining electrolyte balance and proper energy metabolism. Significantly contributes to reducing feelings of fatigue and tiredness.
TRIPLE ZINC zinc complex - a source of zinc, which helps protect our cells from oxidative stress. In addition, it supports the maintenance of normal cognitive function and plays an important role in maintaining normal fertility and reproductive function. It also helps to maintain the proper level of testosterone in the blood.
D-aspartic acid - supports post-workout recovery during sleep.
Ashwagandha KSM-66® root extract - excellent source of vitanolides - steroidal lactones with high biological activity.
Vitamin B6 - Supports proper functioning of the nervous system and maintenance of proper psychological functions. It contributes to the regulation of hormonal activity. In addition, it participates in proper energy metabolism.
Melatonin - has an impact on the regulation of the diurnal rhythm - facilitates falling asleep, improves the quality of sleep, reduces awakenings.
Suggested usage
Dissolve one serving of the product 3.5 g (1/2 scoop) in 100 ml of water or juice. Take one serving a day. Please use the measuring cup included in the package.
Do not exceed the recommended daily dose. Do not use the product as a substitute (replacement) for a varied diet. Recommended are balanced diet and healthy lifestyle. Do not ingest if you are allergic to any of the ingredients. Children, pregnant or nursing woman must not take the product. Keep out of the reach of children.
Keep this packaging tightly closed in a dry place, at the temperature 15-25°C. Keep out of direct sunlight.
Nutritional information
Ingredients
Magnesium salts of citric acid (magnesium), D-aspartic acid (D.A.A.), acidity regulator: citric acid; Chicory inulin (prebiotic), magnesium lactate (magnesium), magnesium carbonate (magnesium), ashwagandha root extract (Withania somnifera L. Dunal) - KSM-66 Ashwagandha® standardized on 5 % of withanolides, flavourings, zinc gluconate (zinc), zinc picolinate (zinc), pyridoxal 5'-phosphate P-5-P (vitamin B6), zinc citrate (zinc), sweetener: sucralose; colour: carotenes; melatonin.
Product may contain milk (including lactose), soy, peanuts, other nuts, sesame seeds, cereals containing gluten, eggs, crustaceans, fish.
Nutrition Facts
| Active igredients | Per serving 3.5 g | % RI* |
| --- | --- | --- |
| Magnesium complex (carbonate, citrate, lactate), of which: | 2400 mg | - |
| - magnesium | 300 mg | 80 %* |
| Zinc complex (gluconate, picolinate, citrate), of which: | 75 mg | - |
| - zinc | 15 mg | 150 %* |
| D-aspartic acid | 300 mg | -  |
| Ashwagandha root extract KSM-66®, of which: | 100 mg | -  |
| - withanolides | 5 mg | - |
| Vitamin B6 (Pyridoxal 5'-phosphate P-5-P) | 18 mg | 1286 %* |
| Melatonin | 1 mg | - |
*RI - Reference intake
Product reviews
0
opinion
Questions and Answers
Add a question about this product